Summary
Data recovery software will be introduced here for you to restore all your lost camera memory card data back when this card is prompting a not formatted error due to some unexpected reasons, like card logical damage, virus infection, power surge and more.

Camera Memory Card Recovery by 4Card Recovery
Free download 4Card Recovery to rescue all your desired camera photos, videos, documents and files off from the camera memory card with a not formatted error problem.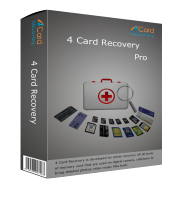 Resolve Camera Memory Card Error or Restore Camera Memory Card Data Firstly?
Nowadays, as one of the widely used handy electronic devices, digital camera can easily help you remember many unforgettable moments or periods. However, sometimes, without necessary precautions, the digital camera may also cause you some tricky troubles, especially when it comes to the inner used memory card and inner reserved camera card data. For instance, have you ever happened to meet some camera memory card not formatted error problem? Which one do you prefer to do firstly, resolve this camera memory card error or restore camera memory card data? OK! If you really do have the same camera card data loss problems, to make everything goes well, you are supposed to firstly restore the camera card data back with memory card data recovery software and then, format this memory card to fix its not formatted error problem.  
How to Restore Camera Memory Card Data Firstly?
When camera memory card shows a not formatted error problem due to card logical damages, virus attacks, power surge and card RAW file system problem, the inner remained camera card videos, photos and files are not lost or erased completely. Oppositely, they are still there and can be easily replaced by anything else. Therefore, comparing to resolving this not formatted error problem, to restore your reserved camera card data back is far more important and urgent when there is no camera card data backup prepared in advance. Hence, do not format this memory card and download camera card data recovery software like 4Card Recovery to restore your wanted camera data quickly:
Step 1:
Install and launch this data recovery software on your PC. And then, run it to find four data recovery modes on its min screen. Select one that you want.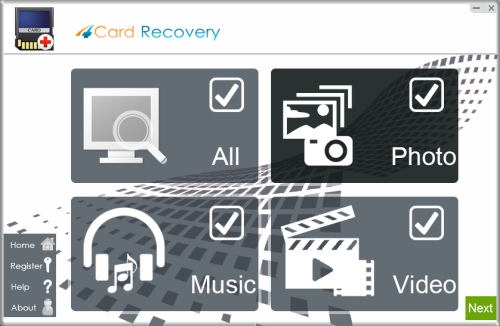 Select recovery options in the main interface
Step 2:
Find a list of detected storage devices and select your camera memory card with not formatted error to scan.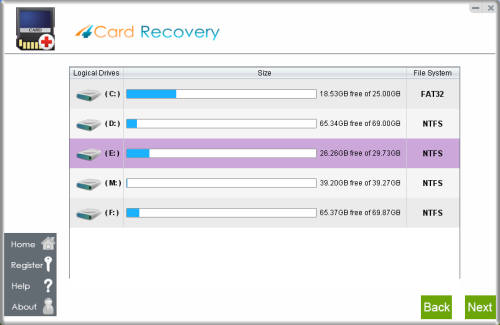 Select card to search photos off card
Step 3:
Browse all listed camera memory card data after scanning and select your preferred ones out.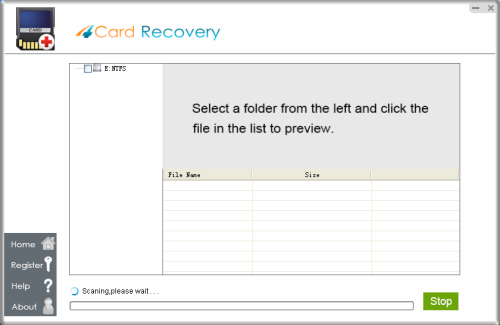 Wait while scanning lost photos, sometimes it takes about 20 minutes to scan a 32G card.
Tips: if it takes more than 2 hours to scan a 32GB card, you may stop the scanning and wait to see
what's already found. Since the card may contains bad blocks that takes longer time than usual.
Step 4:
Find a different storage device, like your computer partitions and drives, to save the restored camera card data.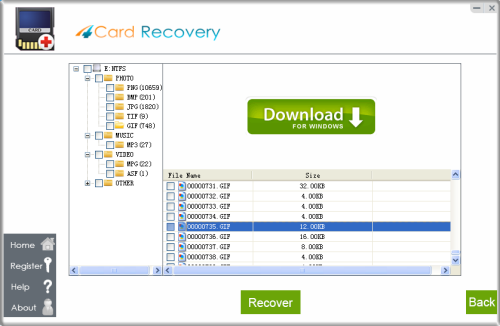 Preview lost photos and save found files. It would generate a folder to contain your lost data.
Please do not save the photo to the card where you lost them. Save them to your PC drive!

Download 4Card Recovery
Attention:
* Do not click "Yes" to format this camera memory card till you've make all your efforts to get everything back.
* Do not click this digital camera memory card with not formatted error to store your restored camera data in case of data recovery failure.
* Do not delete or format anything before you've carefully checked all your camera card data and backups.
Also Resolve Other Camera Card Data Loss Problem with This Software?
This software is not designed to be only workable in memory card not formatted error recovery. Amazingly, with four well-designed data recovery modes and other great data recovery features, it even can help people cope with almost all memory card data recovery problems. For example, it can help easily restore all lost memory card data after accidental deletion. It can help easily restore erased memory card data after unexpected card format/reformat. It can help restore inaccessible memory card data after having a RAW file system problem. In short, it is really worth a shot when you do have no way to rescue your camera card photos, videos and the likes.

Download 4Card Recovery