Summary
This tutorial will introduce you 4Card Recovery to rescue your needed old data back from "RAW file system" or "not formatted" memory card before you format this card to restore its common use.

RAW Memory Card Recovery by 4Card Recovery
Free download 4Card Recovery to copy all your desired documents, texts, images, videos, music and more stuff out from your RAW memory card that disables your access without any formatting process.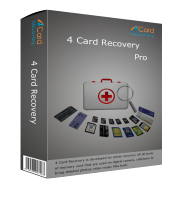 Need Use RAW or Not Formatted Memory Card Without Formatting?
Strongly need use your electronic device memory card for some urgent causes and find memory card file system displays as RAW and is also asking you to format without any data access? But, still hesitate whether it is worth fromatting this RAW memory card to restore its common use and also putting your stored card stuffs in danger? OK! Stop torturing yourself! Just phase out that depressing idea! In your case, you still have another promising way to go on. Firstly, stop doing anything else to this memory card, including writing new stuffs there and also formatting this card immediately. Secondly, put this memory card back to your computer and download RAW or not formatted memory card data recovery software to rescue your old card data back as much as possible before any formatting process.
Rescue RAW or Not Formatted Memory Card Before Formatting?
When you are formatting this RAW file system memory card to previous NTFS or FAT32, this formatting process will also erasing your reserved memory card data at the same time. Therefore, do you really think it is a price worth paying? If you think there is really no necessary to risky your crucial card data, OK, do not waste any time and download RAW memory card data recovery software like 4Card Recovery to rescue your needed previous card data back before this fixable formatting process.
Just immediately experience the efficient data recovery features of 4Card Recovery here:
Step 1:
Follow the Wizard guidance to install and run this data recovery software well on your PC. Check whether your memory card has been inserted well on the same memory card and choose a right data recovery mode for latter data recovery.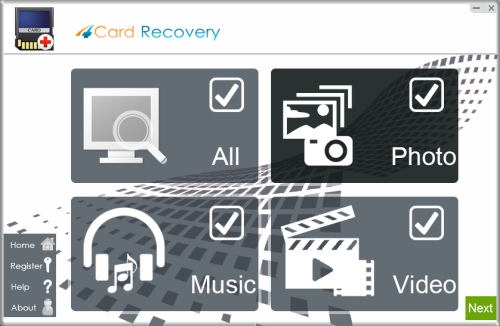 Select recovery options in the main interface
Step 2:
Follow software guidance to specify your RAW file system memory card out and scan it immediately.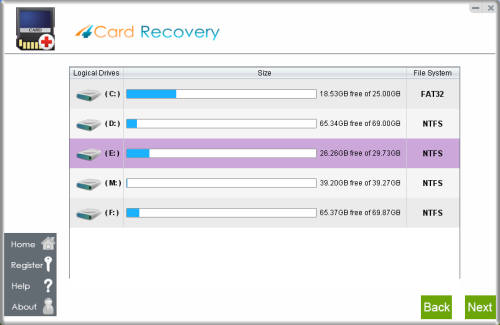 Select card to search photos off card
Step 3:
Follow software guidance to browse all scanned card stuffs and pick out all your needed card stuffs out for the latter recovery.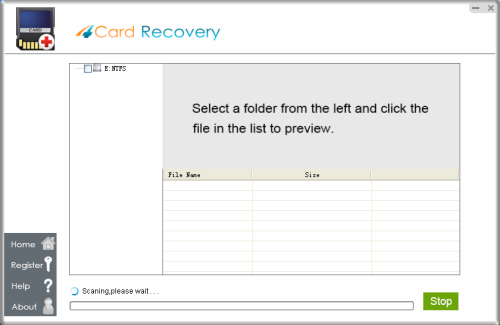 Wait while scanning lost photos, sometimes it takes about 20 minutes to scan a 32G card.
Tips: if it takes more than 2 hours to scan a 32GB card, you may stop the scanning and wait to see
what's already found. Since the card may contains bad blocks that takes longer time than usual.
Step 4:
Restore all selected card stuffs back and also highlight another computer storage media to hold them.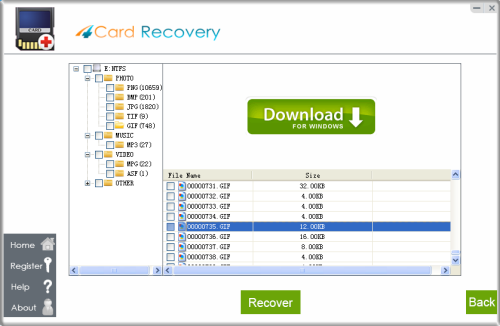 Preview lost photos and save found files. It would generate a folder to contain your lost data.
Please do not save the photo to the card where you lost them. Save them to your PC drive!

Download 4Card Recovery
Important Tips:
* When finding memory card gets similar RAW file system, not formatted error or other data loss or inaccessible problems, just stop adding anything new or format this card immediately in case of farther data loss. 
*When rescuing all selected card data back, also do not move them all to the original RAW memory card in case of data recovery failures.
* When editing or updating your memory card data, also edit and update your card data backups at the same time in the future.
Use RAW or Not Formatted Memory Card after formatting
When encountering similar memory card not formatted error or RAW file system error problem, many people may think they can also take their erased card data back with data recovery software or companies after fixing this error by formatting process. However, they don't know that they may also corrupt or damage their desperately needed card data and make it all gone permanently in the formatting process, especially when there is no professional guidance. Moreover, even with the most efficient data recovery software, there is also no 100% guarantee that you can rescue your entire card data back successfully. Therefore, to avoid any unwanted card data loss, remember not format this card without rescuing all needed card information out.

Download 4Card Recovery