Summary
This Tutorial will illustrate how to restore desired data back from SD card that has been suddenly removed from computer or electronic and unfortunately gets some malfunction errors, like "Not formatted error", "RAW file system error", or "memory card error", etc.

SD Card Data Recovery by 4Card Recovery
Free download 4Card Recovery to restore your preferred data from SD card after you've unexpectedly extracted this card out from your device and make all your reserved card data inaccessible.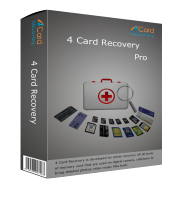 Is It Possible to Recover Data from SD Card That Has Been Removed Suddenly?
Have removed your SD card from your computer suddenly when it is still working on data transformation? Have extracted your SD card suddenly from your electronic devices, like mobile phones, cameras and camcorders, etc, without turning off the device power? Or have withdrawn your SD card from your device for some sudden accidents? But, tons of important business or personal stuffs inside this SD card have not been copied out and backed up well? Still need know whether it is possible to recover your entire SD card data back? OK! No matter how you've removed this SD card, just calm down and check the present SD card state. It still could be read efficiently on your computer as usual? Simply copy out all your card stuffs and back them all up well. It could be read normally on your computer, but, there are still some error notifications before being accessed, like "Not formatted error", "RAW file system error", or "memory card error", etc? All right! Simply use SD card data recovery software to take your card data back before fixing card problems.
How to Recover Data from SD Card That Has Different Errors for That Sudden Extraction?
After that sudden extraction, this SD card often can have two different states: logically damaged state and physically damaged state. If this SD card is merely logically damaged, after attaching it to your computer, you often will only receive some error messages that are asking you to format this card before access. In this case, to rescue your left card stuffs, you are often suggested to apply SD card data recovery software like 4Card Recovery, which has offered you many outstanding data recovery features and high success rate. However, if this SD card is physically damaged and cannot be recognized by any computer or device, your card is often irreparable and inner data is often irrecoverable. So, hope your SD card state is not too bad.
Here are simple steps for you to rescue card data after that sudden extraction:
Step 1:
Run this downloaded card data recovery software after you'd prepared your SD card well. Based on your card situations, choose a file type recovery mode from four presented on its main screen.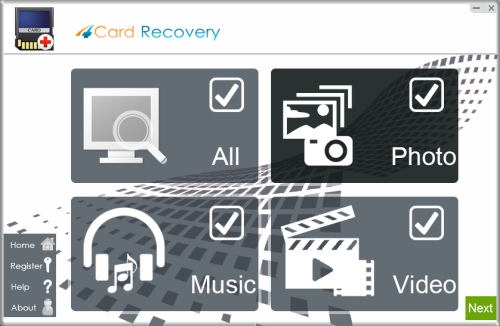 Select recovery options in the main interface
Step 2:
Scan this extracted SD card after it is connected well on your computer.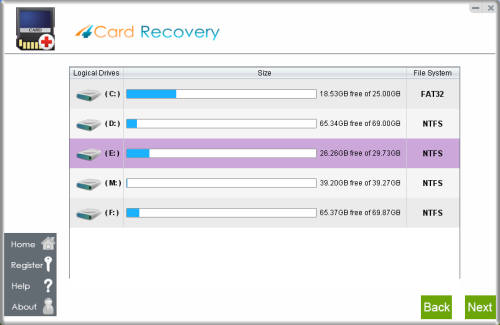 Select card to search photos off card
Step 3:
Choose all wanted SD card stuffs out from all previewed card contents.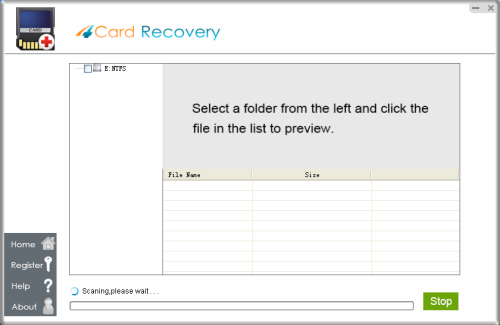 Wait while scanning lost photos, sometimes it takes about 20 minutes to scan a 32G card.
Tips: if it takes more than 2 hours to scan a 32GB card, you may stop the scanning and wait to see
what's already found. Since the card may contains bad blocks that takes longer time than usual.
Step 4:
Restore all picked SD card data to computer external hard drive, inner partitions or other storage devices.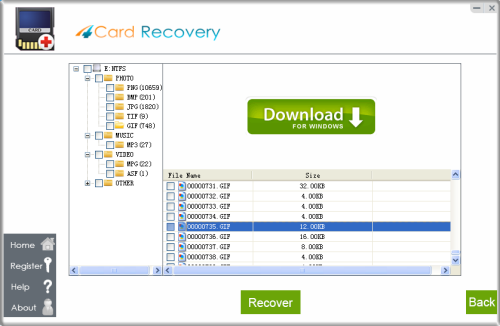 Preview lost photos and save found files. It would generate a folder to contain your lost data.
Please do not save the photo to the card where you lost them. Save them to your PC drive!

Download 4Card Recovery
Please Note:
* Though this card can be read well on your computer, you'd better also write nothing on it before complete data recovery success.
* Since this SD card still need be formatted for fixing its logical damaging problems, you'd better save nothing restored on this card to cause any data recovery failure.
* As you've save everything needed only on this SD card, you have to experience this data recovery troubles after that sudden extractions. So, just learn to save all important on more devices or places in the future.
SD Card Seems to Get Some Physical Damages?
SD card cannot be recognized on your computer or device, no matter how many different computers or Card Readers you've tried? OK! It sounds like your SD card has got some physical damages. If it still cannot be used after you tried some suggestions or solutions of experts, you'd better forget this card and purchase another better one to store your data. Just take this experience as a valuable lesson and learn to make card data backups on different drives all the time.

Download 4Card Recovery