Summary
This article will introduce you unformat digital camera memory card software to undo the format and retrieve lost camera videos, images, files and others back from your different camera memory cards, like SD cards, SDXC cards, SDHX cards and the likes.

Memory Card Format Recovery by 4Card Recovery
Free download 4Card Recovery to restore precious camera stuffs back from the memory card after you've mistakenly or purposely formatted your camera card without backups.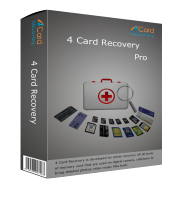 Need Unformat Memory Card Software to Recover Lost Camera Data?
Have already formatted your digital camera memory card without hesitation? But, only unfortunately find there is no camera card data backups to help you copy everything precious back? Really regret and need to find unformat memory card software to rescue your camera photos, videos, files, messages and more back? OK! Don't worry! No matter what makes you format this camera memory card, just go on reading this article and follow suggestions to get your preferred camera card data back with mentioned data recovery software easily.
Steps to Unformat Camera Memory Card & Reclaim Lost Camera Data:
When a camera memory card is deleted, formatted, inaccessible or unreadable, the camera data, including your photos, videos, audios, messages and the likes, is not really erased or destroyed off from this memory card. Hence, before the situation becomes worse and all your camera information becomes irrecoverable, just insert this card to your PC with this digital camera or your card Reader and launch memory card format recovery software like 4Card Recovery to take your original card stuffs back as many as possible. By using this software on your computer, except this camera card format recovery problem, you also can easily undo many other data loss operations and take your wanted card data back with ease, like RAW file system memory card data loss problem, memory card not formatted error recovery and camera card deleted photo recovery, etc.
So, just follow blow steps and tips to get your camera card contents back successfully:
Step 1:
Download this software and also stop saving more data on this plunged camera memory card. Run this software and see which file type recovery mode is practical with your data loss problems.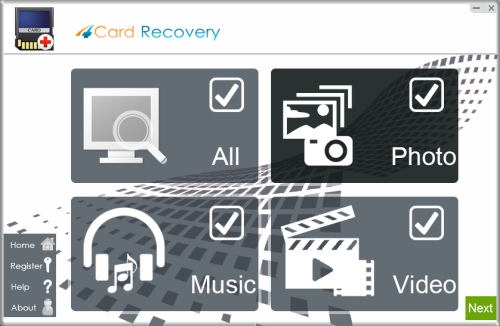 Select recovery options in the main interface
Step 2:
Perform a scan on your inserted camera memory card after specifying it out from other detected storage media.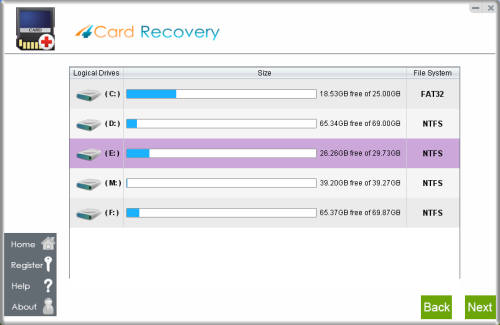 Select card to search photos off card
Step 3:
Preview all found videos, images and more before starting to restore everything. Just give up the ones that are not irrecoverable.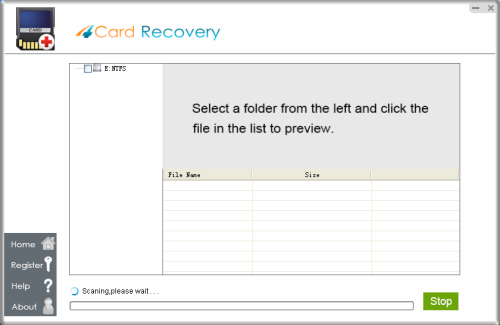 Wait while scanning lost photos, sometimes it takes about 20 minutes to scan a 32G card.
Tips: if it takes more than 2 hours to scan a 32GB card, you may stop the scanning and wait to see
what's already found. Since the card may contains bad blocks that takes longer time than usual.
Step 4:
Restore all recoverable camera card stuffs to another destination storage device, not this formatted memory card.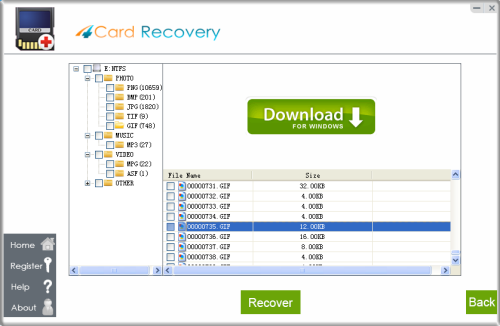 Preview lost photos and save found files. It would generate a folder to contain your lost data.
Please do not save the photo to the card where you lost them. Save them to your PC drive!

Download 4Card Recovery
Always Keep in Mind:
* The original memory card data often can be restored before it is overwritten or damaged in theory. But, that doesn't indicate you can absolutely get your lost camera card photos, videos and files back completely. There is no guarantee.
* The restored camera memory card information could be lost again when you directly save it to the same camera memory card after data recovery process. Just move it to a different device.
* The camera memory card photo, video and file backups can help avoid many data recovery troubles. So, always timely save them to your computer partitions, drives or other backup locations well.
Right Steps to Format Camera Memory Card:
As we've mentioned above, any unexpected or accidental format can cause camera card data loss problems. Therefore, in the future, no matter what occurs to you, simply follow the below steps to format your camera memory card safely:
Step1. Move all precious camera memory card stuffs to backup devices.
If you do not get accustomed to save at least two copies of everything on different devices or locations, just remember to move all your important camera card information to computer drives or other devices before the formatting process. If you do have a habit to make camera card data backups timely, also never feel annoying to check your data backups well before the formatting process.
Step2. Click the "Format" option of your camera to wipe this memory card.
To format your camera memory card, you often have two choices: format it on your camera or format it on your computer. If you prefer to do it on your camera, just check this memory card well and click the format option to wipe it there.
Step3. Format this memory card on your computer.
If you really find no such a "Format" option on your camera or fail in formatting it on your camera, you also can do that on your computer, just do it in the same way as you format a hard drive or USB flash drive.

Download 4Card Recovery