Summary
Follow 4Card Recovery tutorial here to rescue your wanted external drive information back, after your drive has got changed into RAW and cannot be used or access before any format.

RAW USB Hard disk Recovery by 4Card Recovery
Free download 4Card Recovery to get your desired files, films, videos, audios, mails and other information off from RAW hard drive that asks you to format without any drive data access.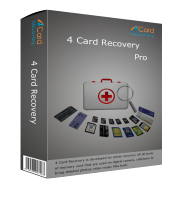 Cannot Get Files off from External Hard Disk with RAW File System Error?
Cannot figure out what's going on with your external hard drive and only know it is recognized as RAW in Disk Management? Windows computer asks you to format USB hard disk after you've accidentally shut down your laptop with this disk attached?
External HDD is knocked to the ground and needs to be formatted for incompatible RAW file system error afterwards? Or only need to get your desired useful documents, videos, images or others off from not formatted RAW USB drive? Well! Don't panic! The external drive RAW file system error often comes with the drive not formatted error when your drive is extracted improperly, virus-infected, or logically damaged, etc. Both of these two drive errors often can be easily fixed with simple drive formatting process. However, as with your original drive stuffs, you'd better apply RAW external drive data recovery software to take them back before any format.
How to Do Data Recovery from RAW Format USB Hard Disk before Format?
External hard drive with RAW file system error often will not only ask you to format when you plunge this drive to your computer and also will disable your any drive access before the needed formatting process. So, in this case, it is often impossible for you to directly copy anything out from that drive. But, that doesn't mean you cannot rescue your original drove information out with the help of USB drive data recovery software like 4Card Recovery. Generally, with such data recovery software, you often can easily take your desired documents, mails, images and other videos back from unformatted, RAW file system or formatted drive within simple clicks.
Here is the step guidance for you to restore RAW drive stuffs:
Step 1:
Connect this USB drive to your computer and free download the trial version of this software there. Run this software and click a desired data recovery mode.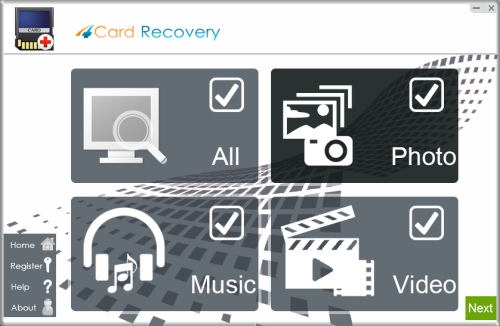 Select recovery options in the main interface
Step 2:
Scan this USB drive and you only need to wait.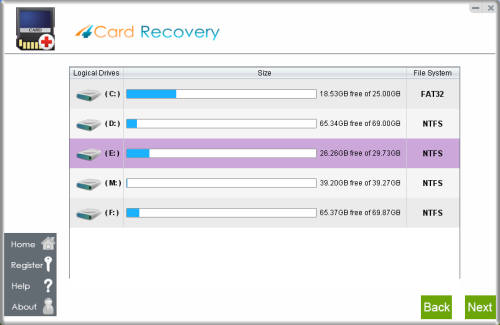 Select card to search photos off card
Step 3:
Preview all found files, images and the likes on the small screen.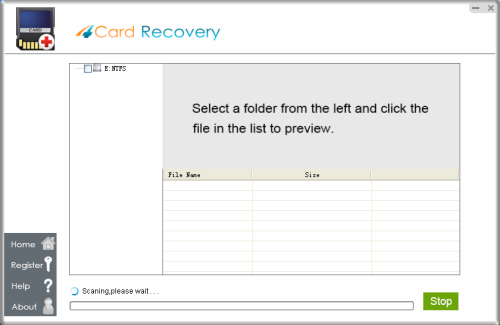 Wait while scanning lost photos, sometimes it takes about 20 minutes to scan a 32G card.
Tips: if it takes more than 2 hours to scan a 32GB card, you may stop the scanning and wait to see
what's already found. Since the card may contains bad blocks that takes longer time than usual.
Step 4:
Begin to restore your wanted external drive information back and set the right saving path of these restored drive stuffs.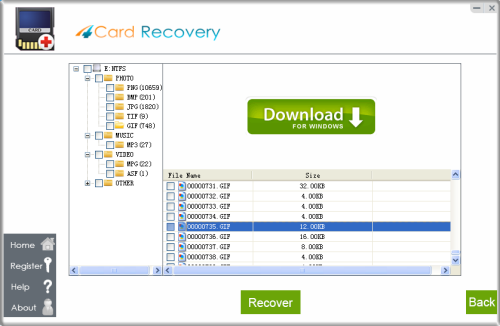 Preview lost photos and save found files. It would generate a folder to contain your lost data.
Please do not save the photo to the card where you lost them. Save them to your PC drive!

Download 4Card Recovery
Key Tips:
* Stop using this USB hard disk with RAW file system error. In such cases, any drive overwriting, drive testing, drive dropping or shocking operations can make the reserved information lost permanently.
* Assign another external drive, USB flash drive or computer partition as the destination device when trying to set the saving path of restored drive data.
*Select several safe drives or devices to store all your important drive information well all the time in the future.
Other Words of 4Card Recovery Users:
User1: on my WD external hard drive, it just makes some weird noises and also doesn't allow me to access anything left there. To rescue my drive data, I follow the suggestions of my friend and try this software. It really has rescued many of my original drive movies and pictures smoothly. Hope it will also helps you.
User2: You need remember to always save several copies of everything crucial on several drives or storage devices to avoid any unpredictable data loss problems. Of course, if you forget do drive data backups elsewhere and get data loss issues unfortunately, this software will also help you out with success, just like me.
User3: I have a stack of Seagate external hard drives and encountered many similar drive data loss problems, like accidental deletion, the mentioned drive not formatted error and RAW file system error and even drive corruption, etc. At first, I really lose many important drive files. But, since I found and tried this mentioned 4Card Recovery, I had rescued much of my original drive data and reduced the data loss rate as low as possible many times. You could also give it a try.

Download 4Card Recovery