Summary
This article will discuss how to move all inaccessible files, photos, audios, mails and videos, etc, from RAW external hard drive to computer partitions or drives with 4Card Recovery.

RAW USB Hard Drive Recovery by 4Card Recovery
Free download 4Card Recovery to rescue desired information out from external hard drive with RAW file system error and transfer them to your assigned destination storage device as you wish.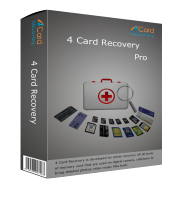 Need Move RAW USB Drive Files to Computer?
Want to export something important out from external hard drive on computer and only be given a drive unformatted error? As checking external drive state, only find this drive has been displayed as RAW format everywhere? Right now, without required drive format, just cannot access anything inside this drive? Want to know what you can do now to export your RAW drive stuffs successfully? OK! Don't panic! In your case, one of the commonest solutions for you right now is to take chances with RAW USB drive data recovery software which always offer you many practical data recovery features to assistant you rescue possible original drive information back.
Firstly Rescue Inaccessible Data out from External Drive
To move your inaccessible external drive files, images, movies, mails and others to your computer smoothly, you are supposed to make all these remained drive stuffs accessible and useful again. To realize that idea, you'd better also not format this drive and only select external drive data recovery software like 4Card Recovery to scan this drive and retrieve your desired original data. Why? The formatting process can erase everything stored on that drive and make your drive data loss problem more complicated. Without professional guidance, you may even lose some or even all of your needed drive stuffs permanently. Hence, do not randomly do anything to this drive from this moment. Just download read-only 4Card Recovery to rescue your drive data out at first.
Rescue your drive files back step by step:
Step 1:
Attach USB drive to your PC and download software to your computer partition. Run this installed software and highlight your wanted data recovery mode from four.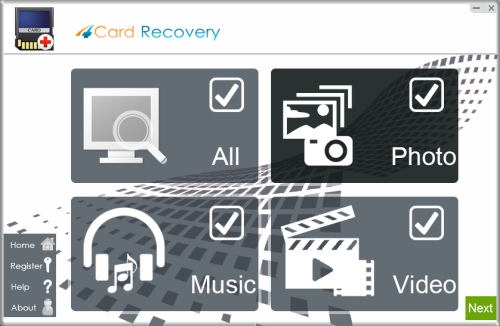 Select recovery options in the main interface
Step 2:
Find your plunged external drive and click "Next" to scan this drive deeply.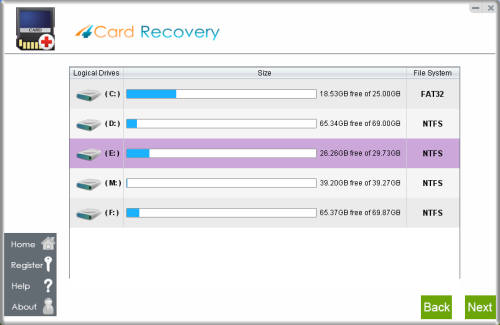 Select card to search photos off card
Step 3:
Preview all scanned drive stuffs and label all useful ones out.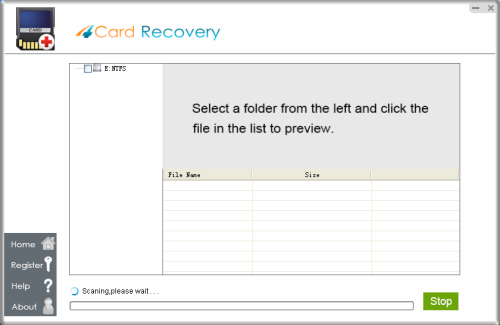 Wait while scanning lost photos, sometimes it takes about 20 minutes to scan a 32G card.
Tips: if it takes more than 2 hours to scan a 32GB card, you may stop the scanning and wait to see
what's already found. Since the card may contains bad blocks that takes longer time than usual.
Step 4:
Assign computer partitions or USB flash drives to store all restored drive information.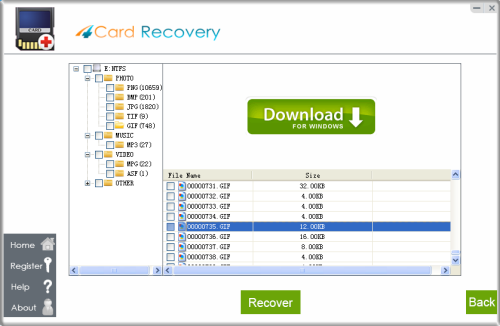 Preview lost photos and save found files. It would generate a folder to contain your lost data.
Please do not save the photo to the card where you lost them. Save them to your PC drive!

Download 4Card Recovery
Useful Notes:
* Choose computer partition, USB flash drive or other external drives to store your new drive files, folders and other data.
* Choose a different storage device, not this RAW USB drive, to remain all your restored files, videos, songs and more.
* Choose extra drives to make data backups or directly apply some backup software to help you in the future.
Secondly Move Rescued Drive Stuffs to Computer
Have checked all restored drive files and folders? Are they all workable and useful? If all of your wanted drive stuffs has been restored successfully and all of them are accessible as before, immediately back up them all well on different drives or devices well. And then, move them to your computer freely. But, if you still have some files that have not been restored back, just run this software more times to go on. Moreover, with enough money, you also can send this drive to some data recovery agencies to ask for help, if this software really cannot rescue your pretty precious stuffs back.
Thirdly Format RAW USB HHD for Future Use
RAW file system error doesn't indicate a seriously damaged external drive all the time. Honestly, in many cases, it only means there are some logical drive problems, like not formatted error, drive virus-infection problems, or drive instant power loss, etc. So, your drive may be still workable. Just format this RAW USB drive into NTFS or FAT32 and check whether you can normally store/move data into/from this drive.

Download 4Card Recovery