Summary
Go over tutorial below to restore your preferred movies, audios, images, mails and other files back after doing quick or full formatting process on your external hard drive with much crucial data. 

Formatted External HDD Recovery by 4Card Recovery
Free download 4Card Recovery to rescue your external hard drive data back after accidental format. With this software, you also can easily rescue various types of files from different devices, like memory cards, USB flash drives and more.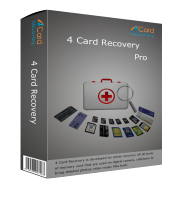 Have Done a Full/Quick Format on External Hard Drive with Much Data?
Just have done a quick format on your external hard drive with much data when computer gives a not formatted error? Simply have performed a full format on your USB flash drive with crucial information when computer recognizes a drive RAW file system error? Or merely have formatted your external drive with tons of files mistakenly when you are paying all attentions to other games, files or movies? Really want to know what you can do now to help yourself out from that drive data loss disaster? OK! Don't worry! It is not a dream for you to restore your lost videos, pictures, audios, files, mails and others back with external hard drive format recovery software. Just go over the below tutorial to know more details.
Tutorial to Restore Desired Data from Formatted External Hard Drive
Any quick or full formatting process intentionally or unintentionally performed on your USB hard drive can erase numerous files, videos, photos, mails and more stored there and make them all gone. But, that doesn't mean they will really lose and will be irrecoverable forever. Oppositely, they are still stayed on the original drive and can be easily and safely restored with formatted external hard drive data recovery software like 4Card Recovery. With this handy data recovery software, it is always highly possible for you to rescue and reuse your preferred original drive data.
So, just follow below detailed tutorial to restore your needed drive data back:
Step 1:
Download and install that data recovery software well. Also plunge this formatted drive to the same computer. And then, run this software to pick right data recovery modes.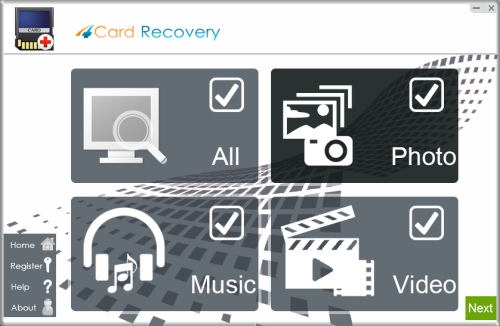 Select recovery options in the main interface
Step 2:
Choose a right physical drive to scan. When you've seen a list of all detected computer storage devices, just choose your formatted drive out to scan.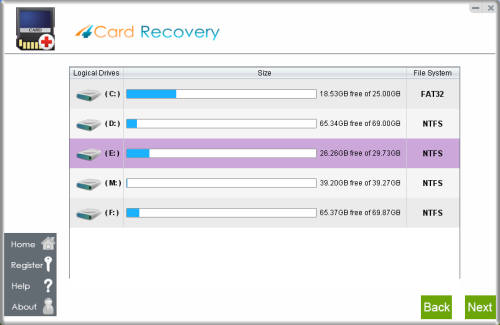 Select card to search photos off card
Step 3:
Preview all recoverable files and photos out when you've seen a list of all scanned drive data.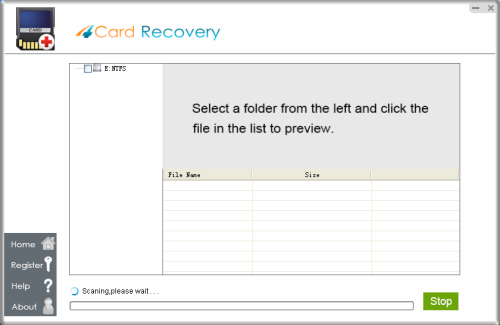 Wait while scanning lost photos, sometimes it takes about 20 minutes to scan a 32G card.
Tips: if it takes more than 2 hours to scan a 32GB card, you may stop the scanning and wait to see
what's already found. Since the card may contains bad blocks that takes longer time than usual.
Step 4:
Click "restore" button to retrieve all needed videos, files, photos and others back and also follow guidance to choose another destination device to hold them all well.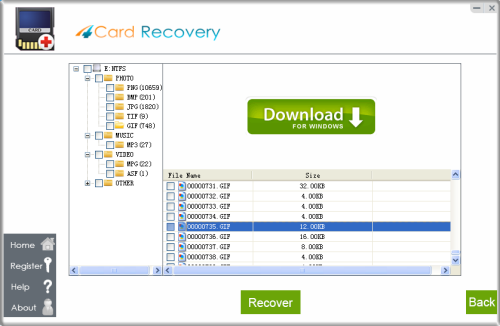 Preview lost photos and save found files. It would generate a folder to contain your lost data.
Please do not save the photo to the card where you lost them. Save them to your PC drive!

Download 4Card Recovery
Key Notes to Remember:
* Download and install your software on a different computer partition or drive, not the formatted drive.
* Preview and view all files and programs to see how many of them are in good state and recoverable after scanning process. Generally, the videos or songs often cannot be previewed there.
* Arrange another different device or computer partition to save all restored original stuffs in case of data recovery failures.
Know More Basics of Drive Data Recovery Software
There are also many other basics that you should know to restore more original drive movies, files, pictures and the likes back.
1). Check external drive data backups before data recovery process.
Since one hundred people may have one hundred different drive data loss situations, there is no data recovery software that is able to 100% restoring your lost original drive data all the time. Therefore, no matter which data recovery software you choose to use, the fastest and best way to rescue your drive data is to copy them directly from drive data backups. So, just firstly check your drive data backups to take your needed drive information as much as possible.    
2). Do not download and Install software on the original hard drive.
After formatting process, through your drive data is still stored there, it also can be easily destroyed by anything else written on the same drive. So, to avoid any unwanted drive data loss, just stop adding new stuffs on this drive and also do not download and install the data recovery software on this formatted drive.
3). Make sure to save all restored files elsewhere.
To avoid data recovery failures, you are also supposed not to save all restored drive data on other device or location, not on the same formatted external drive again.

Download 4Card Recovery