Summary
See how you can use the recommended external drive data recovery software to take your useful photos, movies, office files and more back from external drive that is shown as unformatted and also inaccessible without immediate format.

Unformatted External HDD Recovery by 4Card Recovery
Free download 4Card Recovery to safely rescue your lost external drive stuffs back after this drive cannot be used for not formatted error.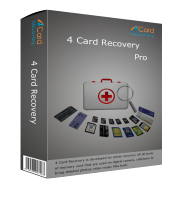 External Hard Disk Is Shown as Unformatted?
Many branded external hard drives, like Samsung, WD, Seagate and more, are designed with much outstanding features and can be really great to hold different important computer office files, photos, movies, audios and the likes. However, occasionally, when attacking external drive to computer, you may also find this drive is weirdly shown as unformatted in Disk Management and cannot be used without first format? What's worse, you do also have not taken one, two or more reserved files out from that unformatted drive? All right! Firstly, do not format that drive to cause more possible drive data loss problems.  And then, before that necessary drive format, just download unformatted external drive data recovery software to rescue all your preferred drive data back.  
Check How Many of Your Original Drive Files Could Be Restored with Software
The immediate formatting process may erase everything remained on that drive or make it worse for you to rescue your useful drive data back. Therefore, whenever you meet similar drive not formatted problems, you'd better never format that drive when you do have not backed up all your data inside well. Moreover, in order not to cause farther data loss issues, you'd better also write no new files on this drive to damage your original stuffs. And then, just simply follow the below steps to take your needed files, images, videos, audios and others back with external hard disk data recovery software like 4Card Recovery which allows you to rescue nearly all types files back from external drive with not formatted error, RAW file system error, virus-infection issue, half drive formatting issue, improper drive extraction issue, etc.  
Follow below steps carefully:
Step 1:
Download the provided demo of 4Card Recover and launch it well there. And then, find a fixable data recovery mode out from listed four ones.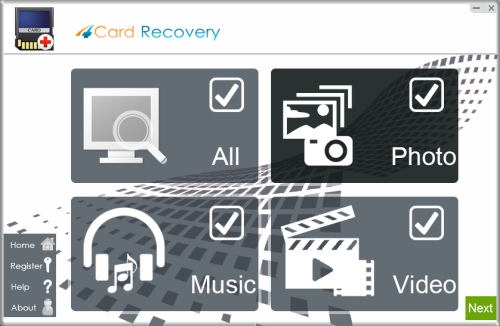 Select recovery options in the main interface
Step 2:
Select the drive that needs to be formatted and scan it to fins your needed useful files.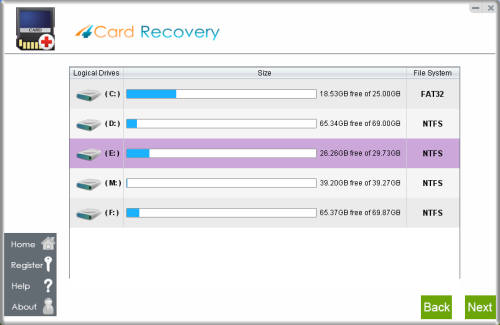 Select card to search photos off card
Step 3:
Preview files when scanning is finished.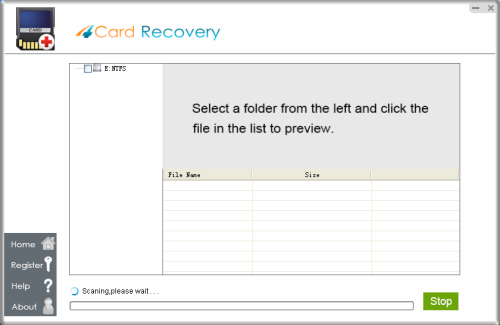 Wait while scanning lost photos, sometimes it takes about 20 minutes to scan a 32G card.
Tips: if it takes more than 2 hours to scan a 32GB card, you may stop the scanning and wait to see
what's already found. Since the card may contains bad blocks that takes longer time than usual.
Step 4:
Restore all your preferred external drive stuffs to computer partitions.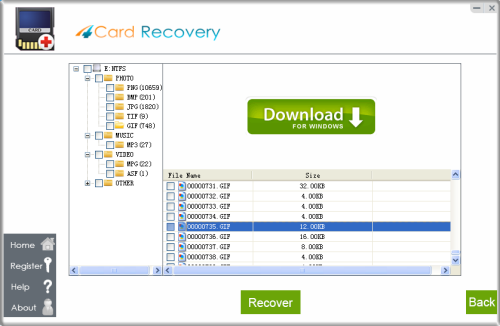 Preview lost photos and save found files. It would generate a folder to contain your lost data.
Please do not save the photo to the card where you lost them. Save them to your PC drive!

Download 4Card Recovery
Extra Data Recovery Tips:
* Never touch that unformatted USB drive with anything else. New stuffs on that drive can destroy your original drive stuffs.
* Never move all restored external drive information to that not formatted drive. Computer partitions, USB flash drives or other storage devices could be your good alternatives.
* Never place useful personal/business information on only external hard drive again. Just save several copies on your extra drives, USB flash drives, computer partitions or online storage.
Read More Stories of External Drive Data Loss Problems:
Story1: Hello! Last month, another drive RAW file system error also let me experience this drive unformatted problem. Except being recognized as RAW file system label in Disk Management, this drive just cannot be accessed or used anywhere. There was also an error notification that was given to suggest me to format whenever I tried to open this drive. Though this drive data recovery software was really risky for me, I still run it on my computer and took most of my drive contents back. It's great!    
Story2: When my USB flash drive asked me to format, I was really worried and scared. But, with much hopes to take my drive stuffs back, I took chances with this drive software and successfully rescued all possible original stuffs back. Just back up all drive data well from now on.
Story3: When trying to copy something to my USB flash drive, I had deleted some important file folders and found nothing back in Recycle Bin. So, I did have to apply some listed data recovery software online. But, luckily, this data recovery software rescued my needed previous stuffs back. Thanks!

Download 4Card Recovery