Summary
This 4Card Recovery will help you recover deleted or lost stuffs like videos, files and photos back from external hard disk, when you do have no habit to make drive data backups and also unexpectedly lost your previous drive data.

External HDD Deleted File Recovery by 4Card Recovery
Free download 4Card Recovery to perform a deep scan on this USB hard disk and finds all possible drive information out to restore after any mistaken deletion, formatting or other unexpected data loss operations.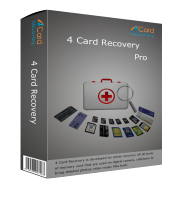 Need Rescue Photos, Files& Videos Deleted from External Hard Disk?
When using external hard drive between different computers or laptops, you just mistakenly delete your cherished drive photos, files and videos before you've backed them all up well? When transferring some information from USB hard drive to computer partitions, you are forced to format this USB drive due to not formatted error, bad sectors, virus infections or RAW file system and lose all one-copied data inside? When having deleted all stored external drive data completely, you just find that is the only data copy left? Really need take all these deleted drive pictures, videos, files and more back? OK! Professional external hard drive data recovery software could be your chance to rescue these deleted drive information back.
Download Software to Restore Deleted Drive Data Quickly
Unexpected drive data loss problems, like accidental drive data deletion, full drive format or drive virus-infection and more, can happen at any time. When you unfortunately encounter similar drive data loss problems, you don't have to panic or worry! To rescue all these lost or deleted USB drive stuffs back, you don't have to do some complicated operations or finish some unknown tasks. What you need is simply to download USB hard disk deleted data recovery software like 4Card Recovery to get your needed stuffs back with fast speed and high efficiency.
Hence, right now, immediately try this easy-to-use software to take your needed photos, videos and files back:
Step 1:
Download and install software. Choose a practical file type mode to rescue your needed drive data, like "Photo", "Video", "Music" and "All".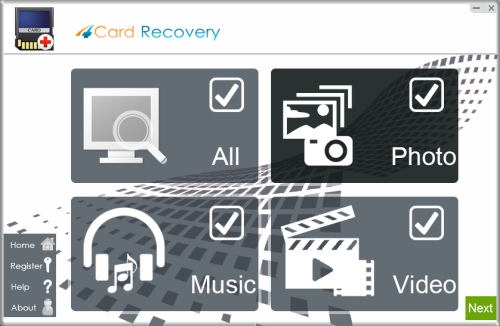 Select recovery options in the main interface
Step 2:
Select this external drive to scan it thoroughly.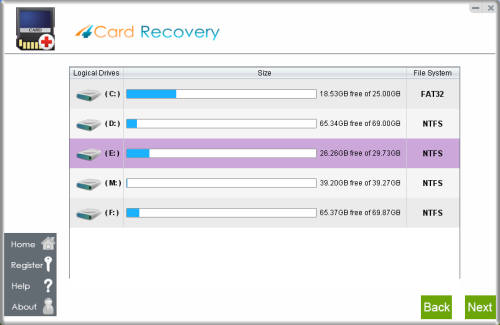 Select card to search photos off card
Step 3:
Preview all found files and select your needed ones only.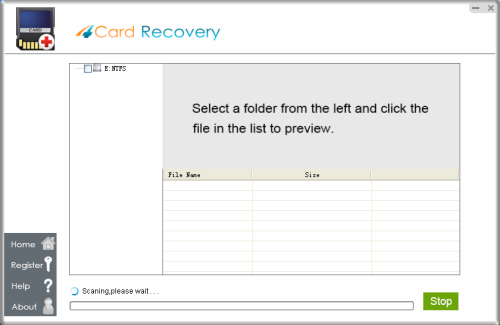 Wait while scanning lost photos, sometimes it takes about 20 minutes to scan a 32G card.
Tips: if it takes more than 2 hours to scan a 32GB card, you may stop the scanning and wait to see
what's already found. Since the card may contains bad blocks that takes longer time than usual.
Step 4:
Select computer partitions to save all your restore drive stuffs.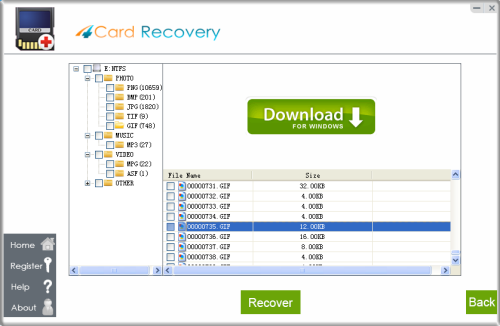 Preview lost photos and save found files. It would generate a folder to contain your lost data.
Please do not save the photo to the card where you lost them. Save them to your PC drive!

Download 4Card Recovery
Notes:
* Keep external hard drive away from any new stuffs, your downloaded software files or folders included.
* Remove this external hard drive off from your destination device list after data recovery. Storing all restored stuffs on the same drive again may cause data recovery failures.
* Save several copies of all USB drive data on several drives or locations in the future.
Play a Habit to Make Drive Data Backups from now On
Honestly, you are extremely luck that, without preparing any drive data backup, you've not ever encountered any drive data loss problem before. But, that sort of luck cannot protect you forever. After experiencing this drive data deletion issue, you've better learn a valuable lesson and begin to play a habit to make all important drive data backups from now on.
What People Say about 4Card Recovery?
User1: This software really does a very good job in rescuing my lost USB flash world files back. Moreover, it had even scanned many files that I have deleted about a week ago.
User2: My Seagate external hard drive was asking me to format whenever I attempted to access on my computer. So, last Monday, I formatted it to hold some newly made files. Though part of my previous stuffs was overwritten by these newly placed files, most of my original drive stuffs were also restored with this data recovery software. Nice Shot, right?
User3: If you also unluckily delete or lose your drive stuffs without data backups left, you may take a look at this software, too. It has ever taken nearly all my erased drive files back.

Download 4Card Recovery