Summary
Simply insert your memory card to restore your wanted videos, photos, files and the likes from SD card that has been formatted without data backups for some unexpected reasons, like not formatted errors, memory card errors, card RAW file system errors, etc.

Formatted Memory Card Recovery by 4Card Recovery
Free download 4Card Recovery to get your wished SD card files, images, videos and other stuffs back after you've formatted this SD card unexpectedly for sudden memory card malfunction errors or unwanted memory card damage or corruption, etc.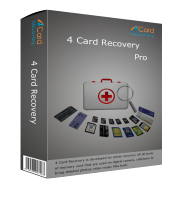 Why to Format Your SD Card without Backups?
How do you improperly format your SD card? Simply format this SD card for RAW file system error and rudely end this formatting process after realizing there is no card data backup stored elsewhere? Simply format this SD card for resolving present "not formatted error" notification without data backups? Simply format this SD card for removing unexpected "memory card error" message and find nothing inside could be accessed? Or simply want to restore both of your logically corrupted/damaged SD card and inner inaccessible data through formatting process and only get a SD card with nothing shown on your computer? All right! No matter how and why you've formatted this card, in order to recover your desired original SD card data, you are supposed to use SD card format recovery software which allows you to take your lost or deleted card data back within several simple clicks.
How to Recover Data from SD Card Formatted Improperly?
After your improper formatting process, all your reserved SD card files, images, videos and the likes are indeed lost "visually" (Merely through your eyes, you can find them nowhere). But, they are not really lost "practically"(Though you cannot see them with your eyes, they are really still stored on this card). Before they are completely overwritten or replaced by anything new on the same card, you can often easily take them back with handy formatted SD card data recovery software like 4Card Recovery which offers four well-designed data recovery modes, easy-to-handle interface, outstanding compatibility with almost all memory cards and USB flash drives, etc. Hence, in your case, after the formatting process, save nothing else on this original SD card, attach this formatted card to your PC, download this 4Card Recovery software there and follow steps to take your needed card data back:
Step 1:
Run this software and highlight the data recovery mode that is workable with your card data loss situations.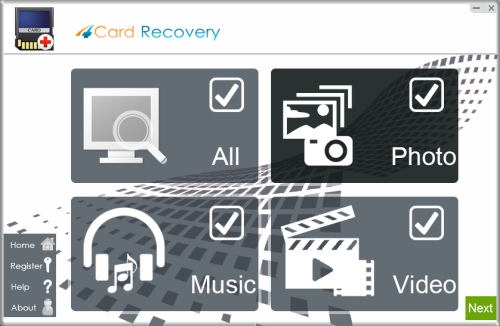 Select recovery options in the main interface
Step 2:
Choose your formatted SD card out from other listed media and follow guidance to scan this card.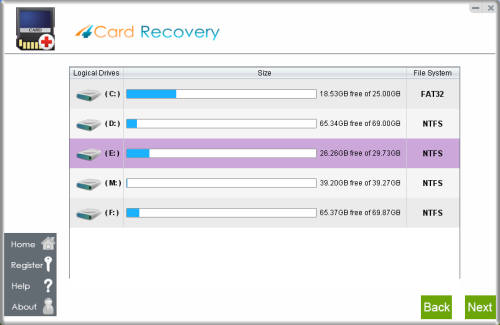 Select card to search photos off card
Step 3:
Preview all files that have been found by the previous scanning process and mark all your wanted ones out.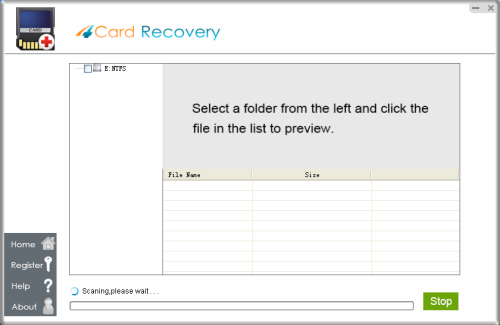 Wait while scanning lost photos, sometimes it takes about 20 minutes to scan a 32G card.
Tips: if it takes more than 2 hours to scan a 32GB card, you may stop the scanning and wait to see
what's already found. Since the card may contains bad blocks that takes longer time than usual.
Step 4:
Restore all your selected card stuffs after the previewing confirmation and save all restored card data on a different storage device.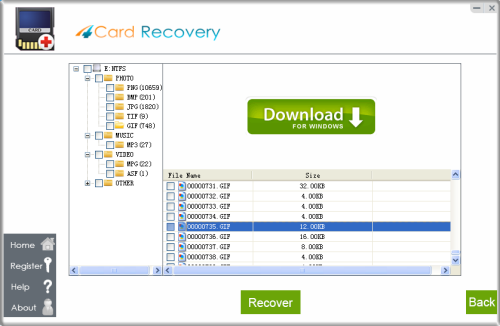 Preview lost photos and save found files. It would generate a folder to contain your lost data.
Please do not save the photo to the card where you lost them. Save them to your PC drive!

Download 4Card Recovery
Please Note:
* The lost data inside this formatted SD card usually can be easily wiped or destroyed by your new stuffs written on the original card. So, in order to rescue original card data as much as possible, stop adding anything else on this card.
* The restored SD card data usually can be gone again for your improper operations. Therefore, move all restored card data on another storage device and also prepare card data backups well timely.
* The stored SD card data can be lost again for some unexpected reasons in the future. Therefore, always save two or more copies of everything important on different computer partitions, drives or online storage from now on.
Remember to Format Your SD Card Properly
To avoid such card data loss problems, you are supposed to format your SD card properly all the time. Do you know what you can do to format your SD card rightly? OK! In the future, if you really have to format this SD card for some memory card malfunction errors (like the above mentioned not formatted error, RAW file system error, memory card error or corruption error, etc), freeing up your card space or removing some possible card viruses or threats, you'd better firstly check your card data backups before the format. Find there is no data backup held elsewhere? Just save several copies on different devices immediately. Find prepared SD card data backups have not been updated for a really long time? Just update these backups immediately. And then, after checking your card data backups well, when trying to format this card, you are also supposed to choose the quick format instead of full format and choose the right file system instead of RAW file system or other incompatible one. At last, format this SD card without hesitation.

Download 4Card Recovery