Summary
You definitely can restore your deleted photos, videos and files from your original SD card with 4CardRecovery, which will carefully search for your deleted card stuffs and rescue all its found ones.

SD Card Deleted Photo Recovery by 4Card Recovery
Free download 4Card Recovery to thoroughly scan this original SD card and take all the found files back. With this software, it is really easy to get lost or deleted data from different types of memory cards.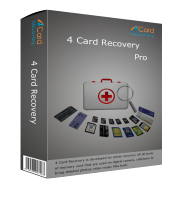 Can Deleted Photos Be Restored without Damaging Original SD Card?
Surprisingly hear one of your families or friends has deleted your needed SD card photos or files for mistaken clicks? Unwillingly find all taken images inside SD card have been deleted for your careless button pressing? Or unfortunately realize all your SD card documents have been deleted for card formatting or virus-wiping operations? Already go panic and blame your families or friends seriously? Don't be so unkind! Deleted SD card photo recovery is not whimsical! Actually, after that deletion, your SD card photos are not really lost and do not become irrecoverable permanently right now. Before all these deleted photos are really gone forever, you need reliable deleted SD card photo recovery software to scan this original card and take your desired photos or files back as many as possible.
You Can Restore Deleted SD Card Photos with 4Card Recovery
In fact, after this deleting or formatting operation, all your remained card videos, audios, photos and files are merely nominally erased and still hidden on this original SD card till they all are entirely replaced or damaged by newly shoot photos or made files reserved on the same card. So, never put anything new on this SD card and search for data recovery solution to take your card photos back. In your case, to rescue your deleted SD card photos or other stuffs back, you can download SD card data recovery software like 4Card Recovery (which always works with nearly all memory card data recovery troubles and help you get lost or inaccessible card information back) to have a try!
Here, download and install this software on your PC to go on:
Step 1:
Run this software on your PC and pick a pre-designed data recovery mode from four to go on.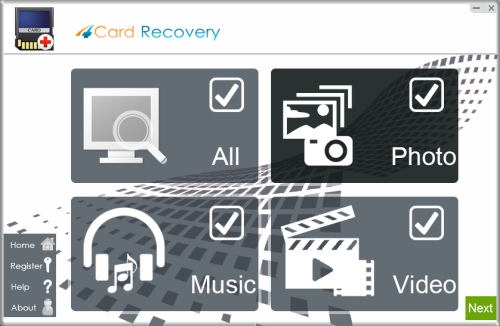 Select recovery options in the main interface
Step 2:
Choose the drive letter of your SD card after it is normally detected by your computer and listed on the software media screen.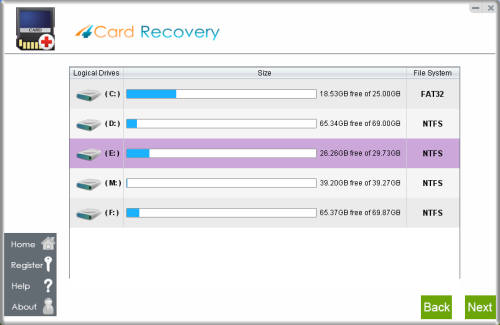 Select card to search photos off card
Step 3:
Mark memory card files with patience. Just only pick out your needed files out from all scanned memory card ones.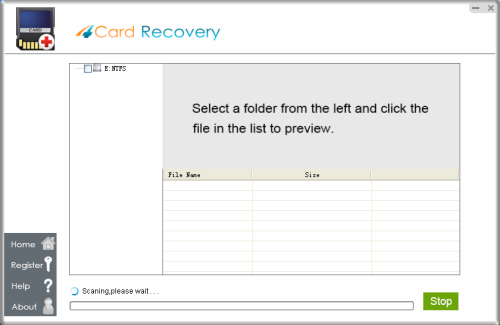 Wait while scanning lost photos, sometimes it takes about 20 minutes to scan a 32G card.
Tips: if it takes more than 2 hours to scan a 32GB card, you may stop the scanning and wait to see
what's already found. Since the card may contains bad blocks that takes longer time than usual.
Step 4:
Select your partition with enough free space to hold all these restored card photos, videos and others.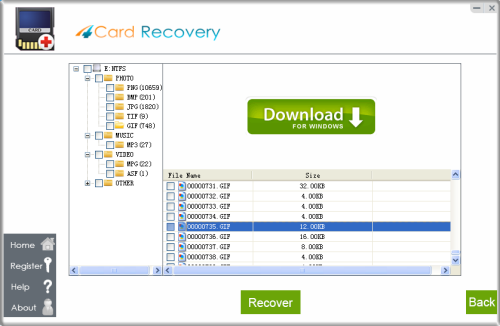 Preview lost photos and save found files. It would generate a folder to contain your lost data.
Please do not save the photo to the card where you lost them. Save them to your PC drive!

Download 4Card Recovery
You Also Should Keep Some Tips in Mind:
* Put a stop to save newly shoot photos or made files on this SD card after deletion.
* Put all restored original card information on computer partitions or drives, not the same SD card, in case of data recovery failures.
* Put a stop to save everything important on only one memory card in the future.
* Put a stop to give your card or drive with crucial data to your families or friends.
Useful Strategies to Protect SD Card Photos
There are indeed a large portion of people who lose their important or useful memory card data every year. But, that doesn't mean all people who frequently use memory card have experienced such card data loss problems. Why? There are many useful and efficient strategies that can help you protect your card stuffs. Firstly, save copies of everything important on your drives or devices every time you have edited or changed them. Even when you have deleted or lost your needed card stuffs, the left data backups also can help you copy them all back with ease. Secondly, always keep this SD card safely. In most cases, the important card data is not only lost for your accidental deletion, formatting or other improper operations, and also for memory card malfunction problems, like not formatted errors, virus-infections, RAW file system or etc. Therefore, you should always accumulate different card using tips and keep it well.

Download 4Card Recovery