Summary
Run memory card data recovery software to restore inaccessible or lost images, audios, documents, songs and more off from the memory card that says it needs immediate formatting process on your phones, computer or other electronic device.

Phone Memory Card Recovery by 4Card Recovery
Free download 4Card Recovery to take your remained pictures, videos, files, audios and other stuffs back from the memory card after your phone has said it needs to be formatted before any access or use.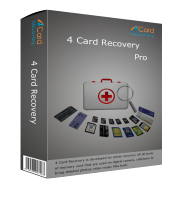 Memory Card Is Not Formatted. Do You Want to Format It Now?
Insert memory card to mobile phone and only be told: "Memory card is not formatted. Do you want to format it now"? Or have tried this memory card on all owned electronic devices, like digital cameras, camcorders, players and computers, and also been given the same error message? But, in order to rescue your tons of memory card files, mails, videos, photos and music, you just cannot persuade yourself to format this memory card immediately? OK! Relax! Don't push yourself too hard. In this moment, never format and use this memory card to prevent any unwanted data loss troubles. And then, run third-party memory card data recovery software to rescue your preferred card data back. Why? It is true that your original card data can be easily restored with the help of data recovery software as long as the wished card data has not been overwritten or corrupted by anything else placed on the same card space.
What You Can Do to Rescue Data from Memory Card That Needs Formatting Process?
Obviously, in your case, if you do have not put anything new on this memory card, you absolutely can simply take your wanted card files, images and more information back from this memory card. But, do you know clearly what you are supposed to do next? OK! No matter whether you have had a plan or clue yet, you can correspondingly take the following suggestions as preferences. Firstly, stop using this memory card and also avoid formatting this memory card to cause more file loss problems. Secondly, download and run memory card data recovery software like 4Card Recovery to restore all selected card data back and also resolve all possible card problems afterwards.
Here are common steps for 4Card Recovery users to take their needed card data back:
Step 1:
Download and install this software on your computer well. And attach this memory card to the same computer and prepare it well there, too. Run this software to pick a fixable data recovery mode on its main screen.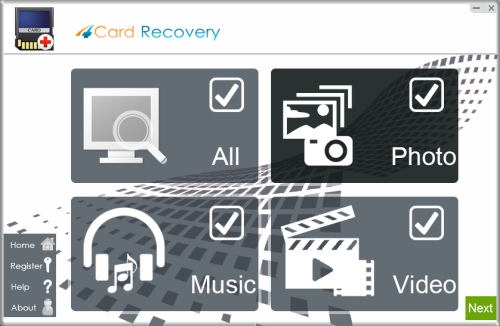 Select recovery options in the main interface
Step 2:
Do a deep scan on this inserted memory card. Click this memory card out from other listed computer partitions and drives before the scanning process.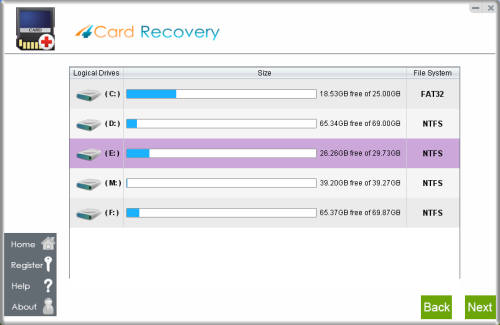 Select card to search photos off card
Step 3:
Preview and select all wanted memory card stuffs after scanning process. When there are tons of files that have been scanned, you'd better preview and pick out all wanted ones only.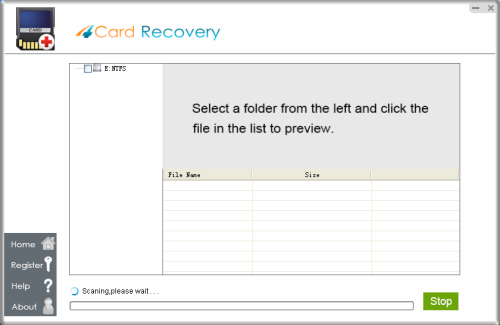 Wait while scanning lost photos, sometimes it takes about 20 minutes to scan a 32G card.
Tips: if it takes more than 2 hours to scan a 32GB card, you may stop the scanning and wait to see
what's already found. Since the card may contains bad blocks that takes longer time than usual.
Step 4:
Restore needed memory card stuffs back. Choose another computer partition drive or partition to save these restored files in case of data recovery failures latter.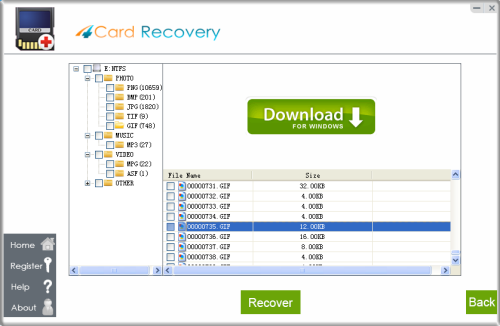 Preview lost photos and save found files. It would generate a folder to contain your lost data.
Please do not save the photo to the card where you lost them. Save them to your PC drive!

Download 4Card Recovery
Tips:
* No matter what happens, save nothing new on this memory card that needs to be formatted. Also never format this card before data recovery process.
* No matter how many card stuffs you've restored, save no one of them on the same memory card. You only can do that when you are 100% that all your lost or inaccessible stuffs have been retrieved completely.
* No matter how busy you are, you'd better timely save your memory card information on several devices or drives to prevent any data loss problems in the future.
Format Phone Memory Card after Data Recovery
Now, format this phone memory card to check whether this memory card can still work well on your phone or computers.
Format Phone Memory Card after Data Recovery
* No matter what situation you'd encountered, trickily or simply, do not use the same memory card on several or more electronic devices, like cameras, smart phones, camcorders or others. The more devices, the more chances you may encounter the similar memory card problems or errors.
* No matter what occurs to you, the essential and first thing you are supposed to do is to prepare memory card data backups.
* No matter what kinds of troubles you have got, always keep yourself calm and make no farther mistake.

Download 4Card Recovery