Summary
Keep on reading this tutorial to know more details about how to recover lost or inaccessible SD card videos, pictures, music, files, messages and other stuffs back, when SD card suddenly becomes RAW and also find no card data backups elsewhere.

RAW SD Card Data Recovery by 4Card Recovery
Free download 4Card Recovery to recover lost or missing data from SD card used in your cameras, smart phones, camcorders or others and now becomes inaccessible for RAW file system error, not formatted error or other card errors.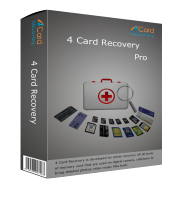 SD Card Suddenly Becomes RAW & Find No SD Card Backup?
Why your SD card suddenly becomes RAW? SD card becomes RAW after you've stopped its formatting, deletion or data transformation processes suddenly? SD Card becomes RAW file system after it is infected by some undetected viruses or threats? SD card becomes RAW after it is corrupted in camera, smart phone, camcorder or other electronic media for careless dropping, falling or serious shocks, etc? SD card simply cannot be checked with computer error-checking tool for RAW file system error? What have you done to rescue your SD card data inside? If you unfortunately find no card data backups or no recently updated card data backups elsewhere, put this SD card aside and download RAW SD Card data recovery software to take possible card original photos, audios, videos, files and the likes back.
Restore RAW SD Card Videos, Images, Music, Files & More Back
When the SD card of cameras, camcorders, mobile phones or other electronic media becomes RAW and suggests you to format before allowing you to access anything inside, your card videos, images, music, files and more are still reserved on this card. But, they also can be permanently erased or wiped when you put new similar data to overwritten them. Therefore, once you find there is no card data copies left on other places, never do anything to this card before finding proper SD card data recovery software like 4Card recovery, which offers you four well-designed data recovery modes, user-friendly interface and high data recovery success rate, to retrieve them back.
Here are steps for you to use this SD card data recovery software:
Step 1:
Download this software to your computer. And also attach this RAW SD card to this computer with card Reader or Adaptor. Install and launch this software there to stat choosing a fixable data recovery mode.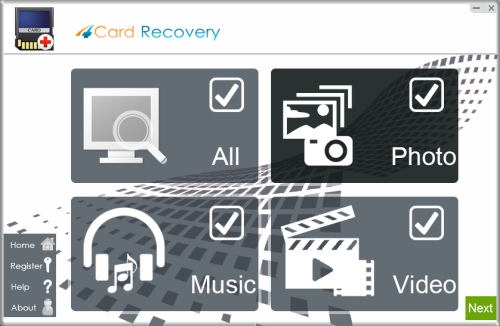 Select recovery options in the main interface
Step 2:
Click the RAW SD card when you've seen all storage media presented well on the software screen. Scan this RAW SD card.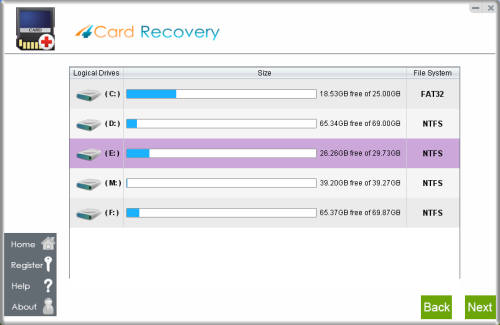 Select card to search photos off card
Step 3:
Browse all SD card videos, images, music, files and more found by this software. Select your wanted ones out.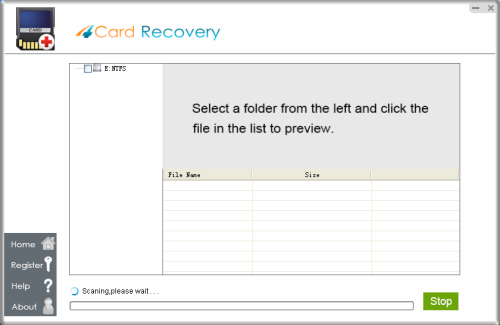 Wait while scanning lost photos, sometimes it takes about 20 minutes to scan a 32G card.
Tips: if it takes more than 2 hours to scan a 32GB card, you may stop the scanning and wait to see
what's already found. Since the card may contains bad blocks that takes longer time than usual.
Step 4:
Move all restored RAW SD card stuffs to preferred drives or locations.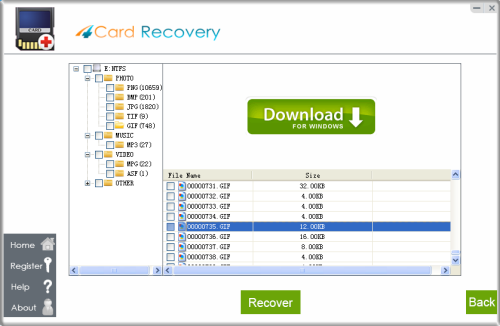 Preview lost photos and save found files. It would generate a folder to contain your lost data.
Please do not save the photo to the card where you lost them. Save them to your PC drive!

Download 4Card Recovery
Tips:
* The original card stuffs may be gone forever, if you take new ones to overwrite them. Simply stop using this card for a while.
* The names of scanned files may be completely changed. Do not be fooled by their names. Simply preview them one by one to avoid any data leaking.
* The RAW file system error can be removed by simple formatting process. Simply format this RAW SD card after placing your restored card stuffs on another drive or location well.
Make SD Card Backups from now on
There are also two tips for you to prevent similar data loss problems when you are trying to make your SD card data backups.
1). Prepare several card data backup copies on separate devices or locations.
When one of your prepare card data backup copy is lost or inaccessible for some unexpected reasons, including suddenly deletion, card quick/full/half format, card not formatted error, card RAW file system error, memory card errors, etc, you still can simply copy them all back from the rest copies.
2). Update all SD card backups as possible as you can.
Changed SD card data yesterday and found all SD card data were gone without updated backups left in this morning? In that case, to rescue your newly changed card data, you also have to perform a data recovery process and check whether all the changed data is retrieved. To avoid such troubles, also update your SD card backups as possible as you can. 

Download 4Card Recovery