Summary
This article will help you restore your remained documents, mails, images, movies and other prevailed files back from the SD card that shows incompatible file system on your computer and also cannot be accessed without immediate format.

SD Card Data Recovery by 4Card Recovery
Free download 4Card Recovery to rescue your reserved data back from the SD card that need be formatted immediately for an unsupported file system, not previous commonly-used one, like RAW, NTFS, FAT32.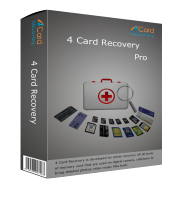 The SD Card with Much Important Data Shows an Incorrect File System?
What type of incorrect file system does your SD card show? This SD card shows a RAW file system on your NTFS or FAT32 computer and all stuffs inside cannot be accessed without format? This SD card shows a NTFS file system on your FAT32 computer and need be formatted to the same file system for future use? Or this SD card shows a FAT32 file system on your NTFS computer and asks you to format for fixing the incompatible file system issue? However, since there are still stored much important data, you just cannot afford to lose it all by immediate quick or full format? OK! It is right to be careful about your SD card data before formatting or deletion. Next time, you'd better also make card data backups well in advance to avoid such data loss troubles. However, now, in this moment, you are supposed to firstly rescue your crucial data out from this card with SD card file system recovery software and repair this incorrect file system problem afterwards.
How to Recover Much SD Card Data before Quick or Full Format?
With incorrect SD card file system issue, it is often inevitable for users to format this card for restoring its previous commonly-used file system. However, that doesn't indicate that you have to format this SD card immediately or blindly. As a matter of fact, with an efficient SD card data recovery program like 4Card Recovery, in your case, you can easily rescue your SD card data with success and also restore your card file system. Just remember one thing: never format this card before taking all card stuffs back.
So, right now, forget all worries about whether you should immediately format this SD card and download this 4Card Recovery from its website to take chances:
Step 1:
Launch this software and click its shortcut to run it well on your PC. Also remember to plunge this SD card to this PC in advance. And then, select a practical data recovery mode to restore your desired SD card stuffs back.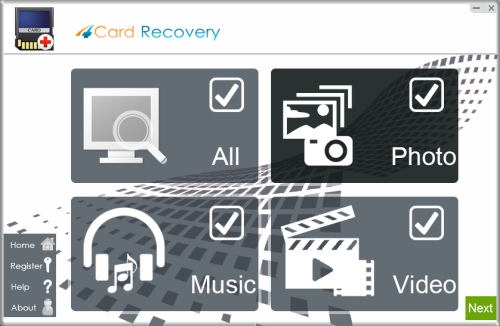 Select recovery options in the main interface
Step 2:
Select the storage device that you want to rescue your needed data. It is just the device that this software will scan in the next seconds.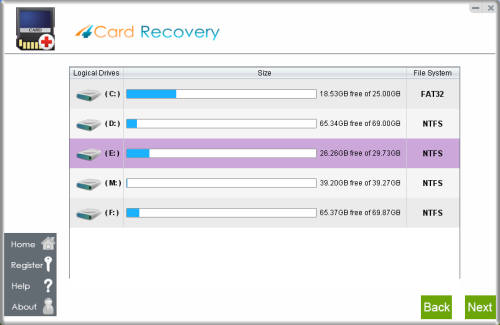 Select card to search photos off card
Step 3:
Preview all scanned files to select your preferred ones only. Only the "Preview" button can help you decide on which found files are your previous ones.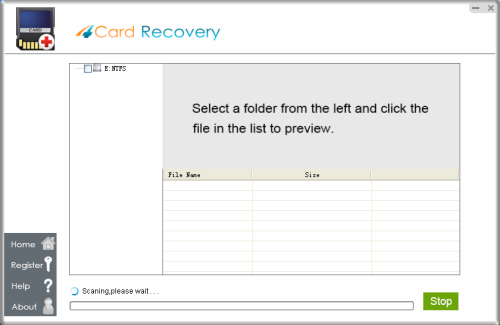 Wait while scanning lost photos, sometimes it takes about 20 minutes to scan a 32G card.
Tips: if it takes more than 2 hours to scan a 32GB card, you may stop the scanning and wait to see
what's already found. Since the card may contains bad blocks that takes longer time than usual.
Step 4:
Restore all chosen ones to another storage device, like your computer partition, external drives, or other devices.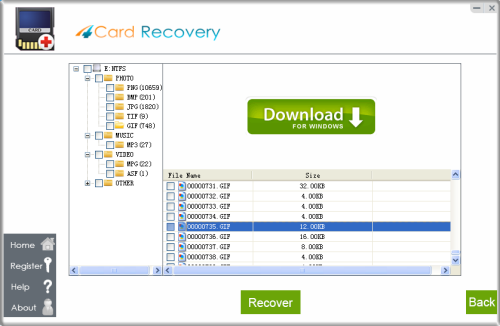 Preview lost photos and save found files. It would generate a folder to contain your lost data.
Please do not save the photo to the card where you lost them. Save them to your PC drive!

Download 4Card Recovery
Tips to Avoid Unexpected Data Loss Situations:
* No matter what type of file system this SD card has shown, you should never put anything new on this card to rewrite your wanted previous ones.
* No matter what type of storage devices you decide to hold these restored card data, you should never place it all to this original SD card again in case of data recovery failures.
* No matter how many copies of your important card data you'd like to save on different devices, you should never hold it all on only one place again in the future.
* No matter what type of data recovery mode you choose in the main screen of this software, it often will deeply scan your card and find your needed card stuffs back as many as possible.
*No matter what type of wrong file system issues your SD card has, you'd better format this SD card after data recovery to restore its file system back.
Why Your SD Card Has An Incorrect File System?
There are many reasons why your SD card can get an incorrect file system. As to some newly bought SD cards, the incorrect file system problem often happens when you firstly use this new card on a computer or laptop. If there is nothing crucial remained, you can immediately format it to use this card there freely in the future. However, as to some long-time used SD card, the incorrect file system problems often happens for some human errors (like: rude card extraction, card or device sudden shocking, hitting, dropping or others) and some card malfunctions (like card virus infections, card logical damages or corruptions, card not formatted error, memory card errors, etc). Therefore, in the future, when encountering similar card problems, without ensuring which reason brings these problems, you'd doing nothing to this card and rescue your card data out at the first place. And then, format this card to fix all possible card problems.

Download 4Card Recovery