Summary
Use 4Card Recovery to scan your SD card and check whether all your desired device information can be restored or not, when your SD card is damaged somehow for dropping, shocking, rude extracting, virus attacking and other improper operations.

Damaged SD Card Recovery by 4Card Recovery
Free download 4Card Recovery to scan your damaged SD card thoroughly and also restore all recoverable files back as many as possible.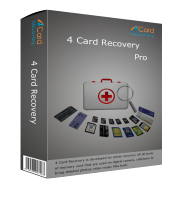 SD Card Seems to Be Damaged Somehow? ?
SD card just strangely stops working in digital device and also weirdly asks you to format when being taken to your computer? SD card seems to be damaged in digital device since there is a popped out message saying: "…damaged SD card/Reformat…"? SD card shows nothing inside, but the shown card used space is also correct on your computer? SD card has some strange card errors, including not formatted error, RAW file system error or memory card error, etc, after accidental dropping, shocking , rude extracting or other improper operations? No matter what signs or symptoms make you think your SD card seems to be damaged somehow, immediately check your important SD card contents and see whether all of them are accessible and useful. If you unfortunately find some or most of them are inaccessible or unworkable, immediately stop using this SD card and firstly rescue them all back with SD card data recovery software.
Recover Important Data from Damaged SD Card Firstly?
Generally, damaged SD card, especially logically damaged SD card, often has many signs and symptoms that can help people tell whether a SD card is corrupted or not, like not formatted error, RAW file system error, card data inaccessible error, memory card error, etc. But, that doesn't mean your SD card must be seriously damaged when your card has one or two of them. Therefore, before your card is completely corrupted physically, never give up hopes and focus on rescuing your wanted card stuffs back with the help of memory card data recovery software like 4Card Recovery, which can help deeply scan your assigned memory card and does all its efforts to take your selected card information back with fast speed and high efficiency.
Here are steps for you to use this 4Card Recovery easily:
Step 1:
Download free copy of this software on this website and install it well on your computer. Also plunge this SD card well on the same computer. Start this software and click a wanted file type recovery mode.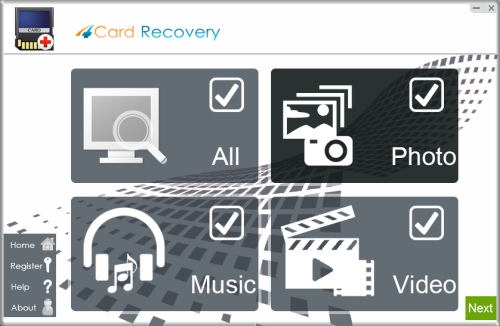 Select recovery options in the main interface
Step 2:
Identify which one of presented storage devices is your SD card on the next screen. Scan this SD card thoroughly latter.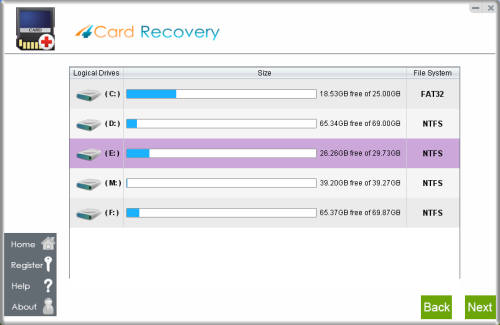 Select card to search photos off card
Step 3:
Find "Preview" button to see browse all scanned card files and take them all out with marks.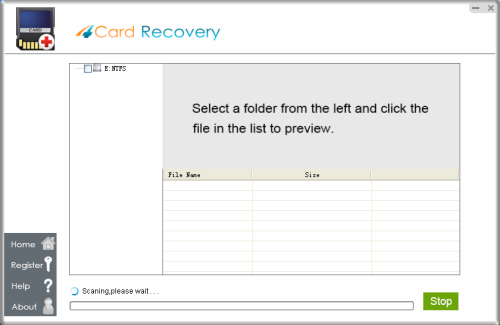 Wait while scanning lost photos, sometimes it takes about 20 minutes to scan a 32G card.
Tips: if it takes more than 2 hours to scan a 32GB card, you may stop the scanning and wait to see
what's already found. Since the card may contains bad blocks that takes longer time than usual.
Step 4:
Restore all marked card stuffs only. Select a different place, not this original SD card, to hold all scanned information in case of data recovery failures.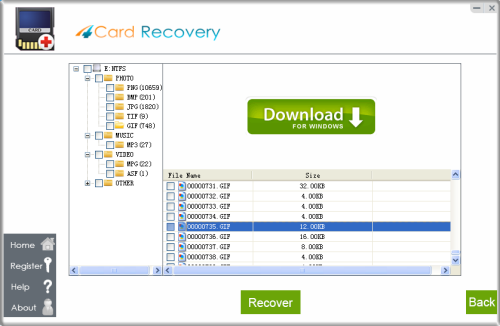 Preview lost photos and save found files. It would generate a folder to contain your lost data.
Please do not save the photo to the card where you lost them. Save them to your PC drive!

Download 4Card Recovery
Tips:
* Keep this SD card unused all the time till you have success in getting everything inside back.
* Keep this SD card away from all restored card stuffs in case that farther card data loss problem will happen somehow.
* Keep saving all SD card information on different devices or locations in case of similar data loss problems in the future.
Format SD Card to Check Whether It Is Really Damaged Then
Seriously damaged SD card often cannot be used on any devices, no matter how many times it has been formatted. Therefore, format this SD card and try it on your owned devices to see whether this card still can work well as before. Unfortunately, if it cannot be used as before, you'd better turn your attention to buying another efficient card. 
Of course, except the formatting process, there are also other ways that can help you fix this card. Change another card Reader, try it on another computer or directly consult some experts.

Download 4Card Recovery