Summary
Follow tips and guidance to restore your lost pictures, documents, videos, audios and texts back from your formatted SD card as many as possible, no matter what you've done to this SD card after this formatting process.

Formatted SD Card Recovery by 4Card Recovery
Free download 4Card Recovery to restore all recoverable card contents back from this SD card after you've formatted or reformatted it unintentionally or purposely.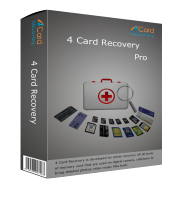 Find All Memory Card Information Is Gone after Device System Upgrade?
Have already formatted or reformatted your SD card without hesitation? Have checked card data backups carefully and find some or even entire of your needed card stuffs are not copied there? Also unfortunately have no success to rescue them all back with your ways? All right! Even though we don't know why you have to format or reformatted this SD card without backups, in order to restore your desired information back from this SD card, you are supposed to follow some necessary tips and choose efficient SD card data recovery software like 4Card Recovery, which offers you wonderful data recovery features to help you fix different memory card data loss problems, especially your encountered formatted SD card data recovery problem. Keep on reading this article to know more detailed information.
Follow Tips & Run Data Recovery Software to Take Lost Card Files Back
Honestly, after you've formatted or reformatted your SD card purposely or accidentally, in the terms of your SD card files, the formatting process just has changed nothing. Except some subtle changes in the names or storage paths of your original card files, all these desired SD card files are still stored on this SD card somewhere and becomes invisible. But, without right guidance, you also can really wipe them and make them gone forever. Therefore, immediately stop accessing this formatted SD card and download this SD card format recovery software to take your wanted stuffs back as soon as possible.   
Here are needed steps and tips for you to successfully take your wanted card files back:
Step 1:
Select a fixable data recovery mode after you've prepare this software and your formatted SD card well on your computer.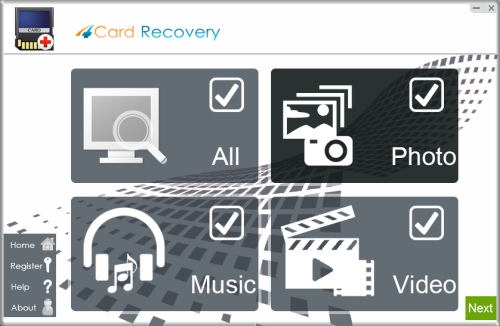 Select recovery options in the main interface
Step 2:
Select the drive that stands for your inserted SD card and let it be scanned quickly.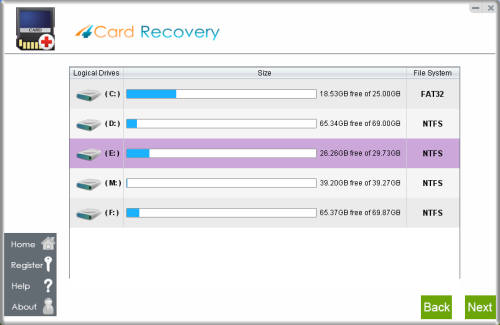 Select card to search photos off card
Step 3:
Scan this formatted SD card thoroughly and select all recoverable ones out by previewing them one by one.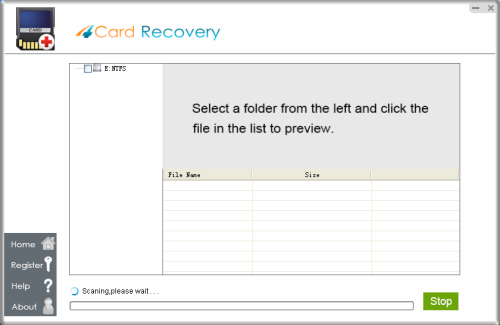 Wait while scanning lost photos, sometimes it takes about 20 minutes to scan a 32G card.
Tips: if it takes more than 2 hours to scan a 32GB card, you may stop the scanning and wait to see
what's already found. Since the card may contains bad blocks that takes longer time than usual.
Step 4:
Select computer partitions, drives or online storage to hold these restored card stuffs at last.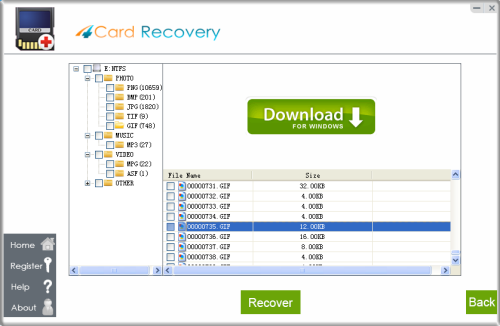 Preview lost photos and save found files. It would generate a folder to contain your lost data.
Please do not save the photo to the card where you lost them. Save them to your PC drive!

Download 4Card Recovery
Tips:
* Through your desired card stuffs are not wiped right now, they can be actually erased or destroyed by any new data overwriting or card damage. So, do nothing unnecessary to this SD card before data recovery.
* Through your selected card stuffs have been restored after the data recovery process, some data recovery failures are also possible when you place them on the same SD card. So, save them all on a different storage device.
*Through this time you've lost your needed stuffs unwillingly, next time, after preparing all card data backups and updating them regularly, you also can keep yourself away from these similar data loss problems.
Have Already Restored Your Preferred SD Card Data Back?
Have you restored all your wanted card files back from this formatted SD card after trying above mentioned tips and software? If you have restored a little portion or most of them back only, to rescue the rest of them, simply run this software more times to see whether you can harvest much more data back. But, if you also cannot take any more card files after you've scanned this card many times with this software, your SD card files may be already destroyed or corrupted before or in the formatting process. Still with some hopes to take them back, you can ask some data recovery agencies for help. But, if the data recovery companies also have no idea to your card data, I am sorry. You'd better give up and learn impressive lesson to save copies of everything important timely in the future.

Download 4Card Recovery