Summary
This tutorial will tell you detailed steps and tips to help you restore lost photos, files, videos and the likes back from your Micro SD card after mistaken or purposed deletion, formatting or other card data loss operations or problems.

Micro SD Card Data Recovery by 4Card Recovery
Free download 4Card Recovery to take scanned Micro SD card messages, pictures, mails, videos and files back after you think all your card stuffs are really lost or erased for your mistaken or purposed deletion, formatting or other data erasing operations.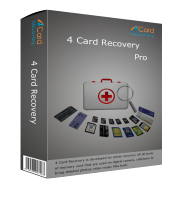 What's Your Micro SD Card Data Loss Problems?
Have broken or corrupted electronic device (like smart phone, digital camcorder, camera, player, etc) somehow and also unexpectedly found the inner Micro SD card just cannot be read normally for memory card error, RAW file system error or mot formatted error, etc? Have carelessly turned off electronic device during data transformation process and also found all remained Micro SD card files, images, mails, messages and the likes are inaccessible on computer? Have deleted most of Micro SD card contents by mistakenly opening right-clicking menu? Have lost entire Micro SD card data for unexpectedly formatting card without double checking data backups? Or have made all Micro SD card lost or missing for other improper operations? Don't worry! If you happen to have any one of the above mentioned Micro SD card data loss problems and also cannot find your desired card data back from left data backups completely, try the below mentioned Micro SD card data recovery software to rescue your card stuffs back.
How to Recover Micro SD Card Files after Data Loss Problems?
Need rescue Micro SD card data timely after data loss problems? Want to try data recovery software to see whether all preferred card files could be retrieved? Need to know where you can download handy data recovery software to take your desired cared stuffs back with high success? OK! What you are thinking now is not impossible! In fact, after losing your previous Micro SD card contents for mistaken or purposed operations, you absolutely can easily download efficient memory card data recovery software like 4Card Recovery to scan your Micro SD card thoroughly and rescue all scanned card files back successfully before they are overwritten by anything else.
Therefore, immediately download 4Card recovery here to take chances:
Step 1:
Connect this Micro SD card to your computer well with proper card reader or device. Install and run this software on the same computer to pick out a data recovery mode for your lost Micro SD files.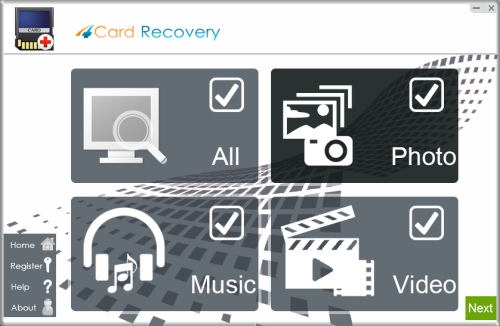 Select recovery options in the main interface
Step 2:
Specify your connected Micro SD card and scan it for all possible original files.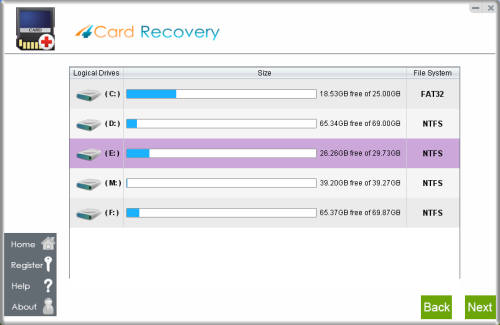 Select card to search photos off card
Step 3:
Choose all viewable files out by previewing them all in advance.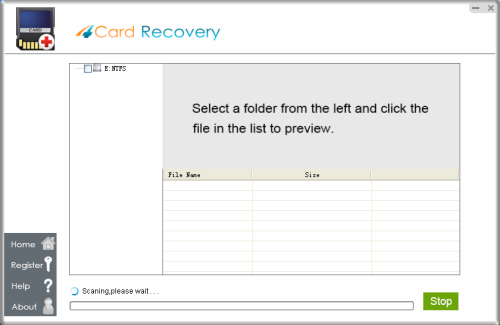 Wait while scanning lost photos, sometimes it takes about 20 minutes to scan a 32G card.
Tips: if it takes more than 2 hours to scan a 32GB card, you may stop the scanning and wait to see
what's already found. Since the card may contains bad blocks that takes longer time than usual.
Step 4:
Select and recover all files you need.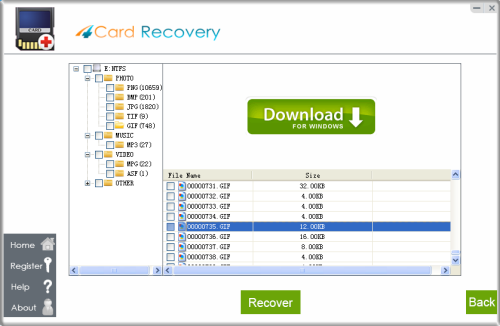 Preview lost photos and save found files. It would generate a folder to contain your lost data.
Please do not save the photo to the card where you lost them. Save them to your PC drive!

Download 4Card Recovery
Note:
* In order to increase the success rate of data recovery, you'd better not add new stuffs on this Micro SD card after data loss problems.
* In order to decrease the chance of data recovery failures, you'd better also not move all restored card stuffs to the same memory card after data recovery processes.
* In order to decrease the possibility of data loss in the future, you'd better also not put all important device stuffs on only one memory card again.
* In order to avoid unnecessary Micro SD card malfunction problems, you'd better format this card after backing all restored card information well.
Comments of 4Card Recovery Users:
Comment1: Honestly, I have tried lots of data recovery programs online, free or paid ones. But, only this only stands out among the rests. Why? It has many superb data recovery features, like four pre-designed data recovery modes, easy-to-use operating interface and high data recovery success rate, etc. It had helped me restored many of my phone memory card pictures last time.
Comment2: I was also looking for an advanced memory card data recovery program at first and though it was really difficult for me to take wanted card stuffs back, since my Blackberry phone SD card was formatted for careless operations. But, after installing and trying this software, things just were changed. Now, it has helped me re-viewed most of card stuffs successfully. It is also a good chance for you!
Comment3: Download and try it immediately! And then, you will find and experienced how well it works.

Download 4Card Recovery