Summary
Read article and learn how to rescue left SD images, documents, texts, messages, videos and others back before you have to formatted this card for fixing different card errors, including RAW file system errors, not formatted errors, memory card errors and card logical damage errors, etc.

Unformatted SD Card Data Recovery by 4Card Recovery
Free download 4Card Recovery to rescue your needed SD card information back when your card has got some malfunction errors and becomes inaccessible.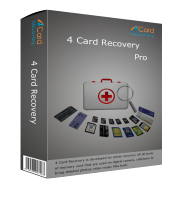 Wonder Whether You Have to Format SD Card Firstly?
Recently find connected SD card frequently suggests you to format whenever you try it on your computer due to some card malfunction errors like memory card RAW file system error, memory card error, memory card corruption error or memory card logical damaging error, etc? But, also clearly know this immediate formatting process will also increase the possibilities of losing everything inside? Still worry about whether it is right to firstly format this SD card? All right! Don't worry! You do have no need to format this SD card immediately and you also do have a great chance to take your card information back, provided that this SD card has not been overwritten or re-used! What can help you out right is merely simple SD card data recovery software which is designed to assistant you rescue your assigned card data back without any risk. 
Learn How to Restore SD Card Data before Fixing Card Errors
When there is no SD card data copies remained on other storage devices or locations, once you have met similar card malfunction errors, never try to format this SD card without any help or guidance. Just ignore any formatting suggestion and keep this card in a safe and recoverable state till you find proper data recovery software like 4Card Recovery to take your needed card stuffs back with success. Hence, in your case, just stop using this SD card right now and download this fully-featured data recovery software to guide your data recovery process:
Step 1:
Install this software well on your computer and open it to choose a fixable data recovery mode.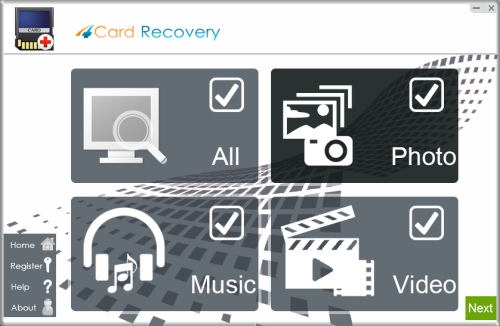 Select recovery options in the main interface
Step 2:
Select this SD card that contains all your preferred files and let it be scanned thoroughly.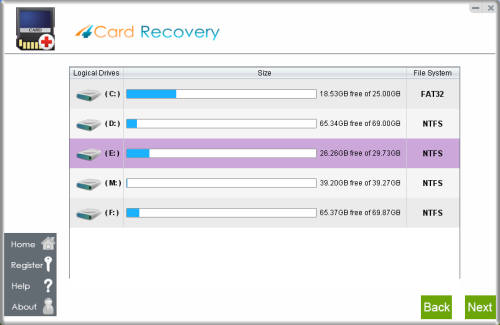 Select card to search photos off card
Step 3:
Click all scanned files and preview them all for latter recovery. Pick needed ones out only.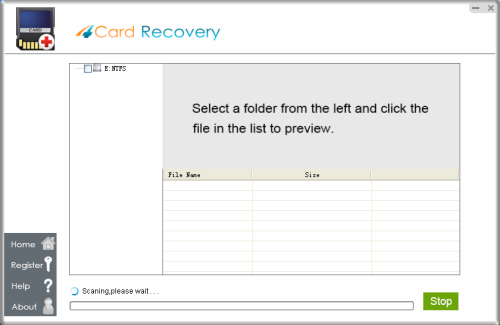 Wait while scanning lost photos, sometimes it takes about 20 minutes to scan a 32G card.
Tips: if it takes more than 2 hours to scan a 32GB card, you may stop the scanning and wait to see
what's already found. Since the card may contains bad blocks that takes longer time than usual.
Step 4:
Restore all picked card stuffs back to computer partitions or drives at last in case of data recovery failures.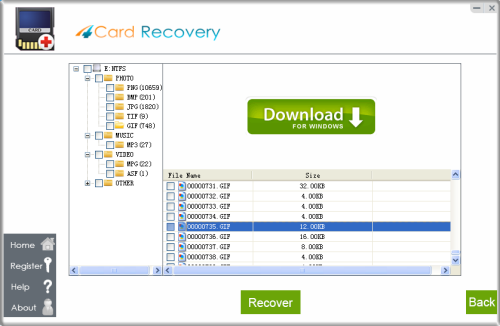 Preview lost photos and save found files. It would generate a folder to contain your lost data.
Please do not save the photo to the card where you lost them. Save them to your PC drive!

Download 4Card Recovery
Successful Data Recovery Tips:
* Once your SD card data is overwritten or corrupted completely, it will not be restored no matter how efficient your software works. So, save nothing on this card since the data loss problems.
* Once any data recovery failure happens, you also probably cannot rescue your desired card data back. So, save all restored card data on another device or locations and also back it up well immediately.
* Once your card data is lost or deleted unexpectedly, you can easily rescue them back from card data backups. So, from now on, make data backups well all the time.
* Once this card data is formatted, your card data may not be restored completely for some known or unknown errors or damages. So, format this card after you've restored everything back.
Format SD Card for Restoring Card Common Use
The SD card with different malfunction errors also can work efficiently as before as long as you've fixed its existing problems. Therefore, in your case, the successful data recovery result is not the end of your story. If you do want to keep on using this SD card, just format this card after data recovery and check whether it can be restored successfully.

Download 4Card Recovery