Summary
Use 4Card Recovery to find and rescue your wanted memory card videos, images, audios and other type of files back after you've done a deep antivirus scan on this memory card and remove all possible existing viruses and threats completely.

Memory Card Data Recovery by 4Card Recovery
Free download 4Card Recovery to rescue your original memory card stuffs back as many as possible after you've completely cleaned everything dangerous off from this memory card, like viruses, malware, spyware and other threats.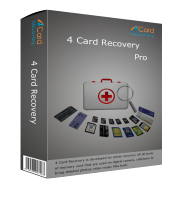 Memory Card Information Cannot Be Used for Virus-Infection?
What's your memory card problem? Entire memory card files are turned into unworkable shortcuts probably because this card gets viruses? Memory card always asks you to format when attempting to access inside files only because this card seems to be attacked by virus when being used on another computer or laptop? Memory card is just displayed nothing when trying to copy all your card stuffs out on your computer due to possible virus damaging? Memory card files seems to be hidden by viruses and cannot be find anywhere, even after you've shown all hidden files and folders up with "folder options" tool? Or memory card files simply need be rescued after you've formatted this card for virus cleaning? Sound these situations are really familiar? OK! No matter whether your card data problem is really aroused by viruses or other threats, immediately find and run your antivirus tool to scan this memory card and remove all possible threats completely. And then, to rescue all your preferred memory card files, you can easily apply virus-infected memory card data recovery software to have a try!
How to Restore Desired Data from Virus-Infected Memory Card?
As a matter of fact, virus can not only affect your memory card files and folders, like hiding them to cause much more strange card data problems and brining you some useless file shortcuts, and also can damage the whole fie system of your memory card seriously to make it unworkable no longer. Therefore, once you doubt this memory card data issue is caused by viruses or other dangerous threats, like malware, spyware and the likes, just do a thorough antivirus scan on this memory card to wipe all hidden ones out completely. As to your important data stored inside this memory card, you can easily download memory card data recovery software like 4Card Recovery to take recoverable ones back with success.  
Here are steps for you to recover needed card data back:
Step 1:
Install and run this software on your computer after you've attached this memory card well there. And then, choose a file type recovery mode from four to restore your wanted card information.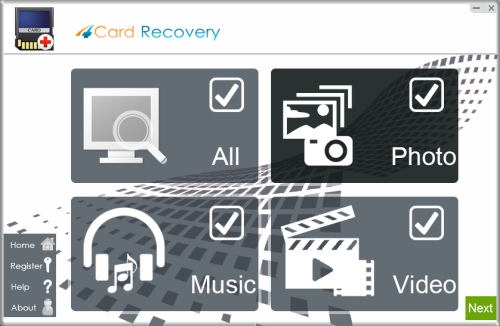 Select recovery options in the main interface
Step 2:
Scan this virus-infected memory card after picking it out from all detected drives there.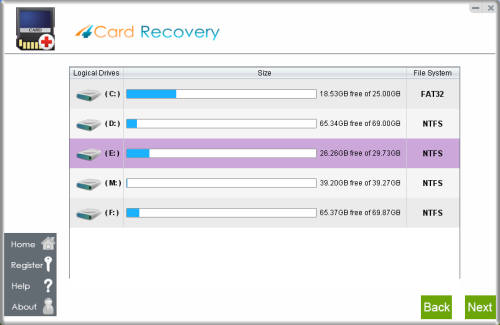 Select card to search photos off card
Step 3:
Preview all listed memory card files to see how many of them are still recoverable. Just mark all recoverable ones out only.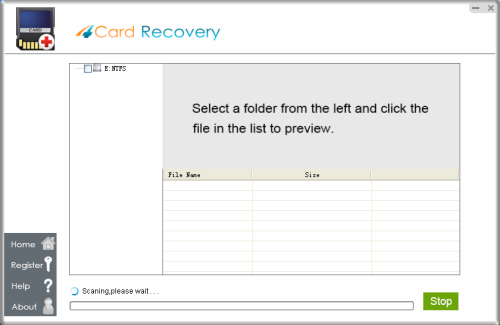 Wait while scanning lost photos, sometimes it takes about 20 minutes to scan a 32G card.
Tips: if it takes more than 2 hours to scan a 32GB card, you may stop the scanning and wait to see
what's already found. Since the card may contains bad blocks that takes longer time than usual.
Step 4:
Choose a detected storage media to save all restored files. Also remember not to put them all on the same memory card in case of data recovery failures.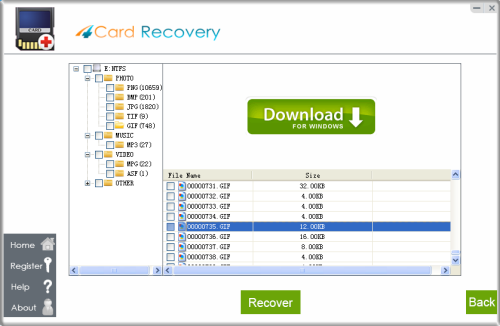 Preview lost photos and save found files. It would generate a folder to contain your lost data.
Please do not save the photo to the card where you lost them. Save them to your PC drive!

Download 4Card Recovery
Tips:
* When you find many shortcuts are shown inside your memory card, you'd netter do not try to open or click them in case that the entire memory card stuffs will be infected quickly.
* When you find your memory card is really virus-infected, you'd better run your antivirus tool to remove them all completely before you start to rescue your card data.
* When you restore all your selected card stuffs back, you'd better also save them all on different place in case of data recovery failures finally.
*When you've saved all important data well on your memory card, you'd better also save some extra copies on other devices to avoid similar data loss troubles.
Back up Restored Memory Card Stuffs well Before Format
After rescuing your needed card stuffs back from this virus-infected memory card, you are often suggested to format this memory card for cleaning all hidden viruses or threats completely. But, if you really decide to follow this suggestion and format your memory card, you'd better save several copies of all these restored card stuffs on other places in case that this final formatting process to cause data loss problems again.

Download 4Card Recovery