Summary
Useful guidance will be introduced here to help you restore lost or missing documents, songs, videos, pictures and other files back from fully/quickly formatted, erased, deleted, virus-infected or logically damaged external hard drive.

Formatted External HDD Recovery by 4Card Recovery
Free download 4Card Recovery to rescue your desired previous drive stuffs back, no matter whether you have fully or quickly formatted this USB hard drive.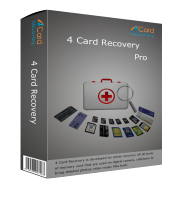 Have Formatted Your External Hard Disk Without Rescuing Inner Crucial Data?
Have performed a full format on your external hard disk when there is a not formatted error message given? Have done a quick or full format on your USB hard disk when you've got a RAW file system error? Or have formatted your external disk urgently when you are stuck in a situation without time to consider about the remained crucial drive data, like some virus-infection problems, sudden drive shocking or dropping, etc? Also have no valid drive data backup elsewhere? OK! Don't worry! Through preparing no drive data backups elsewhere can make the situation worse, you also do have chances to restore your lost data from this fully/quickly formatted drive with external hard disk data recovery software.
How to Get Your Files back from This Formatted USB Hard Disk?
In your case, it is clear that your desired previous external hard drive files are still recoverable, even after that fully formatting process, since they are not really erased off from this drive and simply hidden there. However, that doesn't means you can take every one of your previous drive stuffs back successfully as you whish. Anything else written on this drive right can occupy the space of your original drive files and destroy them permanently. So, from now on, just act carefully and quickly choose proper USB hard disk file recovery software like 4Card Recovery to take all possible previous drive files back:
Step 1:
Plunge your external drive to a compatible computer and download this software to install it well on this computer. And then, choose a needed file type recovery option from four listed on its main screen.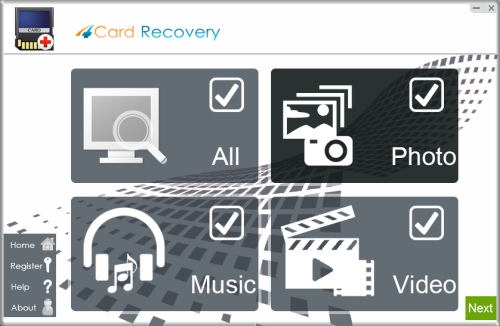 Select recovery options in the main interface
Step 2:
Choose your connected USB drive out when you are asked to choose your physical drive and then, scan this drive deeply.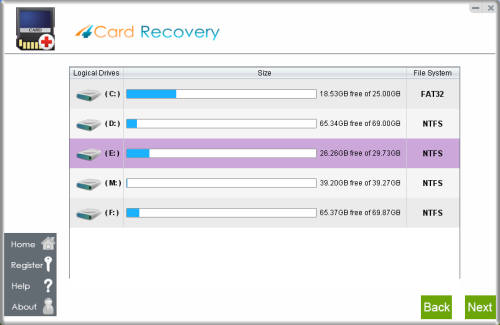 Select card to search photos off card
Step 3:
Preview all scanned drive stuffs when the scanning process is done. Pick all useful ones out.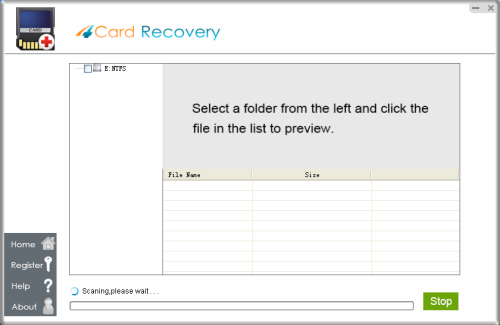 Wait while scanning lost photos, sometimes it takes about 20 minutes to scan a 32G card.
Tips: if it takes more than 2 hours to scan a 32GB card, you may stop the scanning and wait to see
what's already found. Since the card may contains bad blocks that takes longer time than usual.
Step 4:
Click computer drive or partition to hold all your restored drive files well.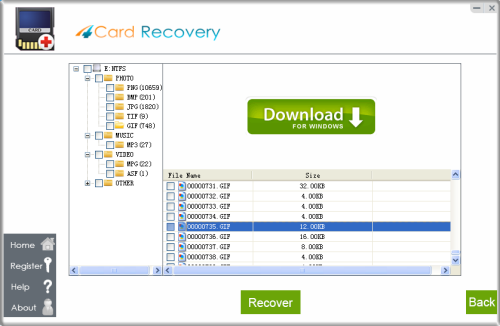 Preview lost photos and save found files. It would generate a folder to contain your lost data.
Please do not save the photo to the card where you lost them. Save them to your PC drive!

Download 4Card Recovery
Don't Forget to Do:
* Don't forget to download and install software on a different partition or hard drives, instead of this fully formatted USB drive.
* Don't forget to add nothing new on this formatted drive till you start to perform data recovery processes there.
* Don't forget to transfer all restored USB hard disk stuffs to another drive or devices timely in case of data recovery failures.
* Don't forget to save all useful drive information on separate drives or places in case of data recovery issues in the future.
4Card Recovery User Discussions:
User1: This data recovery tool is the best one that has recovered all my sports pictures and videos back from my USB flash drive, after trying about 5 similar tools recommended online.
User2: Once you lose your cherished drive stuffs due to accidentally format or deletion, this data recovery software could be a good chance to take them all back. Don't worry! Without erasing your lost data permanently by overwriting this drive, you often can easily get your preferred ones back.
User3: Do you have a drive data backup? When there is a valid data backup left, you often have no need to worry. Simply copy all lost stuffs back. But, if there is no such backup, this software also could assistant you to rescue your needed drive data back.  

Download 4Card Recovery