Summary
Grab practical data recovery software here to rescue lost pictures, videos, files and more from your formatted external hard drive, no matter whether the unexpected drive format is caused by unknown drive file system issue, unformatted drive error issue, virus-infection issue or logically damaged drive issues, etc.

External Hard Disk Recovery by 4Card Recovery
Free download 4Card Recovery to take everything recoverable back from your formatted USB hard drive before you do anything else to this drive and wipe your remained stuffs inside permanently.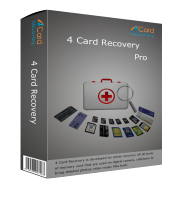 Do Nothing Else to This Formatted External Drive before Data Recovery
You just have formatted external hard drive with many photos, videos and files since computer shows no workable external hard drive for incompatible RAW file system? You just have formatted external drive without latest drive data backups since computer shows a not formatted error for virus-infection issues or logically damaged drive problems? Or you just have formatted your USB hard disk for careless key board/mouse button clicking? OK! Clam down! In this moment, how you've formatted this drive often mater nothing in taking your remained drive videos, pictures and files back. What matters is whether you can choose practical external hard drive data recovery software to scan this drive and find your wanted drive contents as many as possible. Hence, from now on, do nothing else to this formatted drive and choose right data recovery software to take chances.
Guidance to Recover Lost Photos, Videos & Files back from Formatted USB Hard Disk
Once this USB hard disk is formatted, anything new stored there can overwrite your previous files and make them all erased forever.
Once this USB hard disk is formatted and also has been overwritten by something new, you do have a really small possibility to take all your previous drive photos, videos and files back successfully. Therefore, from this moment, stop using this drive and avoid writing new data or installing any new programs on this drive. And then, just download data recovery software like 4Card Recovery to scan this formatted drive and rescue your invisible drive stuffs back.   
Here is the guidance for you to take these drive stuffs back with 4Card Recovery:
Step 1:
Select a practical data recovery mode after installing this software on your PC.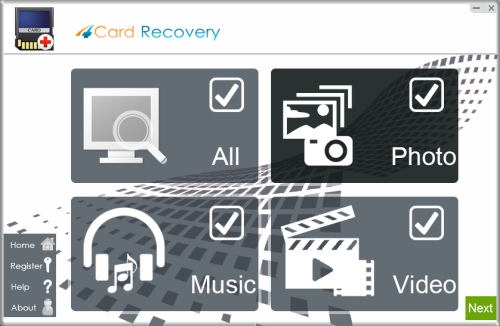 Select recovery options in the main interface
Step 2:
Scan all recoverable drive photos, videos and files out from this USB drive.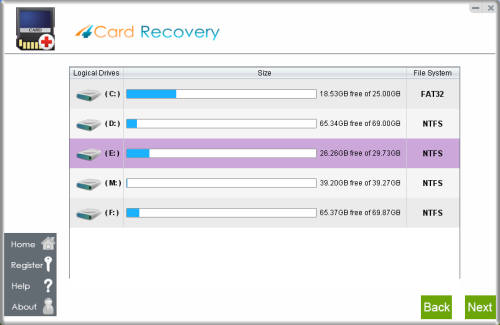 Select card to search photos off card
Step 3:
Select all your wanted drive stuffs out by previewing all scanned ones.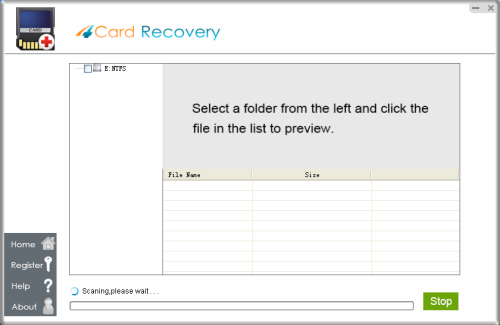 Wait while scanning lost photos, sometimes it takes about 20 minutes to scan a 32G card.
Tips: if it takes more than 2 hours to scan a 32GB card, you may stop the scanning and wait to see
what's already found. Since the card may contains bad blocks that takes longer time than usual.
Step 4:
Select computer partitions or another drives to hold all restored drive stuffs.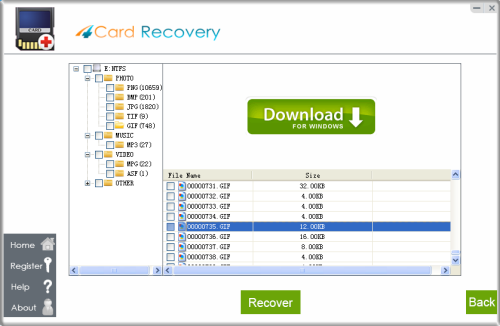 Preview lost photos and save found files. It would generate a folder to contain your lost data.
Please do not save the photo to the card where you lost them. Save them to your PC drive!

Download 4Card Recovery
Please Note:
* If you do have drive data backups, you can easily rescue your lost data from your left backups. But, without drive data backups, some data recovery software is really needed in rescuing your data.
* If you do want to rescue drive stuffs back as many as possible, save no new data to this drive and also keep this driver away from any damage.
*If you do not want to encounter some data recovery failures after data recovery processes, set another storage drive to save all your restored drive information.
*If you do not want to have such drive data loss issues in the future, save several copies of crucial drive data on different devices or places.
Read More Information about Drive Format
People often format their external hard drive to free up drive space, remove possible drive viruses and get rid of some logically damaged drive errors, etc. But, the formatting process will never really erase everything inside this drive. After drive formatted process, the so-called drive contents are still left on this drive and only invisible and hidden somewhere. As long as this drive is not rewritten by new stuffs there or this drive is not completely physically damaged, you often can choose data recovery software to get recoverable drive data back. Therefore, in the future, no matter how and why you format your hard drive, just don't panic. Merely make sure this external drive is away from anything else and also keep it in good conditions before you start your data recovery process.

Download 4Card Recovery