Summary
4Card Recovery has offered easy data recovery interface and efficient data recovery features for you to take your deleted or lost memory card messages, pictures, videos and files back, no matter whether you've ever tried similar data recovery programs.

Deleted Card Data Recovery by 4Card Recovery
Free download 4Card Recovery to try whether this efficient memory card data recovery software can take all your assigned previous card stuffs back with success, no matter how much you've known or learned about such programs.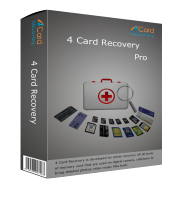 Don't Know Whether Data Recovery Software Can Really Take Your Card Data Back?
Are you in a habit to save copies of your important card messages, videos, images, documents and files on different drives or online storage regularly? No? Have deleted or lost these crucial memory card stuffs before for preparing no such card data backups earlier? Have tried any data recovery software recommended by many data recovery experts online? Have any luck with these data recovery programs to get your wanted memory card stuffs back? OK! No matter how much data recovery programs you've tried before or whether you have luck with such data recovery software, once your memory card is really deleted, lost, missing or inaccessible for not formatted error, RAW file system error, memory card error, accidental deletion, mistaken card format and others, you'd better follow the suggestions of data recovery experts and try memory card data recovery software like 4Card Recovery. 
How to Restore Lost or Deleted Memory Card Data with Data Recovery Software?
Do you still have no any faith with memory card data recovery software? Just cannot persuade yourself to take any unsure risk? OK! Honestly, after your memory card data is really deleted, lost, missing or inaccessible for different reasons, it all is not really gone or destroyed off from this memory card. Instead, it is still on this card and is waiting for the new data to overwrite or replace itself really. Hence, in order to take your invisible card stuffs back, you absolutely are supposed to rescue and make them visible again before the anything is moved there. And then, memory card data recovery software like 4Card Recovery can help you finish that task perfectly, since that's exactly why similar data recovery software is created and developed.
So, discard your suspicion and download this software to rescue your card information back:
Step 1:
Free download this 4Card Recovery and install it well on your computer. Pick out a practical data recovery mode from four.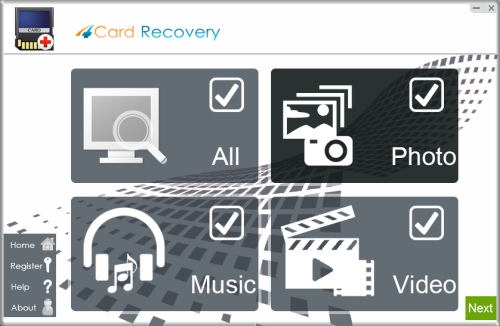 Select recovery options in the main interface
Step 2:
Click the drive letter of your attached memory card and scan this card to find all possible original card stuffs.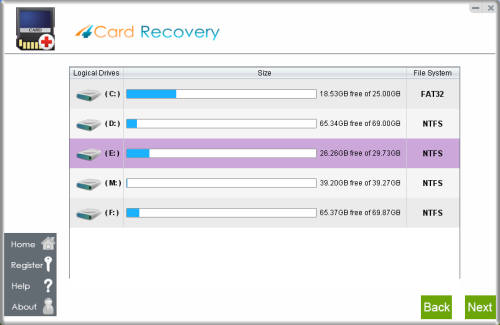 Select card to search photos off card
Step 3:
Click all scanned files one by one and select the recoverable ones out.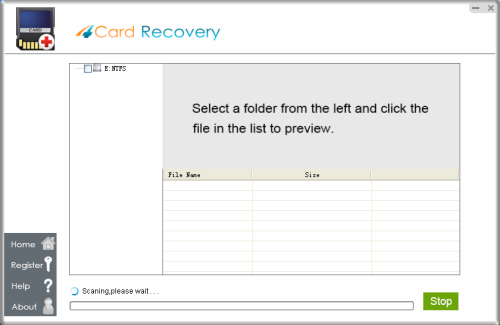 Wait while scanning lost photos, sometimes it takes about 20 minutes to scan a 32G card.
Tips: if it takes more than 2 hours to scan a 32GB card, you may stop the scanning and wait to see
what's already found. Since the card may contains bad blocks that takes longer time than usual.
Step 4:
Restore needed lost or deleted card stuffs back.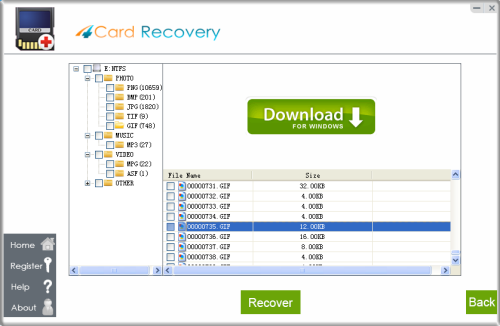 Preview lost photos and save found files. It would generate a folder to contain your lost data.
Please do not save the photo to the card where you lost them. Save them to your PC drive!

Download 4Card Recovery
Notes:
*To protect your previous memory card files, videos, images and more, stop using this memory card can help you a lot.
*To protect your restored memory card stuffs, moving them all to another different storage device also can help you avoid many unpredicted data recovery failures.
* To protect your future memory card data well, also remind yourself to play a habit to get everything important stored on different devices or locations.
4Card Recovery User Comment List:
Comment1: I had learned a lot about phone SD card data recovery. In fact, I had intentionally deleted some phone SD card message and image folders about a week ago and didn't know what I should do to rescue them all back. But, by adopting the suggestions of experts online, I downloaded and tried this software. And at last, with much luck, my phone card stuffs are all rescued back.
Comment2: With the help of this data recovery software, many people will able to freely choose wanted data recovery modes from four listed and perform perfect data recovery processes on assigned memory card or USB flash drive, just as what I have done before.
Comment3: Thank you for providing this data recovery software here. It finally helped rescued all my business photos back from my camera Micro SD card.

Download 4Card Recovery