Summary
4Card Recovery can help you extract needed files, videos, music, images and other information out from your RAW external hard drive without any immediate formatting process to cause unwanted drive file loss issues.

RAW External Hard Disk Recovery by 4Card Recovery
Free download 4Card Recovery to reclaim your inaccessible information from your USB hard drive with RAW file system error, not formatted error, logically damaged drive problems and other related drive data loss problems.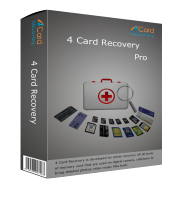 RAW File System Issue Makes All External Hard Drive Inaccessible?
Generally, as to the computer, external hard drive is often not the most important part. It is often optional. However, as to the USB hard drive users, just like you, it is often the most important part. Why? This specific USB drive has held a large amount of your important personal or business data, right? However, recently, computer just shows this drive as RAW file system in Disk Management and also disables your any drive click or access for this RAW error or not formatted error? Are you seeking any useful solution to extract your crucial files from this RAW drive before any formatting process? OK! Don't rush to go on using this drive to hold more new files or try some unknown data recovery solutions found online. Just keep it unused for a while and download RAW file system external hard drive data recovery software like 4Card Recovery to reclaim your inaccessible drive files back as many as possible.
Restore File from RAW External HDD with 4Card Recovery
Though your preferred drive files are inaccessible for that RAW file system problem right now, you also have to admit that you are really lucky that all of these drive stuffs have not completely deleted or erased off from this RAW drive. So, don't be depressed and also stop using this drive to avoid brining farther drive file loss issues. And then, without any valid drive data backups, you are supposed to rely on external hard drive data recovery software to rescue your wanted videos, images, movies and files from this RAW file system drive. Here are common steps for you to restore needed drive stuffs back with this 4Card Recovery:
Step 1:
Select a practical data recovery mode. Download this software well and run it to its main screen. And then, choose a proper data recovery option from listed four ones.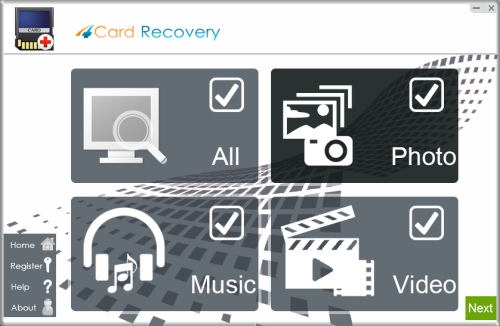 Select recovery options in the main interface
Step 2:
Scan this RAW USB drive. Pick this drive out from other computer partitions or drives and immediately begin to scan this drive for finding original drive data as much as possible.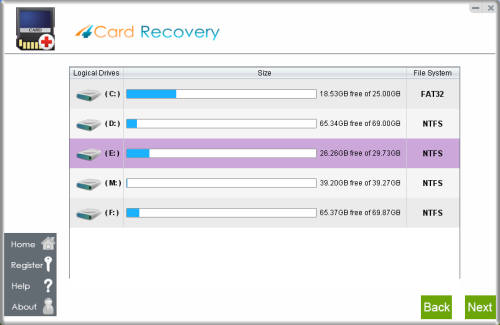 Select card to search photos off card
Step 3:
Preview and restore drive data.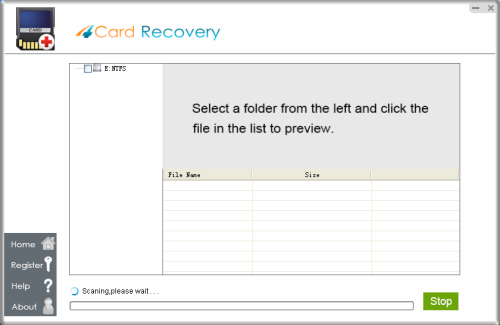 Wait while scanning lost photos, sometimes it takes about 20 minutes to scan a 32G card.
Tips: if it takes more than 2 hours to scan a 32GB card, you may stop the scanning and wait to see
what's already found. Since the card may contains bad blocks that takes longer time than usual.
Step 4:
Choose all useful ones only and restore them all to computer partitions or drives, not this RAW file system drive.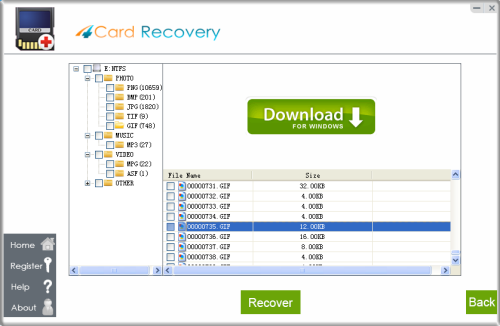 Preview lost photos and save found files. It would generate a folder to contain your lost data.
Please do not save the photo to the card where you lost them. Save them to your PC drive!

Download 4Card Recovery
Please Note:
* If you want rescue all possible original drive stuffs back completely, just do not keep on using this RAW drive before data recovery.
*If you want to avoid all possible data recovery failures, also do not move any restored drive stuff to the same RAW drive after data recovery.
* If you do format this RAW external hard drive from the outset, don't worry. Your drive stuffs are also not wiped out. You are supposed to download this software and also follow all listed tips here.
*If you do not want to meet such drive data loss issues or errors, just prepare drive data backups well and also update them regularly in the future.
Make Your USB Hard Disk Accessible Again
It is well-known that your RAW file system external hard drive often cannot be accessed without any format. But, after data recovery processes, without worrying about causing farther drive data loss, you can straightly format this USB hard disk on your computer and make it accessible again. Furthermore, in the future, in case that this drive to get similar data loss problems again, you'd better always make drive data backups on other devices or locations timely.

Download 4Card Recovery