Summary
Easy-to-use external hard drive file recovery software can be downloaded here to help you restore your connections of music, videos, images and files from your unexpectedly wiped or deleted external hard drive.

Wipe External Hard Drive Recovery by 4Card Recovery
Free download 4Card Recovery to restore your lost or inaccessible data from your USB hard disk that has been deleted or erased accidentally without data backups. This software often works well on common drive data loss problems, like formatted drive data loss issues, RAW file system drive data loss and not formatted drive data loss issues, etc.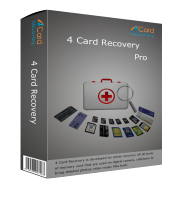 Have Deleted or Wiped Your External Hard Drive with Much Crucial Data?
It is reasonable and rational to hold a large amount of valuable information on external hard drives which often have been designed with outstanding portability, more stable performance, longer life and larger capacity, comparing to some USB flash drives or memory cards. However, when using such storage devices, you may also have to face some depressing hard drive accessing problems, especially some USB hard drive related data loss problems. Have you ever deleted or wiped your external hard drive with tons of crucial stuffs? Have checked every possible storage devices and find this erased external hard drive is the only place that you can take your lost or inaccessible drive contents back? OK! Don't panic! No matter how you wipe this drive, you still can use external hard drive data recovery software to examine this drive and see how many of your original drive contents are still recoverable.   
How to Restore Lost or Inaccessible Files from Erased or Deleted USB HDD?
Wipe your USB hard drive for mistaken formatting, reformatting or deleting? Erase your USB HDD for RAW file system error, not formatted error or other unknown drive errors? Or Delete your external hard disk data for some unintentional operations? OK! In order to review all your lost or inaccessible USB hard disk data, you'd better immediately try USB hard disk data recovery software like 4Card Recovery which has been designed with four high-efficiency data recovery modes and easy-to-use interface.
Here are pretty detailed steps of 4Card Recovery to restore your lost files back from wiped external hard drive.
Step 1:
Download this software and plunge your drive well. Open this software there and also pick a proper data recovery mode.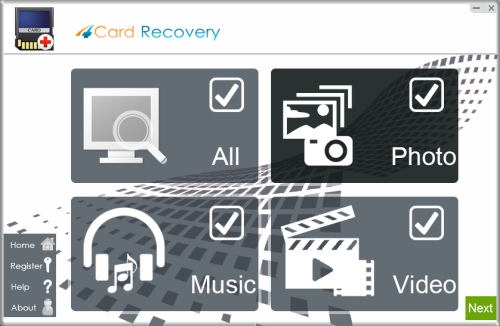 Select recovery options in the main interface
Step 2:
Scan and examine this wiped external drive to see how much original data is still recoverable.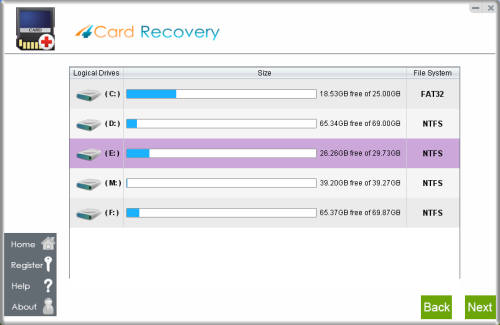 Select card to search photos off card
Step 3:
Preview all scanned recoverable drive stuffs and grasp the needed ones only.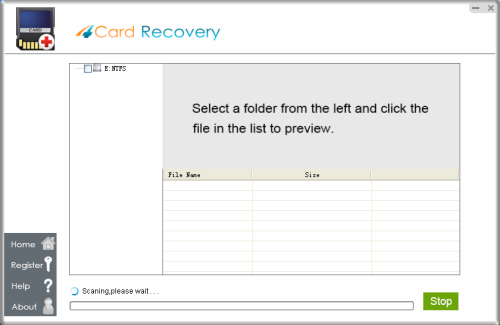 Wait while scanning lost photos, sometimes it takes about 20 minutes to scan a 32G card.
Tips: if it takes more than 2 hours to scan a 32GB card, you may stop the scanning and wait to see
what's already found. Since the card may contains bad blocks that takes longer time than usual.
Step 4:
Choose another external computer drive or storage device to save these restored stuffs.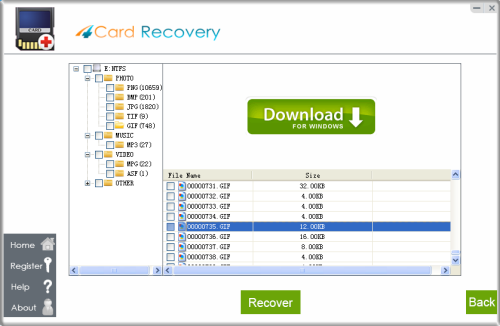 Preview lost photos and save found files. It would generate a folder to contain your lost data.
Please do not save the photo to the card where you lost them. Save them to your PC drive!

Download 4Card Recovery
Also Remember Well:
* New external hard drive files or contents can replace or destroyed all your original drive information.  
* New external hard drives or other storage devices to hold all restored drive stuffs can help avoid many data recovery failures successfully.
* New habits to protect your important hard disk data can help avoid many similar data loss problems, like making drive data backups all the time, uploading drive data to online storage or checking all crucial drive data well before formatting or deletion processes, etc.
External Hard Drive Data Cannot Be Restored for Physical Damages?
External hard drive has been fired without copying all restored data out at first? External hard drive has been dropped into water suddenly? External hard disk has been dropped to the ground or seriously hit? Is this drive still recognizable on your computer? If it is still detectable on your computer, the data inside this drive probably can still be restored with data recovery software or professional data recovery agencies or companies. However, if this external drive has already been seriously damaged, or even is broken into pieces, your wanted drive data may never be restored or reviewed again. Just from now on, learn a valuable lesson to make drive data backups well all the time.

Download 4Card Recovery