Summary
Learn how to perform deleted data recovery process on your WD external hard drive here with 4Card Recovery, which can help you easily cope with different drive data loss problems and rescue needed old drive stuffs back as many as possible.

WD External Hard Disk Recovery by 4Card Recovery
Free download 4Card Recovery to undelete your WD USB hard drive and take your preferred original drive documents, texts, movies, pictures and others back before you do some changes to both of this drive and inner stored data.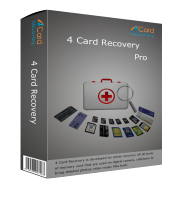 Useful Files Are Deleted off from WD External Hard Disk?
As one type of widely-used storage devices, WD external hard disk not only brings convenience to remain some useful texts, documents, videos, audios, images and files, and also brings some unpredictable drive data risks. Why? Since this USB drive has held a large amount of your important data, once this USB drive has got some data loss problems like accidental drive data deletion problems, RAW drive data inaccessible problems or formatted drive data missing problems, etc, without any other data copy left, it could be more terrible or depressing, right? But, there is also no need to be anxious all the time. Just save several copies of everything crucial on different drives and online regularly. That can be extremely helpful to avoid any unwanted future drive data loss problems. But, if you unluckily has deleted or lost your needed files off from this WD USB drive, don't worry! WD external hard drive data recovery software can still help rescue your desired drive stuffs back.
Apply 4Card Recovery to Restore Deleted WD USB Hard Disk Data
If you've saved only one copy of everything useful on this WD USB drive only, after unexpected deletion, formatting or other drive data erasing operations, you also can apply external hard drive data recovery software like 4Card Recovery to rescue your desired drive files, images, movies, songs and more back before you do any change to this drive and inner stored data. Hence, from this moment, do not alter this drive in any way and download your selected data recovery to restore your deleted data back as below:
Step 1:
Run this software on your computer that has connected well with your WD external drive and select "All", "Music", "Photo", or "Video" to scan your hard drive.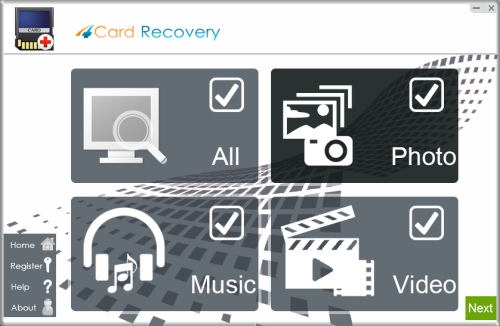 Select recovery options in the main interface
Step 2:
Wait when the software is scanning.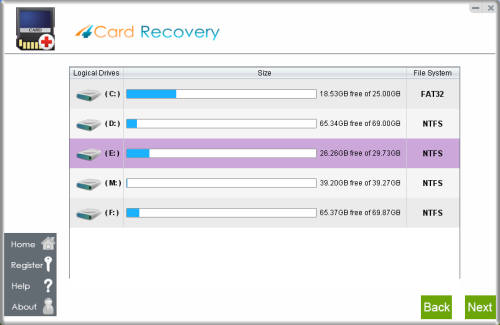 Select card to search photos off card
Step 3:
Preview all found USB drive stuffs after the drive scanning process is accomplished and choose all useful ones out.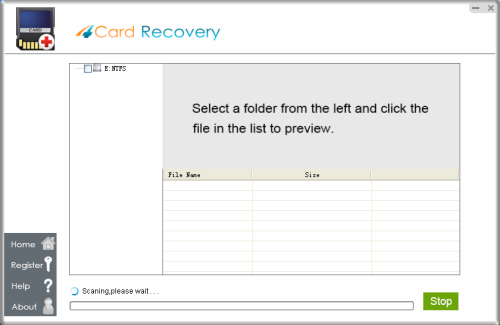 Wait while scanning lost photos, sometimes it takes about 20 minutes to scan a 32G card.
Tips: if it takes more than 2 hours to scan a 32GB card, you may stop the scanning and wait to see
what's already found. Since the card may contains bad blocks that takes longer time than usual.
Step 4:
Restore all selected files and store them all to computer partitions, drives or online storage, not this WD external drive.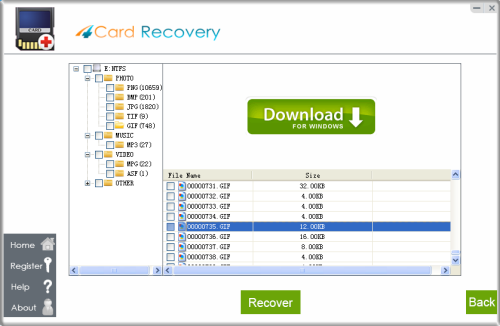 Preview lost photos and save found files. It would generate a folder to contain your lost data.
Please do not save the photo to the card where you lost them. Save them to your PC drive!

Download 4Card Recovery
Tips to Avoid Unpredictable Data Recovery Failures:
* No data is transferred to this external drive before you take all old drive stuffs back.
* No restored original drive data is saved on this WD external drive again after data recovery processes.
* In the future, you'd better make sure no important drive data is stored on only one drive or location again. 
Suggestions from Other Data Recovery Software Users:
Suggestion1: It is necessary to purchase or prepare several storage devices to back up your drive crucial business or personal data for preventing any unpredictable data loss issues.
Suggestion2. You'd better check or verify all your external hard drive data and drive data backups carefully before you are determined to delete or erase something useless. 
Suggestion3: If your external hard drive cannot be detected on your computer, in order to rescue all stored drive out completely, you'd better try this drive on another computer or directly change another USB cable for this drive to take chances.

Download 4Card Recovery