Summary
Read this tutorial to rescue your desired information back when your external hard drive shows a RAW format which cannot be easily read by your Windows computer without format.

RAW External HDD Recovery by 4Card Recovery
Free download 4Card Recovery to copy remained videos, audios, files and other stuffs back from USB hard disk that is recognized as RAW format and cannot be used before any formatting process.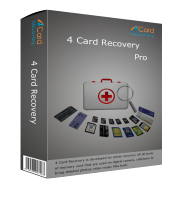 You Are Indeed Possible to Get Your RAW Drive Files Back
With much precious data (including business files, unforgettable videos, valuable photos and the likes of past years) stored on your external hard drive, you've executed all known tips to protect this drive, like doing antivirus scan on this drive before using it on your computer all the time, extracting this drive carefully with firstly clicking "safely remove hardware" icon and regularly cleaning this drive up with enough free space, etc? However, recently, that USB drive becomes RAW format suddenly and cannot be accessed without format? Are you seeking for solutions to rescue all your left drive information before format? OK! Never give up! No matter why that external drive is shown as RAW format, you are indeed possible to restore your preferred drive files, photos, videos and others back at the aid of RAW format external hard drive data recovery software.
Simple Four Steps to Restore Data from External Drive with RAW Format
No matter how many tips you've adopted to keep your external hard drive data safe, once this drive is recognized as RAW file system, it is really not easy to access your previous drive stuffs without format. However, that doesn't indicate there is no way to rescue your drive data back before any format. As a matter of fact, living in this era which people can always easily resolve many tricky computer problems with diversified software, you can also apply related external hard drive data recovery software like 4Card Recovery to take your left drive data back. With above mentioned handy 4Card Recovery, you often only need four simple steps to re-view your inaccessible external drive data:
Step 1:
Click "download" button in this article and launch this software well on your computer. Go on following the instructions of this software and choose any needed data recovery option according to your needs.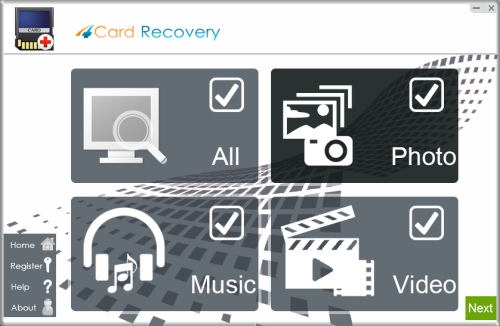 Select recovery options in the main interface
Step 2:
Choose this RAW format external hard drive and enable the software scanning immediately.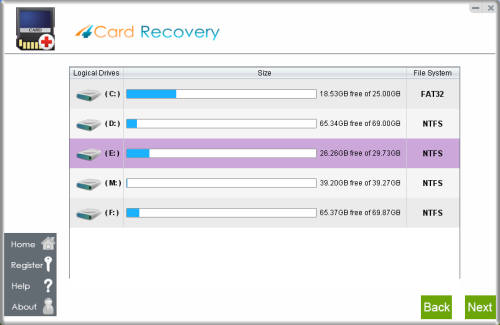 Select card to search photos off card
Step 3:
Preview all found files and photos to see how many of them are recoverable. Marking all recoverable ones out will be really useful in the next step.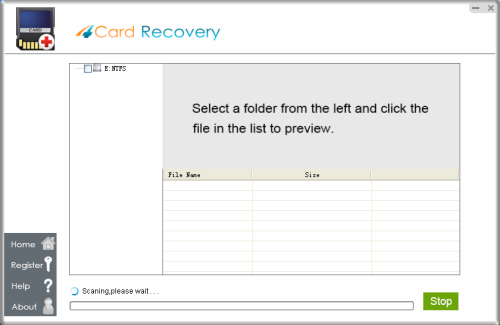 Wait while scanning lost photos, sometimes it takes about 20 minutes to scan a 32G card.
Tips: if it takes more than 2 hours to scan a 32GB card, you may stop the scanning and wait to see
what's already found. Since the card may contains bad blocks that takes longer time than usual.
Step 4:
Restore all needed drive data, including your marked drive stuffs, and assign another storage device to place all restored data.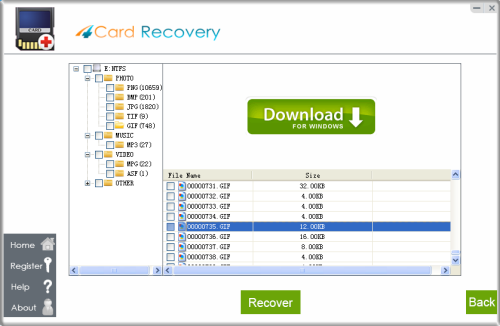 Preview lost photos and save found files. It would generate a folder to contain your lost data.
Please do not save the photo to the card where you lost them. Save them to your PC drive!

Download 4Card Recovery
Necessary Notes:
* When you are suggested to format this drive before rescuing everything back, you'd better not follow and turn your attention to drive data recovery at first.
*When you are asked to choosing the device to store your downloaded data recovery software, you've also avoid choosing the original RAW external drive. Also save no new stuff on this drive for a while to avoid farther drive data loss.
*When all needed drive stuffs are restored with success, you'd better also save no one of them on that RAW drive in case of data recovery failures.
* When all RAW drive information is restored back and also backed up well, you can freely format this drive to restore its NTFS or FAT32 format. 
Understand the Importance of Drive Data Backups
Do you know how important it is to prepare drive data backups all the time? "No!" OK! Take your RAW format drive data loss problem as an example. In your case, since you've saved all your previous data on that external drive only, once that drive gets some data loss problems, like RAW file system errors, not formatted errors, virus-infections or other drive malfunction problems, your stored drive data could be really dangerous. You do have to download data recovery software or ask for some professional data recovery services to rescue your data back with some costs. What's worse, once you do something improper to that RAW drive, like overwriting it with new data before data recovery, you also can lose a portion even all of your original drive data permanently. But, oppositely, if you do save copies of everything previous on several drives, after formatting that RAW drive back to its NTFS or FAT32 format, you can easily copy all your precious information back from your other copies remained elsewhere. Therefore, play a habit to make drive data backups from now on.

Download 4Card Recovery