Summary
This tutorial will introduce how to restore inaccessible files and folders back from your external hard drive infected by unknown viruses which change all your stored drive files and folders into useless shortcuts.

External HDD Recovery by 4Card Recovery
Free download 4Card Recovery to rescue your wanted files, videos, audios, images, messages and more back from virus-infected USB hard disk that contains many file and folder shortcuts.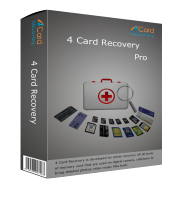 Unknown Virus Has Changed External Drive Files & Folders into Shortcuts?
All important or precious external hard drive videos, audios, images, files and more contents are suddenly changed into shortcuts with the weird names? However, simply clicking these shown shortcuts also cannot help open or access your needed files or folders there? Need solutions to fix this shortcut problem and access your stored external drive stuffs anyway? OK! Don't worry! Your external drive must be infected by some viruses. You are supposed to firstly kill the possible viruses with antivirus software and restore your desired files and folders back with external hard drive data recovery software.
How to Restore Data from External Drive That Is Filled with File & Folder Shortcuts?
External hard drive with much crucial data can pretty easily get infected when it is used on a computer with terrible viruses or worms. Moreover, any virus that sneaks in your external drive can hide your drive files/folders, change them all into unworkable shortcuts and even damage drive badly, etc. Therefore, in the future, you'd better never connect your drive to any unknown or suspicious computer. However, now, in order to rescue your preferred drive data, like videos, audios, files, messages and more back, you are supposed to use USB hard disk file recovery software like 4Card recovery after you've scanned all existing viruses out and remove them all with antivirus tools. With this efficient drive data recovery software, you always can easily find recoverable drive stuffs back.
Here is detailed drive file recovery steps for you:
Step 1:
Download this software to your PC. Click the desktop icon to run it well on your computer and specify a useful data recovery mode from the main screen.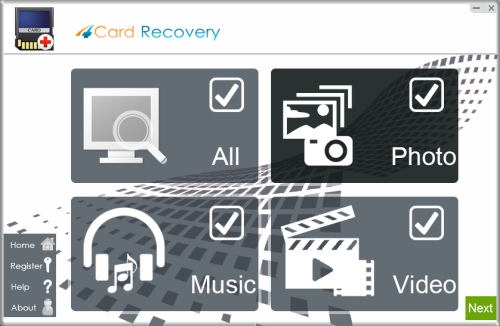 Select recovery options in the main interface
Step 2:
Select this USB drive that is attacked by virus and scan this drive to find all possible original drive files.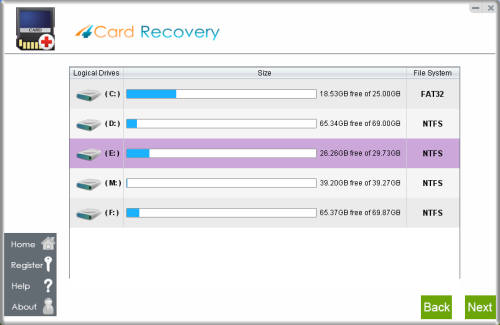 Select card to search photos off card
Step 3:
Preview all scanned pictures and documents to see whether they are all in good state.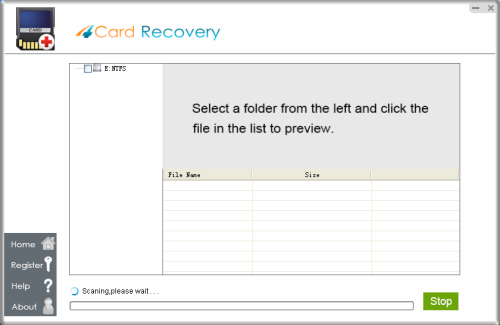 Wait while scanning lost photos, sometimes it takes about 20 minutes to scan a 32G card.
Tips: if it takes more than 2 hours to scan a 32GB card, you may stop the scanning and wait to see
what's already found. Since the card may contains bad blocks that takes longer time than usual.
Step 4:
Restore all needed drive data back and also set another destination device to hold the restored drive data.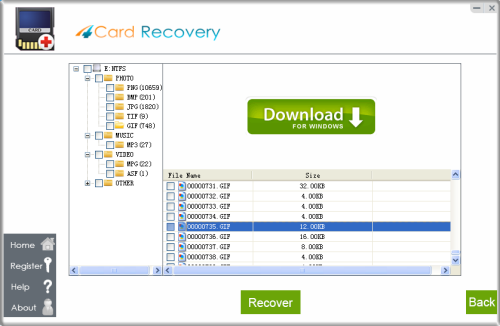 Preview lost photos and save found files. It would generate a folder to contain your lost data.
Please do not save the photo to the card where you lost them. Save them to your PC drive!

Download 4Card Recovery
Please Note:
*When you accidentally encounter this virus-infection problem, do not keep on using this drive on different computers or machines to spread viruses. Just clean the drive viruses up at first.
* When you prepare to restore needed drive data back, also do not overwrite this drive with new stuffs.
* When you restored all selected drive data back, also do not put it all to the same virus-infected external drive in case of data recovery failures.
*When using external hard drive in the future, always back up all crucial drive data on different places or device and also do antivirus scan regularly on this drive.
Remove All Possible Viruses with Antivirus Software
The infected viruses can cause drive data loss, corrupt drive file system or even bring more troublesome drive or computer problems. Therefore, when you find your external drive is really virus-infected, just act carefully and remove all possible viruses as soon as possible. And, now, the easiest way for you is to run some antivirus tools that can take sometime to scan your drive carefully and help remove found viruses, separate all suspicious drive files/folders and protect the rest drive contents. So, before starting to rescue your drive stuffs, just run your antivirus tools to remove all possible threats there. Of course, if you still worry whether your installed software can help clean your drive completely, you also can directly format this drive after backing up all drive data well.

Download 4Card Recovery