Summary
Without valid data backups elsewhere, you will have to use data recovery software to copy lost data out from your already formatted USB hard disks before all left drive data is completely rewritten or damaged by new stuffs there.

Formatted USB Disk Recovery by 4Card Recovery
Free download 4Card Recovery to take your needed videos, songs, mails, files, images and more stuffs back from formatted external hard disks, USB flash drives, memory cards and other storage devices.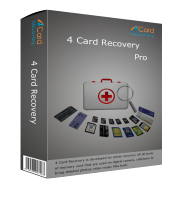 Are You Unable to Copy Anything Out from External Drive after Format?
When attempting to copy out all external hard drive stuffs, like videos, audios, images, messages, texts, office files and the likes, only find you are unable to rescue anything inside out since this drive is already formatted due to mistaken format button clicking, unwanted drive RAW file system converting, forcedly drive virus cleaning or logically damaged drive error fixing, etc? Also cannot seek out a drive data backup that has contained all your needed drive information? OK! Don't worry! That drive formatting process doesn't really work as you think. In fact, instead of erasing entire drive data completely, it only hides your left drive data and makes it all invisible to you and your PC. In other words, all your so-called "lost" drive information doesn't go elsewhere! Before the whole drive data is really lost for your improper drive overwriting, you often can easily take your desired external drive data back with formatted external drive data recovery software.
What You Can Do to Take The Formatted External Drive Files Back?
Even though the original hard drive stuffs are only hidden there, without any related software like some reliable drive format recovery software to help you let them shown again, you also cannot use or access them. Therefore, in order to re-view all your preferred information still stayed on this drive, you'd better quickly find and download efficient formatted external drive data recovery software like 4Card Recovery to go on. With that 4Card Recovery, you always can feel free to rescue your needed all types drive information back, like movies, photos, Word files, messages, mails and more.
Just follow below step-by-step guidance to copy your drive files out:
Step 1:
Click a proper data recovery mode after launching this software well on your PC. Also remember to plunge this drive well to the same computer in advance.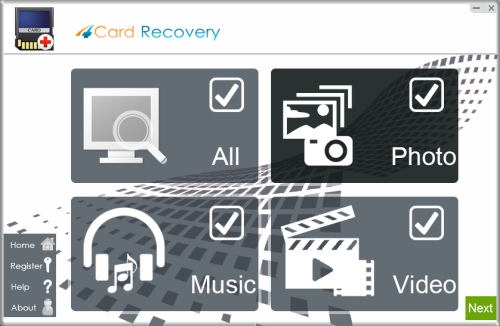 Select recovery options in the main interface
Step 2:
Select the disk where you lose your desired stuffs and scan this disk. Just remember the drive letter of this formatted disk on your computer, which can help save much time to find this drive out from other listed drives.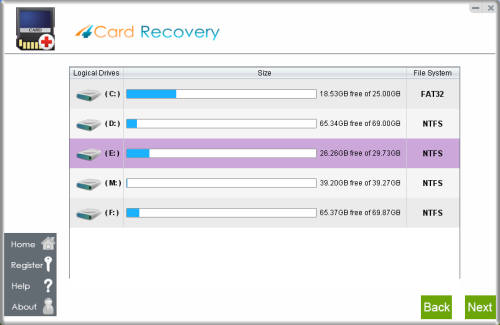 Select card to search photos off card
Step 3:
Preview all listed recoverable images and files before you start to mark all needed data to restore only.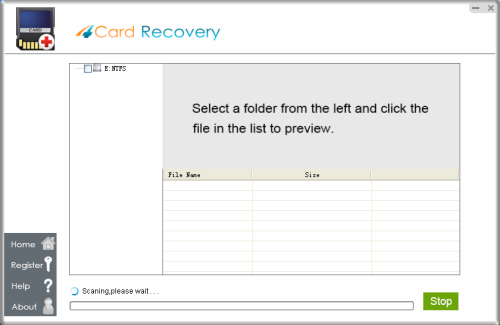 Wait while scanning lost photos, sometimes it takes about 20 minutes to scan a 32G card.
Tips: if it takes more than 2 hours to scan a 32GB card, you may stop the scanning and wait to see
what's already found. Since the card may contains bad blocks that takes longer time than usual.
Step 4:
Click computer partitions or other connected drives to reclaim all your restored drive information at last.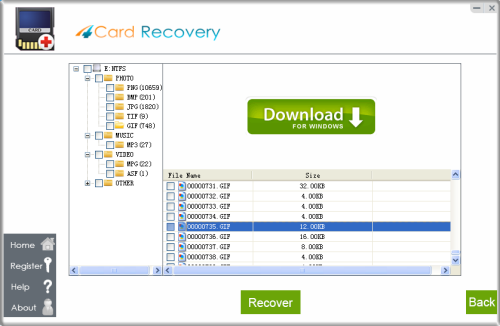 Preview lost photos and save found files. It would generate a folder to contain your lost data.
Please do not save the photo to the card where you lost them. Save them to your PC drive!

Download 4Card Recovery
Related Necessary Tips:
* No matter why you format this external drive, never overwrite this drive with anything else.
* No matter how large or small space this downloaded software will occupy, never save or install it on this formatted drive.
* No matter how much original drive data is restored by that software, never save any on this formatted drive to case possible data recovery failures.
* Prepare more devices or drives to store all your very, very important data in the future. 
Prepare & Make Full Use of Your External Drive Data Backups
You'd better learn a lesson to make drive data backups all the time in the future. Of course, if you do have several drive data backups elsewhere. You are also supposed to make full use of these stored data backups when some drive data loss problems occur. No matter how long these drive data backups have been remained there, before any data recovery process, just check them carefully to see how much original drive data you can directly copy back. In this way, you only have to pay attention on restoring all rest drive data, not the entire original drive data. Perhaps, that may help you save much data recovery costs or efforts.

Download 4Card Recovery