Summary
Download data recovery software to get your deleted information, some pictures, files, videos and more included, from an old external hard drive that always works fine before or gets some related drive data loss problems recently.

Deleted External Hard Drive Recovery by 4Card Recovery
Free download 4Card Recovery to rescue your preferred information back from your old USB hard drive with different data loss problems due to accidental deletion, mistaken formatting/reformatting processes and other drive related error problems.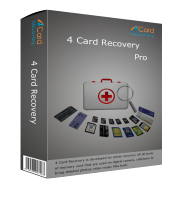 Old External Hard Disk Data Loss Situations:
How do you delete your important old external hard drive images, movies, files and the likes?
* Accidentally right click files or folders to "delete" them all when you are using this old drive on your computer?
* Mistakenly delete something precious off from old external drive when you plan to erase something else at the outset?
* Accidentally delete several important drive folders for clicking the wrong keyboard buttons?
* Unwillingly delete all old external drive information due to drive not formatted error, drive RAW file system error, virus-wiping and other drive data loss problems, etc?
* Purposely delete some old drive stuffs and find part or even all of them are still needed in the latter days?
What have you done to this old USB hard disk since the drive data deletion issues? Which solution have you found to rescue your drive data back? Have you tried any deleted drive data recovery software? Generally, when crucial data is deleted off from external drive, it is absolutely possible for drive owners to take needed drive stuffs back with proper external drive deleted data recovery software.
How to Rescue Deleted Information from Old External Hard Drive?
No matter how long your external hard drive is used, as long as this external drive is not physically damaged and cannot work any longer, you often can try related external hard disk data recovery software like 4Card Recovery to scan this drive and take the previous drive data as much as possible. In fact, as long as your deleted drive information is not rewritten by new files or damaged by your improper operations, it all is often recoverable with the help of such software. Hence, from now on, never damage this external drive and also save nothing new inside. And then, download this best drive data recovery software 4Card Recovery to rescue your deleted information back:
Step 1:
Connect this old external drive to your PC with its USB cable well and open this downloaded software to choose a needed data recovery mode.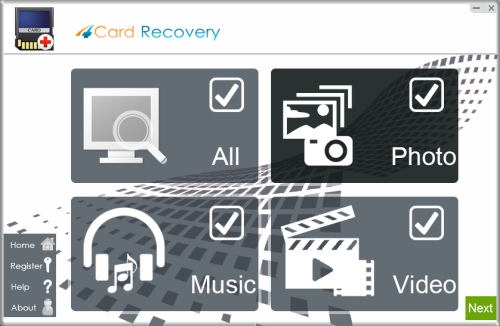 Select recovery options in the main interface
Step 2:
Find this USB connected external drive out from other detected drives and scan it quickly. If you do have a really large drive, the scanning process may also take a little bit longer time. Just wait patiently.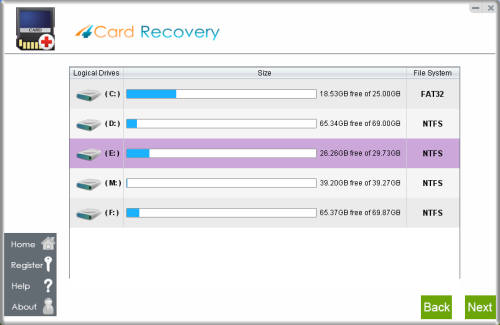 Select card to search photos off card
Step 3:
Preview all scanned files after the scanning process. Find your useful ones out from all scanned ones.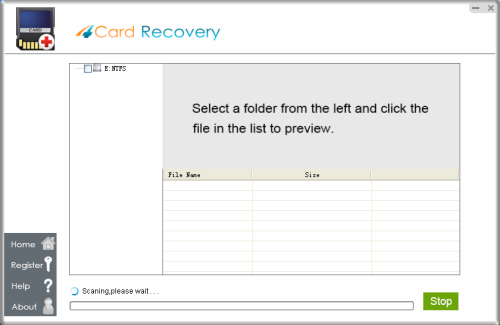 Wait while scanning lost photos, sometimes it takes about 20 minutes to scan a 32G card.
Tips: if it takes more than 2 hours to scan a 32GB card, you may stop the scanning and wait to see
what's already found. Since the card may contains bad blocks that takes longer time than usual.
Step 4:
Restore all your picked ones to computer partitions or another external drive at last.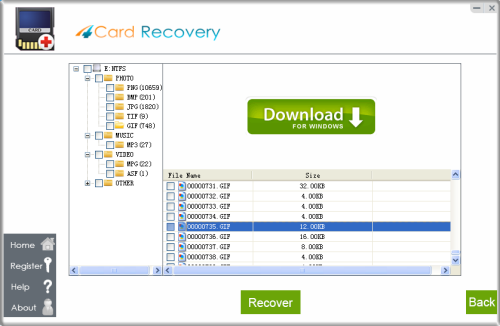 Preview lost photos and save found files. It would generate a folder to contain your lost data.
Please do not save the photo to the card where you lost them. Save them to your PC drive!

Download 4Card Recovery
Data Recovery Tips:
* Downloaded software should never be stored and installed on this old external drive to avoid more unwanted data loss. Moreover, some new files are also forbidden to be saved on this drive temporarily.
* Restored external drive stuffs should never be stored on this old drive again to avoid data recovery failures. In case of similar drive data loss problems in the future, you are also supposed to transfer all drive data elsewhere.
* Cherished external hard disk files, images, videos and other stuffs also should never be saved on this external drive only again. Just save several copies on different partitions, external drives or online storage.
Related Drive Data Loss Problems& Answers:
1). How long will it take to get my external drive data back?
There is often no fixed time to take lost data back from external hard disk with data recovery software. In fact, in some degree, how long you can take your drive data back often depends on how long this software will take to scan your assigned drive thoroughly. Therefore, always be patient!     
2).What can I do next when data recovery software cannot rescue deleted drive information back?
If this data recovery software cannot take all your deleted drive stuffs back all, don't worry! Data recovery software is not the only way to rescue lost drive data. You also can send it to some data recovery companies or agencies and see whether their professional data recovery tool can take your drive data back. By the way, you may also let them check whether your drive is still healthy or workable.
3). How about some free drive data recovery software online?
Of course, without enough extra money, you also can try some free data recovery software online, like the free version of 4Card Recovery here.

Download 4Card Recovery