Summary
External drive data recovery software is recommended here for you to rescue wanted audios, videos, photos, files and the likes back from USB hard disk that is unreadable now for some logical drive issues.

Unreadable External HDD Recovery by 4Card Recovery
Free download 4Card Recovery to rescue files from unreadable or inaccessible external drive due to not formatted error, RAW file system notification, virus infection or sudden drive power surge or incompatible third-party application, etc.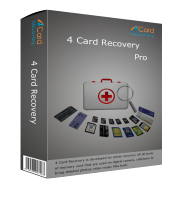 USB Hard Disk Becomes Unreadable or Inaccessible?
USB hard drive cannot be normally read for popped-out unformatted error message? External drive becomes inaccessible for incompatible RAW file system issue? USB drive becomes unreadable for possible viruses that sneak in without any sign? External disk cannot be accessed for sudden shocking or extraction during drive formatting or re-formatting? Or external hard disk cannot be used right now for sudden logical corruption caused by power surge or others? Want to fix USB drive problems without losing anything important inside? OK! Ease! As long as this unreadable external drive is still recognizable on your PC, you do have chances to rescue your desired drive information back with USB hard disk data recovery software before you begin to fix its possible drive problems.
Simple Guidance to Restore Unreadable External Drive Data with Software
As long as your USB hard disk with much important information is still detectable on your laptop, some external hard drive data recovery software, like 4Card Recovery, often can easily recognize this specific drive and help you find all possible original drive data back with its thorough drive scanning. Therefore, firstly, do not format this drive or write anything new on this drive to decrease the possibilities of taking entire drive data back completely. And then, download and run 4Card Recovery to scan your needed original drive files, videos, audios, images and others back as many as possible:
Here is simple guidance for you to rescue your unreadable drive data:
Step 1:
Install and run this downloaded data recovery software on your computer partition. And pick out your needed drive data recovery modes when you come to the software main interface.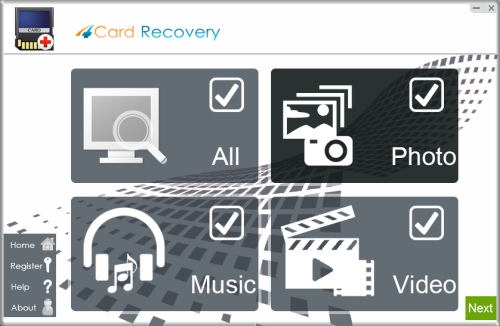 Select recovery options in the main interface
Step 2:
Highlight this unreadable USB hard drive from others and scan this drive deeply.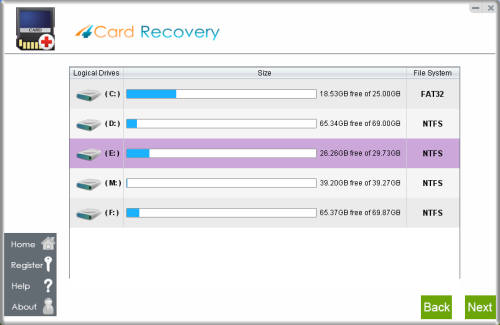 Select card to search photos off card
Step 3:
Select all recoverable and useful original drive files by previewing all scanned ones carefully. The damaged or irrecoverable files often cannot be opened or viewed normally on the preview screen.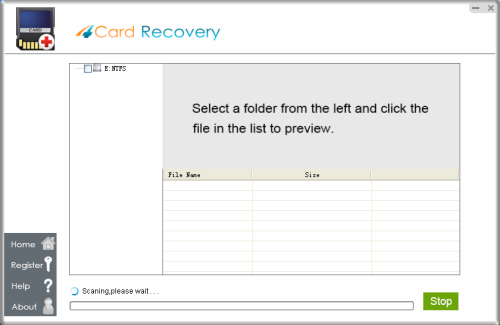 Wait while scanning lost photos, sometimes it takes about 20 minutes to scan a 32G card.
Tips: if it takes more than 2 hours to scan a 32GB card, you may stop the scanning and wait to see
what's already found. Since the card may contains bad blocks that takes longer time than usual.
Step 4:
Choose destination device, like your computer partitions, different external drive or USB flash drive, to save your restored drive data.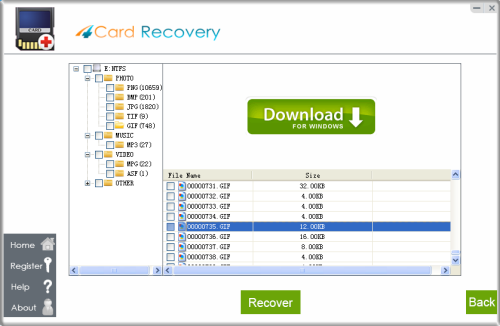 Preview lost photos and save found files. It would generate a folder to contain your lost data.
Please do not save the photo to the card where you lost them. Save them to your PC drive!

Download 4Card Recovery
Here Are Some Thing to Remember:
* Anything new, including this downloaded data recovery software files or folders, cannot be placed on this unreadable drive to cause farther original drive data loss.
* Anything restored cannot be directly placed on this original external drive to cause more possible data recovery failures.
* Anything important cannot be only stored on one external drive or other storage devices. Several copies stored on different devices or locations can help avoid many related drive data loss problems.
Format This Unreadable USB Hard Disk at Last
Generally, some common drive problems, like not formatted error, RAW file system error, virus attacking problems, logical drive corruption issues, etc, often can be easily fixed with formatting process. Hence, no matter what your drive issue is, just back up all your restored external drive data and format this unreadable disk to check whether the possible drive problems could be completely removed. Of course, the formatting process is not the only way to resolve related drive problems. You'd better also take chances with other solutions recommended online.

Download 4Card Recovery