Summary
This tutorial will share 4Card Recovery with you to rescue desired USB hard disk files, photos, films, audios and the likes back, through this external drive has been formatted several times somehow.

Formatted External HDD Recovery by 4Card Recovery
Free download 4Card Recovery to scan your USB drive and restore lost data back when this drive has been formatted two or more times for some unexpected drive errors or human errors.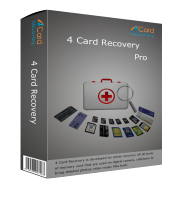 Could External Drive Data Be Still Recoverable after Several Times Format?
At the outset, just mistakenly click the wrong buttons to format your external hard drive and end that improper formatting process as soon as possible to avoid losing anything inside? However, unexpectedly, that rude data rescuing operation still causes logical USB drive damages and let your have to format or reformatted this drive for fixing its drive errors, like RAW file system errors, drive unformatted error, drive corruption error, etc? Or have forcedly formatted your external drive many times due to some unwanted drive malfunctions errors or human errors? OK! No panic! No matter why you have to format that drive so many times, you do have opportunities to recover your left drive data back. Just immediately download proper formatted drive data recovery software to go on.
Four Simple Steps to Restore Multiple Times Formatted External Drive Data
In these days, after any drive formatting process, in contrast to the state of the external hard drive, most of people often put much more intention to the reserved drive data, especially when the drive owners have no data backup stored elsewhere. Why? Without other copies of their important drive contents, they may lose much crucial work or personal data and be forced to process a series of troublesome issues caused by the data loss. However, honestly, with right choices, they can also have no such tricky things to take. Only with professional external hard drive data recovery software like 4Card Recovery, they can easily rescue the lost data back to avoid many unexpected troubles.
So, do not hesitate any longer! Just download this 4Card Recovery to rescue your formatted drive data within four simple steps:
Step 1:
Install the data recovery demo and run it on your computer to choose a file type recovery mode to go on.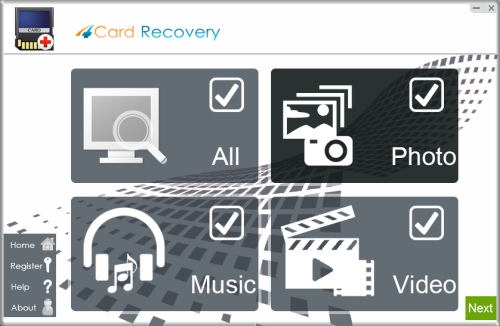 Select recovery options in the main interface
Step 2:
Select the multiple times formatted drive out from other drives to scan.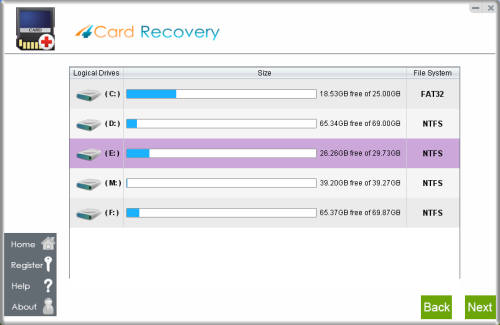 Select card to search photos off card
Step 3:
Preview all photo and file format data carefully so that you can choose the useful ones out all.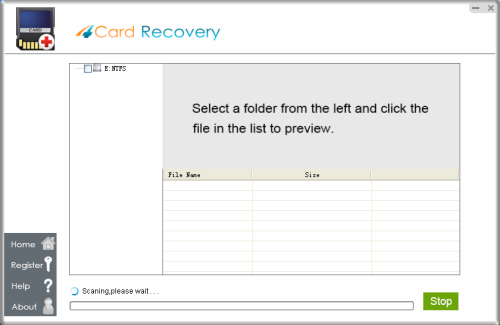 Wait while scanning lost photos, sometimes it takes about 20 minutes to scan a 32G card.
Tips: if it takes more than 2 hours to scan a 32GB card, you may stop the scanning and wait to see
what's already found. Since the card may contains bad blocks that takes longer time than usual.
Step 4:
Assign another available computer partition or drive to store all your restored data well.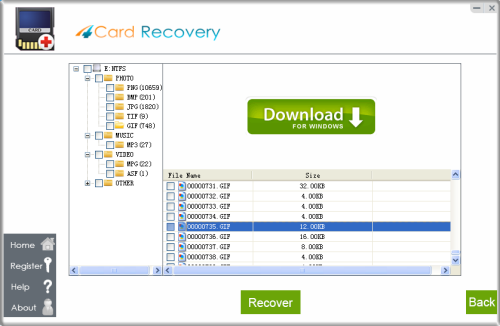 Preview lost photos and save found files. It would generate a folder to contain your lost data.
Please do not save the photo to the card where you lost them. Save them to your PC drive!

Download 4Card Recovery
Notes:
* Pay much attention to keeping this drive away from anything new. Anything written on this drive after your formatting processes can make your original drive data gone permanently.
* Pay much attention not to saving the restored drive stuffs on the same several times formatted drive in case of any unwanted data overwriting.
* Pay much attention to making external hard drive data backups on different drives, partitions or elsewhere in the future.
Why It Is Possible to Restore Data from Reformatted USB Hard Drive?
It is wrong that the external hard drive will become completely empty after any drive format. Oppositely, the original drive is still filled with your previous drive stuffs and only hide them all somehow. As long as these hidden files are not rewritten or replaced by new files written on the same drive, they often will stay there till you find solutions to copy them all out. Therefore, no matter how many times you've formatted this USB drive, just do not add anything new there or do something improper to this drive. And then, simply use some data recovery software to rescue your desired valuable drive stuffs back as you wish. 
In conclusion, your left drive videos, images, files and more are really possible to be restored with data recovery software, even when your drive has been formatted again and again.

Download 4Card Recovery