Summary
This tutorial will introduce useful drive data recovery software to help restore your lost or inaccessible videos, pictures, texts and other files back from external hard drive that is still discovered in RAW file system.

RAW External HDD File Recovery by 4Card Recovery
Free download 4Card Recovery to take your desired external hard drive files and other stuffs back before you have to fix the existing RAW file system error and restore its common use.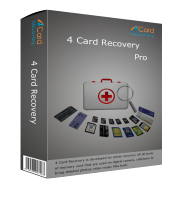 Need Helps to Fix External Drive RAW File System Error without Losing Files?
External hard disk has malfunctioned somehow on your computer and cannot be accessed for displayed RAW file system issue? Have inadvertently stopped USB hard drive deleting, formatting, testing, cleaning-up or other processes and got a RAW file system error? Or have improperly partitioned external drive and receive a drive not formatted error before any use? Need convert this RAW file system back to NTFS with immediate drive formatting and also worry about losing everything inside meanwhile? OK! Don't worry! It is not impossible for you to not only rescue your stored drive files and also fix that RAW file system error. Just download RAW file system external drive file recovery software to take chances before that fixing drive formatting process.
Detailed Tutorial to Rescue RAW USB Hard Disk Files without First Format?
RAW file system error doesn't always mean your external hard drive is or has failed or damaged seriously, since similar drive error could be caused by many reasons, like your improper formatting, deleting, extracting, hitting dropping or other operations, drive virus-infection issue, drive incompatible issue and even computer problems, etc. So, when you really meet similar RAW drive not formatted errors, do not immediately give up and find links to buy another new drive to instead this old one. With right guidance, you can easily rescue your drive files and also restore the normal use of this RAW drive. And now, what you need is only external hard drive file recovery software like 4Card Recovery which can help you take all possible drive stuffs back before any format.
Here is a detailed video tutorial for you to rescue your RAW drive data:
Step 1:
Boot your computer and download this software to this computer. Plunge this RAW drive there and start the downloaded software to pick a favorable data recovery mode out.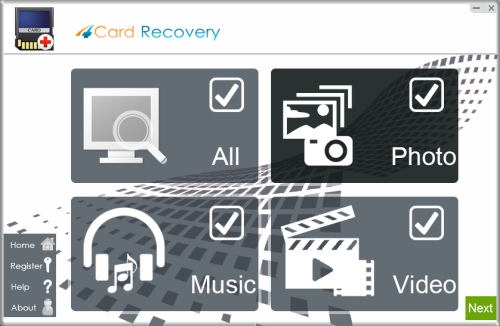 Select recovery options in the main interface
Step 2:
Click your RAW file system external drive in the detected media interface and scan this drive.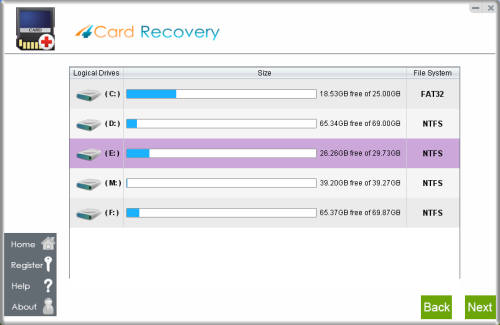 Select card to search photos off card
Step 3:
Preview all scanned stuffs and mark the useful pictures and files out. The previewing function can help you check whether all scanned images and files are still in good state and recoverable in advance.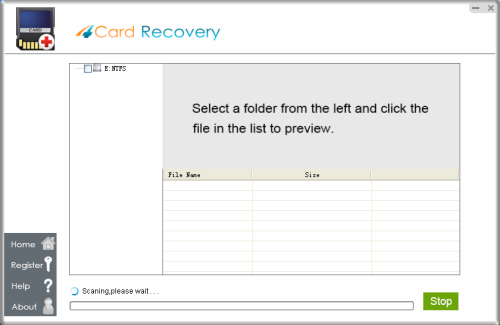 Wait while scanning lost photos, sometimes it takes about 20 minutes to scan a 32G card.
Tips: if it takes more than 2 hours to scan a 32GB card, you may stop the scanning and wait to see
what's already found. Since the card may contains bad blocks that takes longer time than usual.
Step 4:
Restore all needed files, images, videos and texts back. Also do remember to use another drive or computer partition to hold all your restored drive stuffs.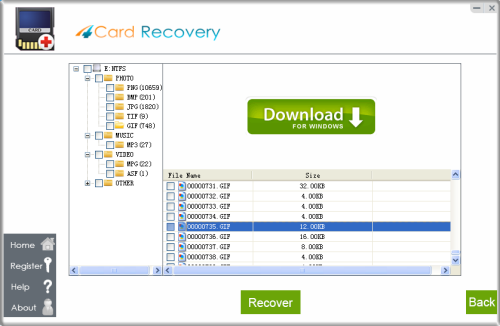 Preview lost photos and save found files. It would generate a folder to contain your lost data.
Please do not save the photo to the card where you lost them. Save them to your PC drive!

Download 4Card Recovery
PS:
* Use new drive or other storage device to store your newly created computer or drive data. Just avoid adding new data on this RAW drive.
*Use another storage drive or media to hold all restored drive files or others in case of data recovery failures.
*Use two or more drives/online storage/ computer partitions to save precious files, videos, texts and more in the future.
* Use computer formatting tools to format this drive from RAW file system back to previous NTFS at last.
RAW File System Drive Data Recovery Situations:
Situation1. Hello, I had partitioned my external drive into several ones and placed different data in these partitions. However, recently, the previous format of one partition strangely turned from NTFS to RAW. There were many important files that had been remained on this partition. I really don't want to format this drive unless I can rescue all my remained drive stuffs back at first. Please, help me!
Situation2. I had stupidly formatted my RAW USB drive and restored its file system from RAW back to NTFS. But, I didn't realize that the formatting process also can erase everything remained inside this drive. What can I do to rescue my original drive information? Does some drive data recovery software like 4Card Recovery really help in my case?
Situation3. External drive gives a error notification saying: "The disk is not formatted. Do you want to format it now?" Do I have to format this drive? Can is till access my drive files after that formatting process? Thanks for any advice here!

Download 4Card Recovery