Summary
4Card Recovery software has the function to help you restore inaccessible or lost files, movies, photos and texts, etc, back from external hard drive that is shown as "unallocated" in Disk Management and needs to be initialized as soon as possible.

Unallocated External HDD Recovery by 4Card Recovery
Free download 4Card Recovery to restore your assigned data back from unallocated external drive before format. With this software, you also can freely restore data from USB drive or USB flash drive with different data loss problems.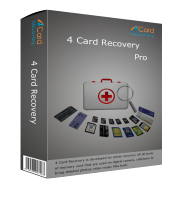 Are You Looking for Solution to Restore Files from Unallocated External Hard Drive?
Have a data access problem with external hard drive that is displayed as "unallocated" in Disk Management? Since unallocated external drive is unworkable, just move on to format it and look for data recovery software to take your files inside back? Or have difficulty formatting this unallocated USB drive for you do have remained many useful audios, images, files, documents and the likes there? OK! No matter whether you've formatted this drive, don't panic! It is really common for computer users to encounter such external drive data loss problems. In order to reuse all your remained information inside this unallocated drive, you'd better never touch this drive before any data recovery process and select reliable unallocated external hard drive data recovery software to rescue your files, images, movies and more back.
Download 4Card Recovery to Take This USB Drive Data back within Minutes:
The unallocated external drive often needs to be initialized or formatted as soon as possible to restore its common use. However, without other drive data replications or copies elsewhere, you'd better take care not to immediately format the drive in case of messing everything up. In fact, in stead of that formatting process in seconds, what you are supposed to do now is download external hard drive file recovery software like 4Card Recovery to rescue your desired drive videos, files, mails, images and others back at the first place. And then, do whatever you want to that drive.
Here are detailed steps for you to rescue drive files back within minutes:
Step 1:
Download and run data recovery application on your PC. Select your desired data recovery modes on main screen.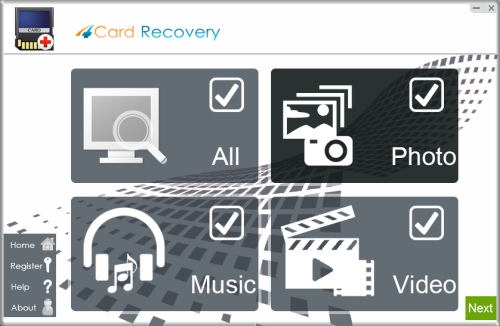 Select recovery options in the main interface
Step 2:
Select this unallocated drive and press "next" to scan it carefully.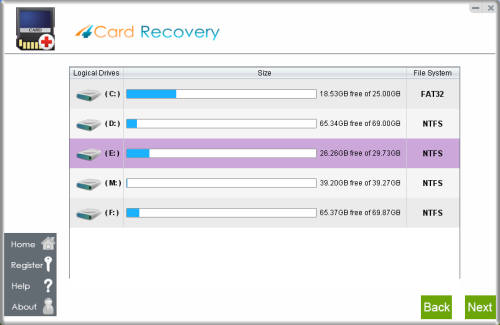 Select card to search photos off card
Step 3:
Select all possible files and images to preview so that you can choose all recoverable ones out.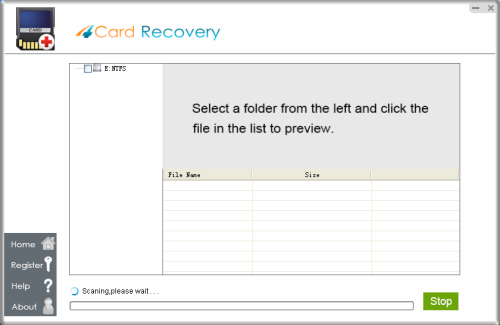 Wait while scanning lost photos, sometimes it takes about 20 minutes to scan a 32G card.
Tips: if it takes more than 2 hours to scan a 32GB card, you may stop the scanning and wait to see
what's already found. Since the card may contains bad blocks that takes longer time than usual.
Step 4:
Restore all desired unallocated drive files, videos, audios and more back. Never save them all on this "not initialized" drive again.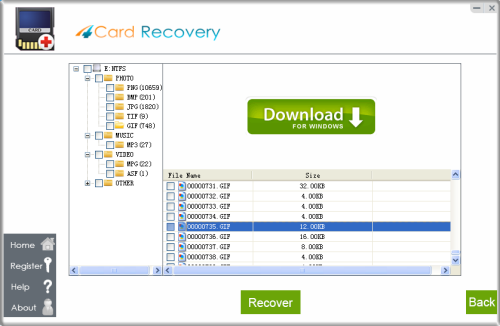 Preview lost photos and save found files. It would generate a folder to contain your lost data.
Please do not save the photo to the card where you lost them. Save them to your PC drive!

Download 4Card Recovery
Never Forget Below Tips:
* Do not use this unallocated drive to lose more original drive information.
* Do not save anything on the original drive again before you format this drive to restore its common use, including all restored drive information.
* Do regular external drive data backups on different partitions, drives or other places to avoid future data loss issues.
* Do not forget to initialize the unallocated drive to make it workable again at last.
Some Reasons May Cause Drive Unallocated Problems
There are many reasons that can cause such unallocated drive problems, like:
1). External hard drive firstly is used on an incompatible computer.
2). External hard drive is improperly formatted on a computer, like suddenly ending formatting process.
3). External hard drive is not disconnected during computer system updating process.
4). External hard drive is improperly partitioned or divided with unknown third-party partition software.
5). External hard drive has got some drive errors.
In the future, no matter what type of drive data loss problems occur to you, just prepare drive data backups elsewhere all the time.

Download 4Card Recovery