Summary
Download best external drive data recovery software to retrieve your needed files, videos, audios, mails and other type of drive contents back from original external hard disk after you've cut and paste them all to another PC or storage device.

External HDD Cut File Recovery by 4Card Recovery
Free download 4Card Recovery to restore your wanted external hard drive data that has been cut and pasted to a different drive/storage device and now is inaccessible for the new drive/device errors/problems.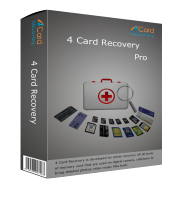 Want to Restore Cut Files back from Original External Hard Disk?
Why you have to restore cut files from original external hard disk? Have cut the only one copy of all precious files and folders from external hard drive to computer/storage device for emergencies, but, now that computer/device is crashed or damaged somehow? When you try to move a large amount of USB hard disk information to computer, the "cut" and "paste" operation has failed and disable your access to the original drive data? Or have cut and pasted numerous files stored on an external drive for a really long time and really want to take these lost files back? OK! No matter why you have to copy those missing drive stuffs back, you'd better leave that original external drive alone from now on and run some external drive cut data recovery software to see how many of your needed disk contents could be scanned out and retrieved back smoothly.
How to Retrieve Lost USB Drive Data after Cut & Paste Operation?
The cut and paste operation is often used to help users transfer data from one drive to another drive, storage device or computer. However, once something improper, like sudden stopping, drive extracting, shocking or etc, occurs during the cutting/pasting process or the destination storage device gets some serious physical problems, you may also wonder to take your already cut files back from the original external drive. But, don't worry! There are indeed great chances for you to retrieve your needed USB hard drive data back. What you are supposed to do is only to download external hard drive data recovery software like 4Card Recovery to scan that USB drive and take original drive files, images, videos, audios and more back step by step:
Step 1:
Download chosen software and select data recovery modes latter.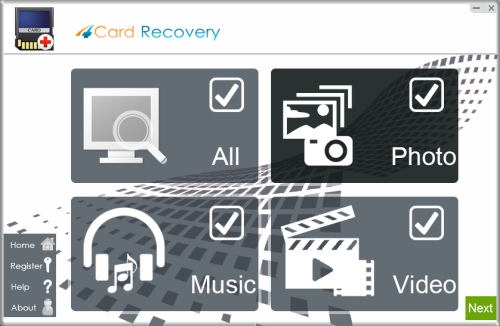 Select recovery options in the main interface
Step 2:
Select this USB drive where you cut your original data and scan it quickly.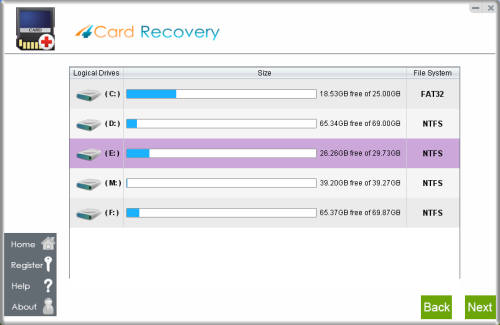 Select card to search photos off card
Step 3:
Check all scanned external drive stuffs by clicking them one by one to preview. If you think this process is troublesome, you also can skip it.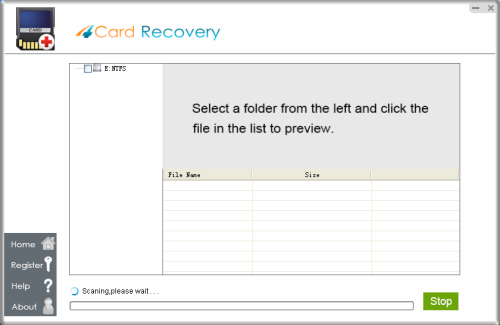 Wait while scanning lost photos, sometimes it takes about 20 minutes to scan a 32G card.
Tips: if it takes more than 2 hours to scan a 32GB card, you may stop the scanning and wait to see
what's already found. Since the card may contains bad blocks that takes longer time than usual.
Step 4:
Move all restored original drive contents to computer partitions or other plunged external disks.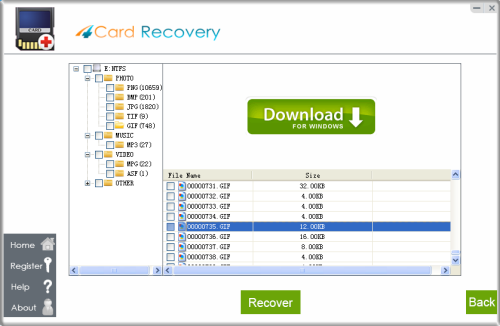 Preview lost photos and save found files. It would generate a folder to contain your lost data.
Please do not save the photo to the card where you lost them. Save them to your PC drive!

Download 4Card Recovery
Also Pay Attention:
* Writing new data on this original external drive can bring more drive data loss. Put an end to using that drive.
* Previewing all scanned files and pictures can help waist much time of data recovery.
* Saving external drive information on different devices or machines in the future to avoid data loss troubles.
The Original External Drive Files Are Not Lost After That Cut & Paste Operation?
Like other deleting or formatting processes, the cutting process will also not erase all your remained external hard disk data. After that cutting process, the "lost" drive data is only marked as "deleted" and still waits for new data to replace. The drive space is also marked as "free" and available for reuse. Briefly speaking, your original drive data will be still there until new drive data is to occupy it all. So, just never add new stuffs on this drive to keep all your original drive data safe and run drive data recovery software to copy it all back smoothly.

Download 4Card Recovery