Summary
This tutorial will illustrate 4Card Recovery here to help you restore original documents, images, movies and other files back from your USB hard disk that is dropped for your careless operations and has get some data loss problems.

USB Hard Disk Recovery by 4Card Recovery
Free download 4Card Recovery to restore your needed information back from dropped external drive before you set out to fix the drive problems caused by your mistaken falling.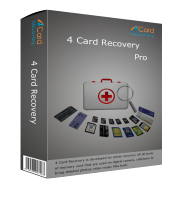 Need Help to Restore Data from Dropped USB Hard Disk?
What's your drive data loss problem? USB hard disk is dropped when being used on computer and is no longer shown in "My Computer" now? External hard disk now is asking you to format for mistaken drive dropping? External HHD is displayed as RAW file system in Disk Management after accidental falling from a high desktop/place? Or fallen USB drive only shows in Disk Management without drive letter and also cannot be accessed without immediate initializing? And now, without drive data replications placed on other drives or devices, you also cannot use or rescue your useful drive documents, audios, movies, pictures and other files? Are you really afraid to lose them all? OK! Don't be afraid! If your drive problem is extremely similar to above mentioned questions, your drive must be only logically damaged. Before you really lose everything inside this drive, you can easily download dropped USB hard disk data recovery software to help yourself out.
How to Recover Data from That Dropped External HDD?
The accidentally dropped or extracted external HDD often will be easy to get some logically damaged drive problems, like drive unformatted problem, drive RAW file system error problem, drive not initializing problem, etc. When you really unfortunately meet these similar drive problems, through you cannot access your drive stuffs immediately, you also can have great chances to take them all back with external hard drive data recovery software like 4Card Recovery which can help users easily process different drive data loss problems and rescue original stuffs back as many as possible. So, in order to reuse your drive information, you can download this software to take chances:
Step 1:
Download and install data recovery software when you connect this dropped external drive to your computer well. Also choose a useful data recovery mode there latter.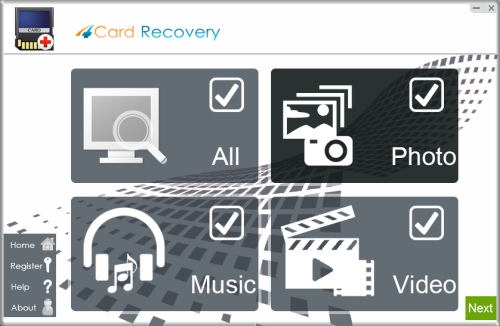 Select recovery options in the main interface
Step 2:
Pick out this newly plunged drive and begin to scan this drive patiently.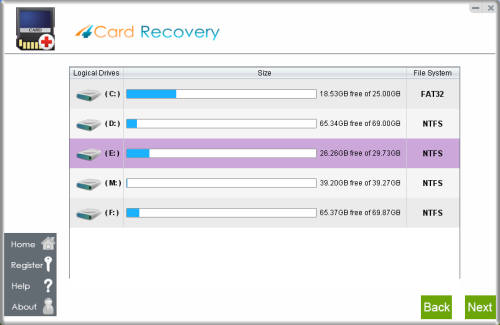 Select card to search photos off card
Step 3:
In order to save time of data recovery, you also can preview all scanned images and files to pick needed out before restoring everything back.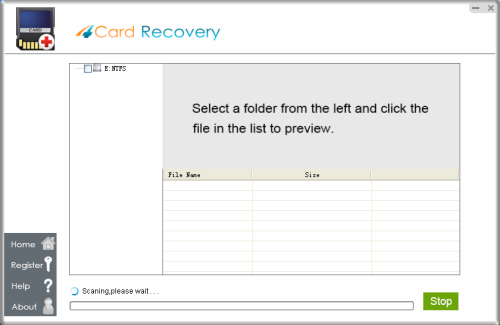 Wait while scanning lost photos, sometimes it takes about 20 minutes to scan a 32G card.
Tips: if it takes more than 2 hours to scan a 32GB card, you may stop the scanning and wait to see
what's already found. Since the card may contains bad blocks that takes longer time than usual.
Step 4:
Choose computer partition to save all restored drive stuffs.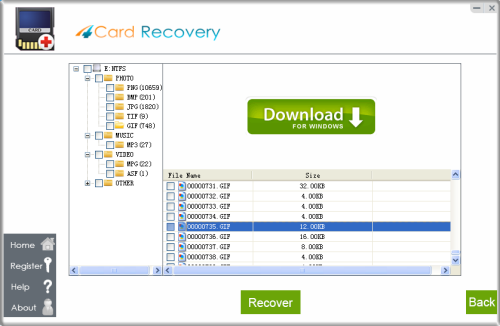 Preview lost photos and save found files. It would generate a folder to contain your lost data.
Please do not save the photo to the card where you lost them. Save them to your PC drive!

Download 4Card Recovery
Some Helpful Tips:
* The original drive data, which has not been overwritten or damaged, often can be easily restored back with data recovery software. Hence, do not write anything new on this drive to rewrite your needed information.
* The original external drive errors or problems still exist there. It is not proper for you to hold all restored stuffs.
* The future important drive data is supposed to be saved on several drives or devices to avoid any unexpected drive data loss issues.
Computer Doesn't Read or Recognize External Hard Drive after Unexpected Dropping?
Of course, when external hard drive is mistakenly dropped or extracted, it also can get some physically damaged drive problems, which can make your drive recognizable and your stored drive data irrecoverable, like undetected drive issue, drive bad sector issue, broken drive issues or etc. When these issues really happen to you, it could be really depressing. You'd better open computer and search for another new external drive for future use. But, if you extremely hope you can take your drive data back, just consult some professional data recovery agencies or companies to take chances. Just describe your drive conditions well and clearly consult all related data recovery elements well, like the cost, possible data recovery results and more.

Download 4Card Recovery