Summary
Read this article and know more information of data recovery to take your desired documents, videos, songs, images and other files back from external hard drive that is logically damaged and doesn't allow you to access anything inside as usual.

External HDD Recovery by 4Card Recovery
Free download 4Card Recovery to restore wanted external hard drive stuffs back when you have been stuck in a situation where this drive is logically damaged or corrupted and bring you many data loss issues.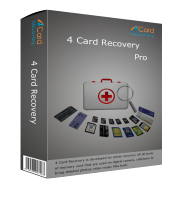 External Hard Drive Is Logically Damaged Somehow?
When using external hard drive that has carried many valuable videos, audios, pictures and other files, just find external hard drive has got some logical errors, like drive not formatted error, drive RAW file system error or corrupted/unreadable drive file /directory error, etc, and bring you many unknown drive data loss problems? Without leaning much about computer technologies, also don't know what should be done to rightly rescue your external drive data and also repair this drive completely? OK! Don't be worried! In your situation, in contrast to be physically or seriously damaged, your drive is more likely to be logically damaged. You are really lucky that the logically damaged drive often can be successfully repaired with simple formatting process and inner remained drive data also can be easily restored with logically damaged drive data recovery software.
How to Restore Files from Logically Damaged Drive?
The logical damages of an external hard drive often indicate there are some drive errors only in software-level, not in hardware, like some drive RAW file system errors, drive not formatted errors and more. Furthermore, this sort of drive errors will not really clean all your remained drive stuffs up and only hide them somewhere on this drive. Therefore, before all of these original drive contents are really destroyed or damaged by anything else there, you often can easily apply external hard drive data recovery software like 4Card Recovery to retrieve your preferred files back from this logically damaged drive.
Do not do anything else to this drive and attempt to take your needed drive files back as below:
Step 1:
Download and launch this software. Plunge this logically damaged drive to the same PC and select the right file type to go on.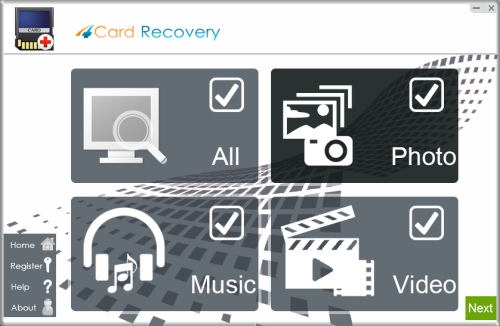 Select recovery options in the main interface
Step 2:
Select the logical disk where you cannot access your desired stuffs and scan this drive to find your wanted drive contents.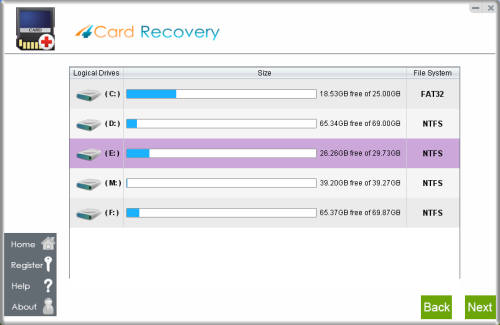 Select card to search photos off card
Step 3:
Preview all listed drive stuffs and choose the recoverable ones out carefully.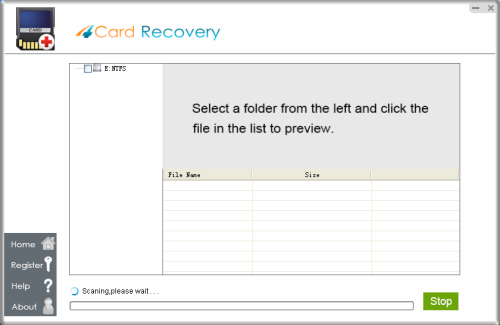 Wait while scanning lost photos, sometimes it takes about 20 minutes to scan a 32G card.
Tips: if it takes more than 2 hours to scan a 32GB card, you may stop the scanning and wait to see
what's already found. Since the card may contains bad blocks that takes longer time than usual.
Step 4:
Restore and save drive stuffs to another disk or device in case that the restored stuffs will overwrite your original data and cause data recovery failures.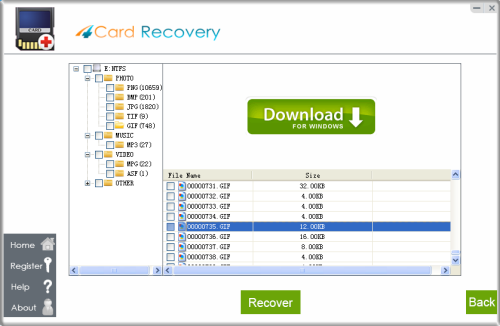 Preview lost photos and save found files. It would generate a folder to contain your lost data.
Please do not save the photo to the card where you lost them. Save them to your PC drive!

Download 4Card Recovery
Additional Tips:
* Never overwriting, testing or repairing this logically damaged drive to avoid causing more drive data loss. 
* This data recovery software is a read-only data recovery program which will not cause drive data overwriting problem. So, it is really safe for you to rescue your drive data.
* In case of drive data recovery failures, you should also arrange another computer partition or drive to save all restored stuffs.
* In the future, always prepare two or more copies of everything important on separate drives or device to avoid any similar data loss problems.
How About Physical Damaged External Hard Drive?
Being completely different from drive logical damages, the drive physical damages often refers to some serous issues in hardware. When one external hard drive is physical damaged, like drive being broken into pieces, drive with completely broken connection, burnt drive or bent drive, etc, the external hard drive often is irreparable. The remained drive data is often really difficult to restore back. Of course, if the left drive data is really very, very crucial, the drive owner also can consult some professional data recovery companies (which will often use their special data recovery tools and do their efforts to take your data back in a special clean room ) to help by paying much money.

Download 4Card Recovery