Summary
Data recovery guidance will be introduced here to take the deleted or lost videos, files and photos back from your external hard drive that has been used as a backup drive and now held the only one left copy of your needed computer data.

Backup External HDD Recovery by 4Card Recovery
Free download 4Card Recovery to rescue desired computer data back from your backup USB hard drive that now cannot be accessed for some human errors or drive malfunction errors.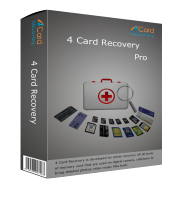 Backup USB Hard Disk Also Cannot Be Accessed Right Now?
Recently, cherished external hard drive files, videos, pictures, texts and more are deleted or lost off from your computer drive for unpredicted wrong operations? However, meanwhile, when trying to copy lost stuffs back from data backups, find the only one backup drive also gets some problems and cannot be accessed due to human errors like accidentally deletion, drive format,/reformat and rude drive extractions, or drive malfunction errors like drive not formatted errors, drive RAW file system error, drive virus-infection errors, etc? OK! Don't panic! This situation is not so bad that you even have no any chance to rescue something back. Oppositely, you still have promising chances to take your deleted or lost data back directly from that backup drive at the assistant of backup drive data recovery software.
Try to Restore Lost or Deleted Data from This Backup Drive
The drive data backups always can help rescue all lost or deleted original drive stuffs back in a really easy way, when your cherished data is erased off from the original computer drive. However, when your drive data backups also unfortunately cannot be accessed for some backup drive errors meanwhile, it seems to be a really tricky task to take all lost or deleted data back. But, the truth is not like that. In this situation, you also can rely on external hard drive file recovery software like 4Card Recovery to directly scan your backup drive and rescue the wanted original drive stuffs back as many as possible.   
So, now, connect this backup drive to your computer and start to restore your needed data step by step:
Step 1:
Launch downloaded data recovery software on your computer partitions and follow instructions to open its main screen. And then, pick out a desired data recovery mode to go on.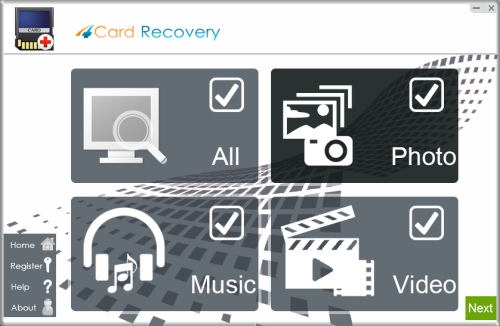 Select recovery options in the main interface
Step 2:
Specify this backup drive shown on the next screen and begin to scan it patiently.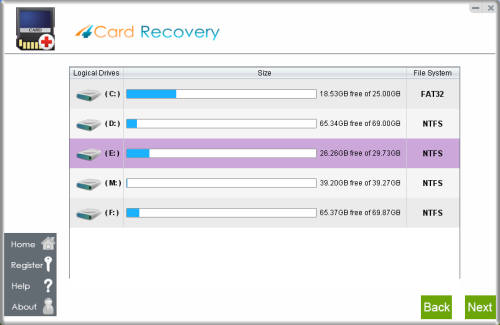 Select card to search photos off card
Step 3:
Preview all scanned drive files and pictures to leave the recoverable ones only. Mark the ones that you want to restore out.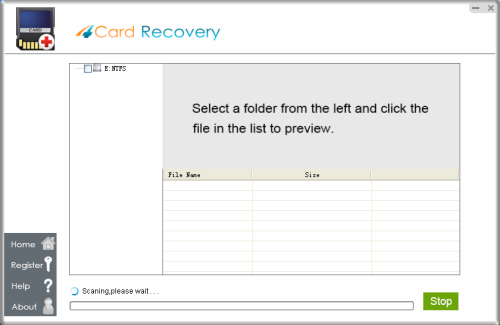 Wait while scanning lost photos, sometimes it takes about 20 minutes to scan a 32G card.
Tips: if it takes more than 2 hours to scan a 32GB card, you may stop the scanning and wait to see
what's already found. Since the card may contains bad blocks that takes longer time than usual.
Step 4:
Retrieve all selected files, pictures and other stuffs to your computer partitions or different external drives, not this backup drive.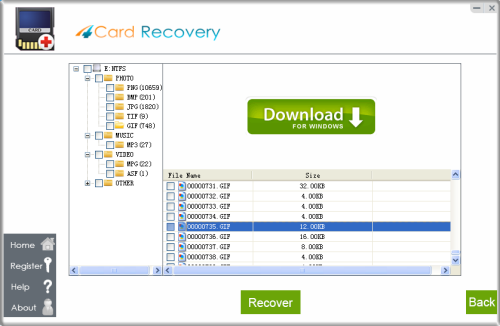 Preview lost photos and save found files. It would generate a folder to contain your lost data.
Please do not save the photo to the card where you lost them. Save them to your PC drive!

Download 4Card Recovery
Pay Attention:
* Always put this backup drive aside to keep it away from any new file, folder or program before successful data recovery.
* Always put restored files, pictures, videos and others to computer partitions or extra external drives, not this backup drive, in case of data recovery failures.
* Always put valuable drive data replications at least on two or more separate drives, partitions or devices, not only one drive.
Attempt to Restore Wanted Data from Original Computer Drive
Of course, if this backup drive has been seriously damaged for some reasons and even cannot be recognized by any computer, you also have no need to worry! Without this drive, you also can take chances with the original computer drive where you directly delete or lose your valuable data. Generally, as long as the original drive is not overwritten by anything else, you also can restore your needed data with software. So, open your previously tried data recovery software and scan this original drive to see how many of your original stuffs could be taken back. Whatever happens again in the future, firstly make several drive data backups well. 

Download 4Card Recovery