Summary
Here is a step tutorial for you to restore wanted files, pictures, texts, videos, music and the likes back from external hard drive that has been erased or cleaned up somehow without any warning or notification.

Erased External Hard Disk Recovery by 4Card Recovery
Free download 4Card Recovery to scan your USB hard drive and rescue desired valuable information back, no matter why and how this external drive is erased, formatted, deleted, reformatted or logically damaged, etc.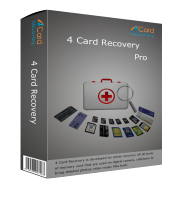 External Drive Is Erased Somehow & Need Solutions to Rescue Left Data?
External hard drive with many word documents, PPT files, messages, mails, pictures, videos and other types of files is erased weirdly somehow and also is not able to be accessed on computer? External drive data is just deleted or cleaned for your mistaken drive formatting/reformatting operations? Or merely purposely perform a deleting process on a wrong USB drive without data backups? Without entire drive data copy left elsewhere, just need find a way to retrieve desired drive stuffs back? All right! In contrast to give up at the outset, there is indeed a better way for you to take missing or lost drive information back. Just immediately stop using this USB hard drive and download erased external hard drive software to scan this drive thoroughly.  
Step Tutorial to Rescue Erased USB Hard Drive Files Back
Generally, without preparing drive data backups on several places or drives earlier, some unexpected drive data loss problems, like your faced erased drive data loss issues, are often necessary price you should pay. Hence, in the future, just root out any aleatory idea and make drive data backups well all the time. However, now, in order to take your inaccessible or lost drive information out, you'd better write no new stuff on this USB drive and reply on external drive lost data recovery software like 4Card Recovery to rescue everything back.
Here is a step tutorial for you to rescue lost drive files back:
Step 1:
Install this software on your PC well after downloading its trial version there and run this software to choose a preferable data recovery mode from the main interface.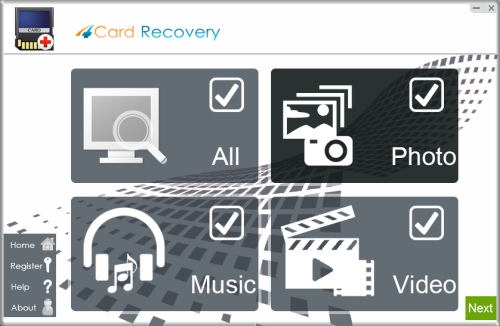 Select recovery options in the main interface
Step 2:
Select this erased external drive from the next interface and scan this drive thoroughly.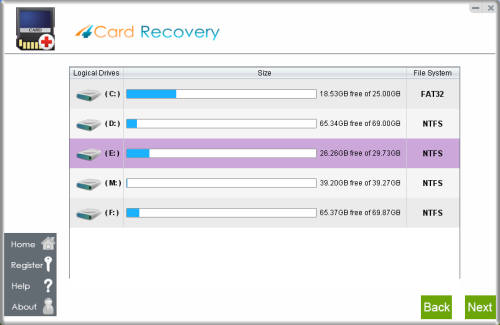 Select card to search photos off card
Step 3:
You can preview the found pictures after scanning.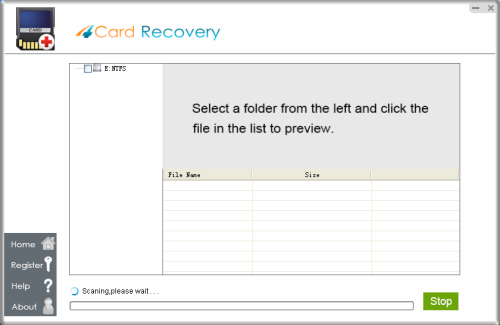 Wait while scanning lost photos, sometimes it takes about 20 minutes to scan a 32G card.
Tips: if it takes more than 2 hours to scan a 32GB card, you may stop the scanning and wait to see
what's already found. Since the card may contains bad blocks that takes longer time than usual.
Step 4:
Restore all preferred information back and choose another different device to store it.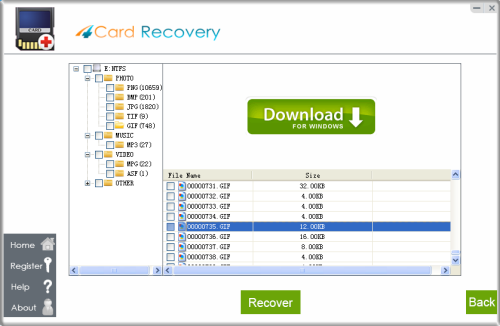 Preview lost photos and save found files. It would generate a folder to contain your lost data.
Please do not save the photo to the card where you lost them. Save them to your PC drive!

Download 4Card Recovery
You Also Should Know:
* Before the final restoring process, you can freely preview the scanned files and pictures to see how many of them are recoverable.
* Before the final restoring process, you are also supposed to choose another drive or computer partition to store your restored drive data.
*After rescuing everything drive data back, also save copies of everything important on several storage devices timely.
Other External Drive Data Loss Stories:
Story1: Hello, I came here and want to share my drive data loss problems with you! At that time, my brother just formatted my external hard drive with many videos, pictures and music of my girlfriend when I was out. In order not to let my girlfriend angry and bring much more troubles, I searched many drive data recovery solutions online and tried them all one by one. Fortunately, after experiencing many failures, I finally take most of my drive stuffs back with the above mentioned drive data recovery software.
Story2: Yes, I've also had a great success with this drive data recovery software when several drive file folders were deleted mistakenly. It just helped got my original drive data quickly.
Story3: I have used this data recovery software several times and it ha successfully rescued most of original drive information with ease.  

Download 4Card Recovery