Summary
You can easily learn many useful drive format recovery suggestions here to rescue your missing audios, movies, documents and other files back from external hard drive that is formatted by your mistake.

Formatted External HDD Recovery by 4Card Recovery
Free download 4Card Recovery to restore lost external drive data back from formatted, erased, deleted, not formatted, virus-infected or inaccessible USB hard drive.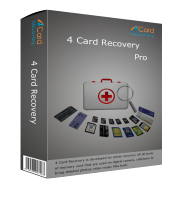 Need a Favor to Take External Drive Stuffs Back after Accidental Format?
Generally, formatting process is really helpful to avoid some drive not formatted error or RAW file system error problems after you've bought a new external drive and want to use it functionally on your computer. However, the drive formatting process is not always necessary in the process of using, especially when you do have placed much crucial data there without other copies left. But, unfortunately, you are now already troubled by such accidental USB drive formatting operations and need a favor to rescue all remained valuable videos, photos, songs, files and more back? All right! Don't panic! You are not hopeless yet! Simple follow the below suggestions and learn how to take your missing drive stuffs back with formatted external hard drive data recovery software step by step.
Formatted External Hard Drive Data Recovery Advice:
It is really a touchy topic for most external hard drive users to lose data off from external hard drive after accidental format, since many of them probably have ever permanently lost their cherished drive data, like tons of files, videos, music, photos and more for that format and farther improper operations, like drive overwriting, using unknown software on this drive or testing this drive blindly, etc. Hence, in your case, to cause no more drive data loss problem, just stop doing anything else to this drive and straightly download external hard drive format recovery software like 4Card Recovery to computer partition to scan this formatted drive and see whether all your previous drive contents could be taken back with success.
Here is a step-by-step guidance for you to use data recovery software easily:
Step 1:
Select the "Photo", "Video", "Music" or "Al" option to scan this formatted external drive after you've downloaded the standout 4Card Recovery to your computer partition, not this connected external hard drive.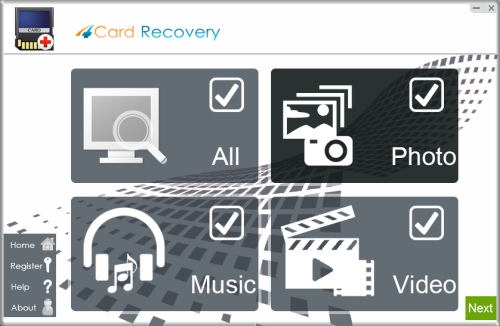 Select recovery options in the main interface
Step 2:
Select this drive that has held your lost crucial data and scan this drive thoroughly in the next minutes.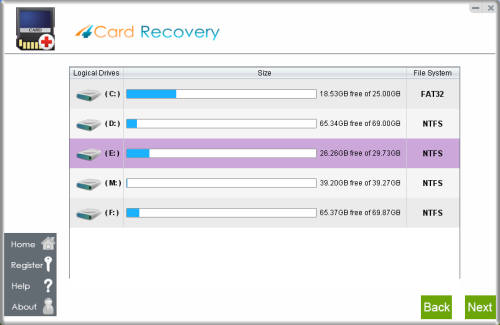 Select card to search photos off card
Step 3:
Click the listed files and photos to preview. Learn to select the recoverable ones out.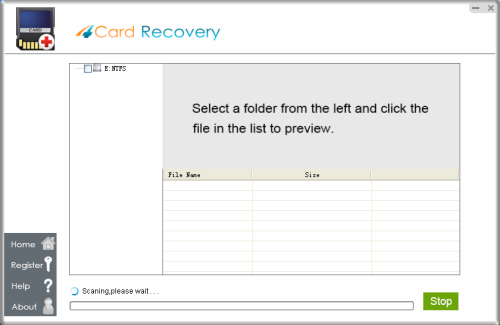 Wait while scanning lost photos, sometimes it takes about 20 minutes to scan a 32G card.
Tips: if it takes more than 2 hours to scan a 32GB card, you may stop the scanning and wait to see
what's already found. Since the card may contains bad blocks that takes longer time than usual.
Step 4:
Select the destination partitions or drives to hold all your restored drive files, images, videos, music and the likes.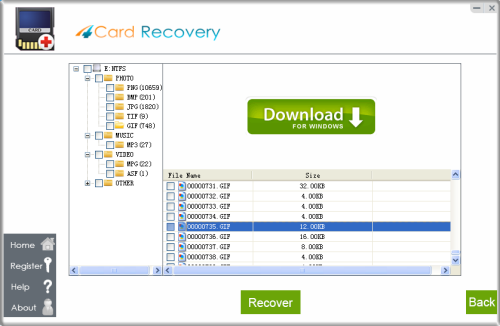 Preview lost photos and save found files. It would generate a folder to contain your lost data.
Please do not save the photo to the card where you lost them. Save them to your PC drive!

Download 4Card Recovery
You Would Better Remember Well:
* Before restoring everything precious back, never add anything new to this drive and also do nothing improper to this drive, drive overwriting, drive testing, drive deleting and more.
* In the process of drive scanning, also wait patiently. The software will often need much more time to finish the scanning process, if your drive is really large.
* After data recovery process, also move all restored drive information to another storage drive or location to avoid drive overwriting,
* In the process of using this drive in the future, just learn little lessons to prepare drive data backups on more drives or locations well.
What May Cause Drive Data Loss?
There are many other causes that lead to drive data loss issues. You'd better know some major ones and learn to avoid such problems in the future:
1). Computer has got some operating system errors and needs you to format that drive, like commonly heard RAW file system error.
2). External hared drive is logically damaged or corrupted for your improper use.
3). External hard drive errors, like not formatted error, RAW file system error, drive corrupted directory error and the likes.
4). External hard drive virus-infection issues.
5). External hard drive deletion
From now on, use extra drives or storage devices to hold important drive copies timely and also update them when the original copy is changed or edited.

Download 4Card Recovery