Summary
Learn to take lost images, texts, videos, audios and other files back from external hard drive, no matter whether this external drive is completely or partially formatted without data backups.

Formatted External HDD Recovery by 4Card Recovery
Free download 4Card Recovery to scan your USB disk thoroughly and also rescue your preferred drive data back after a partial or complete drive format.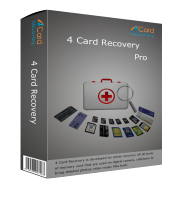 Want to Restore External Hard Disk Data after a Partial Drive Format?
How do you partially format your external drive with much important things? When attempting to extract USB hard disk, just mistakenly click "format" option that is next to "Safely Remove" option? Though you've stopped that formatting process as soon as possible, your drive data is also lost without backups? Accidentally choose the wrong external drive to format and end that formatting process in seconds, but, external drive is still asking you to format and becomes inaccessible? Or your external hard drive is weirdly formatted partially on your computer for some unknown computer problems? Need practical suggestions to restore the lost drive data back? OK! Don't be afraid! When an external HDD is formatted partially or completely, without new stuffs placed on the same drive, data recovery software, especially some external drive format data recovery software, is what the drive owners need to take everything back.
How to Restore Lost Data from Partially Formatted USB Hard Disk?
Have you ever experienced completely formatted drive data recovery problems? What have you done to rescue the totally formatted drive data? Don't ensure whether the ever used data recovery solution still works in rescuing data from this partially formatted drive? OK! Don't be worried! If you do have encountered such data loss problem before, you can directly try the same data recovery solution or software to see whether your lost drive data could be rescued back. Honestly, in your case, no matter whether your drive is totally or partially formatted, simply some formatted external hard drive data recovery software like 4Card Recovery is what you need to take everything back.
So, don't suspect anything. Just download this software to take chances:
Step 1:
Follow software instructions to install and launch it well on your PC. On the main screen of this software, select a fixable data recovery mode from four.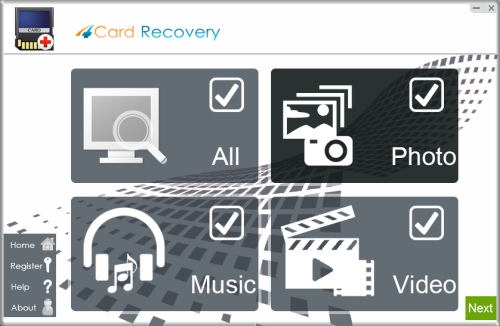 Select recovery options in the main interface
Step 2:
Click "next" to highlight this USB hard drive that has been formatted partially and scan this drive latter.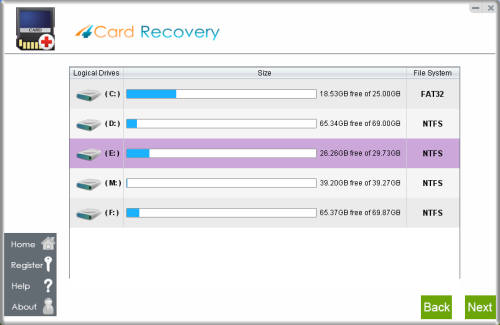 Select card to search photos off card
Step 3:
Click and preview all possible useful drive files and pictures on the next screen. Choose desired ones out.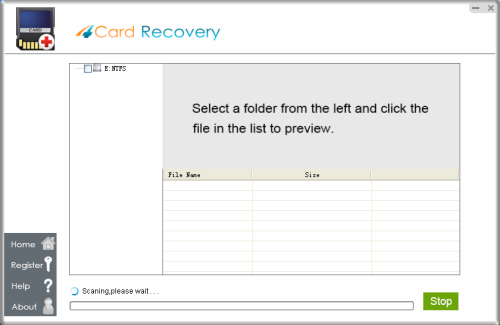 Wait while scanning lost photos, sometimes it takes about 20 minutes to scan a 32G card.
Tips: if it takes more than 2 hours to scan a 32GB card, you may stop the scanning and wait to see
what's already found. Since the card may contains bad blocks that takes longer time than usual.
Step 4:
Select the available storage device, like your computer partitions, other external drives, USB flash drives, etc, to store your retrieved data.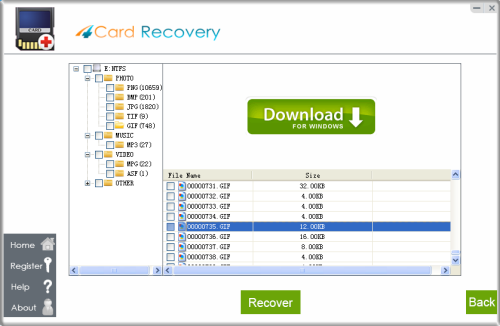 Preview lost photos and save found files. It would generate a folder to contain your lost data.
Please do not save the photo to the card where you lost them. Save them to your PC drive!

Download 4Card Recovery
Please Pay Attention at the Same Time:
* Never lose your mind to add new information on this partially formatted drive.
* Never re-format this drive before data recovery.
* Never assign this original external drive to remain your restored drive contents.
* Never store all important computer or drive files or stuffs on only one place or location again in the future.
External Hard Drive Is Partially or Totally Formatted?
Generally, no matter whether you've formatted your external drive partially or totally, the common formatting process will often not really erase everything inside this drive. Being changed with different names and restoring path, your preferred original drive stuffs are often still hidden on the same drive. That's why data recovery software can help find them back for you. But, comparing to the completely formatted drive, the partially formatted external drive is more possible to be damaged or corrupted, especially when you careless start that formatting process and rudely stopped it without thinking. So, in the future, whatever happens, just act carefully and never accidentally format any drive with much crucial data. Of course, drive data backups also should be made all the time.
When attempting to remove USB hard disk from computer, just mistakenly click the "format" option that is next to "Safely Remove", though I have tried to stop that formatting process as soon as possible, drive also cannot be mounting normally there?
Accidentally choose external drive to format and put an end to this format in latter seconds, but, this drive is till asking to format and becomes inaccessible?
Carelessly reformatted external drive with much important things and timely stopped that drive and also get a drive with nothing inside?
In most completely formatted drive data loss cases, it is really possible for drive owners to take lost videos, files, images and other things back, as long as all inside are damaged or overwritten by new stuffs on the same drive space. However, you are not sure whether it is the same theory when the drive is only partially formatted?

Download 4Card Recovery