Summary
Read-only data recovery software, 4Card Recovery, will be recommended here for you to rescue lost data back from external hard drive that seems to be failing or dying and also disables your drive data access somehow.

Failing External HDD File Recovery by 4Card Recovery
Free download 4Card Recovery to take needed original images, movies, texts, songs and more files back from external hard drive that has got some drive errors for your long-time use, improper operations or other failing drive problems.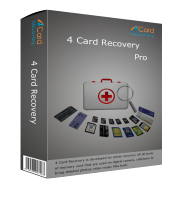 External Hard Disk Is Probably Failing & Inaccessible?
Have a question with external hard disk that stocks numerous significant files, pictures, videos, music and more? This external drive makes strange clicking sound and also disables all your drive data viewing operation with drive not formatted error? This USB disk seems to be failing for your long-time use and refuses your access to anything inside this drive with drive RAW file system error? Or external drive just suddenly performs strangely and also becomes inaccessible for corrupted drive file directory or your improper drive operations? OK! Never panic! The really failed external hard disk often also cannot be detected under any computer. So, your drive state is not as terrible as you think. By performing some external drive data recovery software on this failing drive, you may still have chances to rescue everything original back.
Restore External Hard Disk Files Back with Read-Only Data Recovery Software
External hard drive can become inaccessible due to many causes, like virus-infection, drive logical damage, drive not formatted error, common drive RAW file system and more, not only the drive failures. So, never give up any hope to rescue your drive files back. As a matter of fact, in your case, to avoid any unnecessary drive data loss trouble, you'd better do nothing else to this external drive and immediately try read-only external hard drive file recovery software like 4Card Recovery to go on. With this read-only software, you often can easily take scanned drive data back and also leave no new data recovery software stuffs on this drive to cause any overwriting.     
Follow this step tutorial to take your wanted external drive stuffs back:
Step 1:
Download data recovery software and install it on your computer partition. Not attempt to store or install it on the same external drive. Run this software there and select a file type recovery option.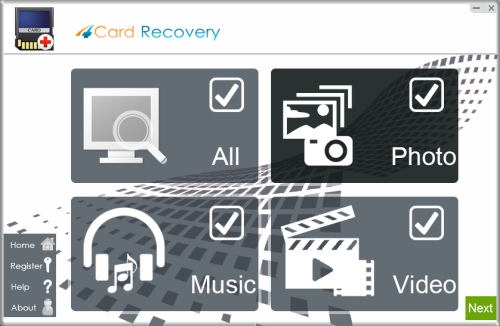 Select recovery options in the main interface
Step 2:
Select the external hard drive that carries lots of your original data and scan it to find more needed data out.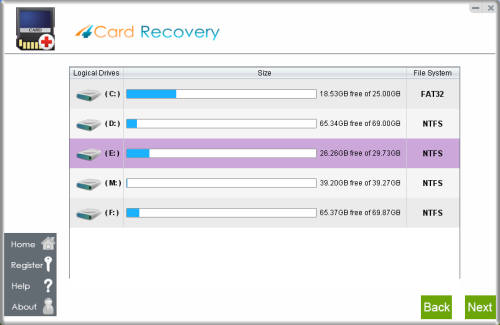 Select card to search photos off card
Step 3:
Preview all scanned images and files to see how many of them are still workable for you.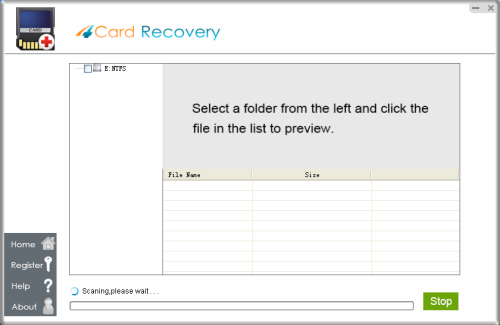 Wait while scanning lost photos, sometimes it takes about 20 minutes to scan a 32G card.
Tips: if it takes more than 2 hours to scan a 32GB card, you may stop the scanning and wait to see
what's already found. Since the card may contains bad blocks that takes longer time than usual.
Step 4:
Restore all desired drive stuffs to another external drive or computer partition after previewing some images, documents or other files.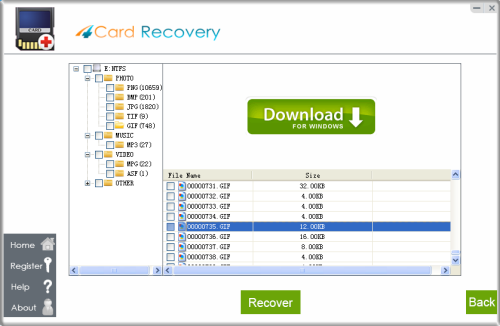 Preview lost photos and save found files. It would generate a folder to contain your lost data.
Please do not save the photo to the card where you lost them. Save them to your PC drive!

Download 4Card Recovery
Tips:
* In the data recovery process, this software will only read your left drive and never edit, change or add something new on this original drive to cause more troubles.
* In the data recovery process, also preview all viewable files and pictures to exclude some useless ones after drive scanning.
* After the data recovery process, also use another different storage device or drive to hold your rescued stuffs in case of data recovery failures. 
How to Deal with Completely Failed External Hard Drive?
The completely failed external hard drive often can create annoying noises when it is connected to computer and also cannot be read normally on any computer. Sometimes, you even cannot find any sign to tell whether your plunged external hard drive is detected or connected well there, since it is just shown nowhere. Under similar drive situation, the easiest way for drive users to go on is to purchase another new one for the near future use. But, if the left drive data is really significant and cannot afford to lose, the one way left is to consult some data recovery agencies or companies. And the drive data recovery service price also can be unbearably high. Therefore, if you really got a failed drive, just make a wise decision according to your own conditions.  

Download 4Card Recovery