Summary
Stop using this external drive with data loss problems and scan it deeply on computer with 4Card recovery to reclaim previous Word files, pictures, videos, texts, mails and other valuable data back by using its outstanding four data recovery modes.

External Hard Drive Recovery by 4Card Recovery
Free download 4Card Recovery to scan the USB drive from one sector to another and find all possible desired drive stuffs to restore, when you got some drive data loss problems caused by deletion, formatting, unformatted error, virus attacking, computer instant power off, etc.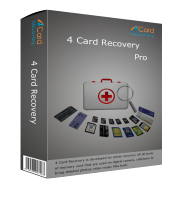 Find Your External Hard Drive Has Some Unfamiliar Data Loss Problems?
Nowadays, external hard drive has been developed to be several times larger in capacity than these ones in past decades so that different owners can easily use their drives for a pretty long time. There is always no need to frequently change computer/laptop drive for low memory problems. However, sometimes, since the drive has been designed with too much space, during applying it to hold diversified information, you may also inevitably get some drive data loss problems caused by accidental drive data deletion, drive unsupported RAW file system, drive not formatted error, virus attacking and more. If you now are really strapped by similar drive data loss issues, don't worry! To find your desired previous drive contents back, you can easily download external drive data recovery software to take chances.
Fix USB Hard Drive Data Loss Issues& Restore Desired Drive Data Back
The unwanted USB hard drive data loss problems could be easily caused by your simple clicks, virus infection, drive file system problem, computer instant power loss and even computer corruptions, etc. However, not all of these causes will actually damage your drive and bring permanent data loss problems. Therefore, as long as your USB drive is still recognizable on your computer, you do need to check whether USB drive data recovery software like 4Card recovery can help scan out and rescue your desired original drive Word files, pictures, videos, texts, mails and other valuable data back.
So, do not go on suspecting anything right now. Just connect this USB drive to your PC and give the data recovery software chance like this:
Step 1:
Launch data recovery software and choose useful data recovery mode according to your data loss situation.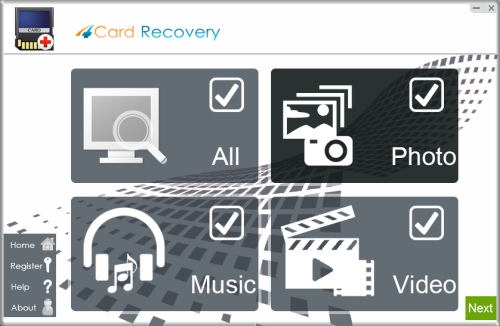 Select recovery options in the main interface
Step 2:
Assign the external HDD for the running data recovery software from others and scan it quickly.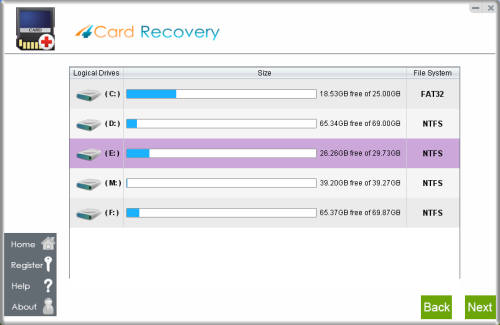 Select card to search photos off card
Step 3:
Select your original drive files and photos from others by previewing the scanned ones carefully.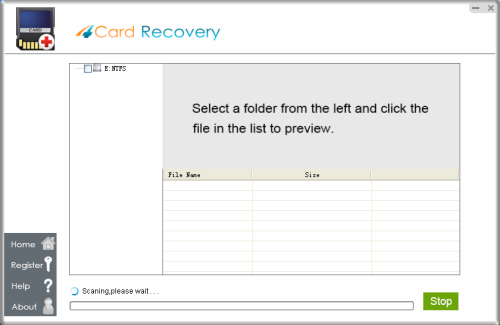 Wait while scanning lost photos, sometimes it takes about 20 minutes to scan a 32G card.
Tips: if it takes more than 2 hours to scan a 32GB card, you may stop the scanning and wait to see
what's already found. Since the card may contains bad blocks that takes longer time than usual.
Step 4:
Restore all desired drive information back and also choose a proper drive or partition as the destination device.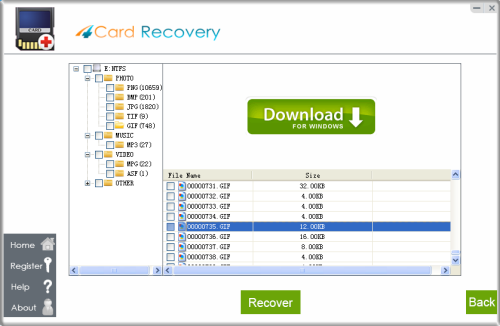 Preview lost photos and save found files. It would generate a folder to contain your lost data.
Please do not save the photo to the card where you lost them. Save them to your PC drive!

Download 4Card Recovery
Notes:
* NO matter what type of your drive data loss problems your drive has, never save new stuffs there to overwrite your previous data.
* NO matter how many original drive contents have been restored, never move them to the same external drive again.
* NO matter how busy you are in the future, never save only one copy of everything valuable on only one device or location.
* NO matter what data loss issues you've encountered, format this drive to fix its possible drive errors, after backing up all drive data well.
Send External HDD to Professional Data Recovery Companies
While having faith in data recovery software, you also should know that not all external drive data loss problems could be fixed with data recovery software. When this drive has been seriously damaged or corrupted, even cannot be detected on any computer, the situation is really bad. It is often really troublesome to take lost data back by merely using software. You'd better take it to good data recovery companies and see whether they can do something to reclaim your original drive information.

Download 4Card Recovery