Summary
Download and instantly launch 4Card Recovery to take your wanted photos, videos, messages and more back from your digital camera memory card after some unwilling camera card data loss problems.

Camera Memory Card Recovery by 4Card Recovery
Free download 4Card Recovery to rescue all lost or missing images or videos of your past previous memory back from the memory card of your digital cameras, no matter which type your camera is, like compact/bridge cameras, SLR/DSLR cameras, point/shoot cameras or mirrorless cameras, etc.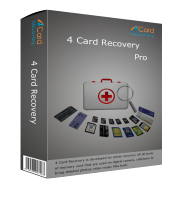 Want to Rescue Lost Camera Memory Card Data by Yourself?
There are many types of digital cameras that allow users to preserve their precious memory in motion or single image, like compact/bridge cameras, SLR/DSLR cameras, point/shoot cameras and mirrorless cameras, etc. However, no matter which type of digital cameras you are more likely to use, when unfortunately encountering some camera card data loss problems, like camera card photo deletion, camera card formatting/reformatting, camera card RAW file system error, camera card not formatted error, camera card logical corruption and camera card falling or dropping, etc, you are often supposed to deal with them with similar clues. Want to know that clues clearly? All right! Simply stop writing new photo or video on this camera memory card and download camera memory card data recovery software to rescue your preferred card stuffs back by yourself.
Begin to Restore Camera Memory Card Videos & Pictures by Yourself
After losing camera videos, pictures or more files from camera memory card, you absolutely can depend on your own efforts to take all preferred stuffs back. Of course, if you are a data recovery expert, the data recovery process could be much easier. But, if you are not good at rescuing lost camera card stuffs, don't be depressed. With the help of camera memory card photo recovery software like 4Card Recovery, you also can take your wanted camera information back step by step. With this data recovery software, you can freely choose its offered four data recovery modes to restore all types of files back from your camera memory cards as well as some USB flash drives.
So, let's begin to restore your previous camera videos and pictures back step by step:
Step 1:
Find download button to download and launch this software on your computer. And then, verify whether your camera memory card is connected well on this computer. And then, run this software to choose a data recovery mode.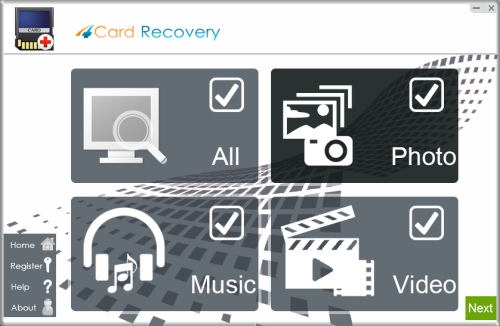 Select recovery options in the main interface
Step 2:
Follow instruction to pick out this connected camera memory card and start to scan it deeply. Never drop or extract this camera card before the scanning process is not finished.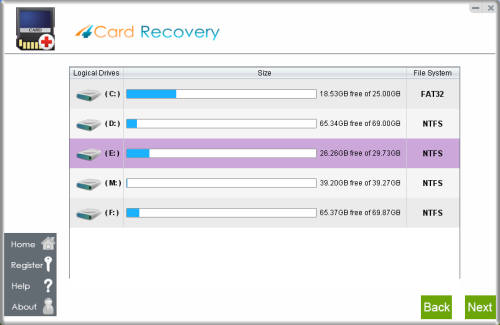 Select card to search photos off card
Step 3:
Preview all scanned camera card stuffs and avoid mark some corrupted or useless files out. Choosing the needed card stuffs only can help save much time in the latter data recovery process.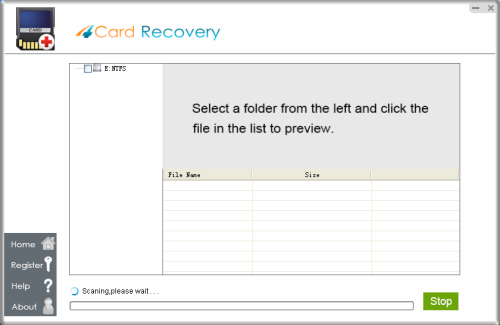 Wait while scanning lost photos, sometimes it takes about 20 minutes to scan a 32G card.
Tips: if it takes more than 2 hours to scan a 32GB card, you may stop the scanning and wait to see
what's already found. Since the card may contains bad blocks that takes longer time than usual.
Step 4:
Restore all marked memory card videos and pictures back. And also avoid saving them to the same camera memory card.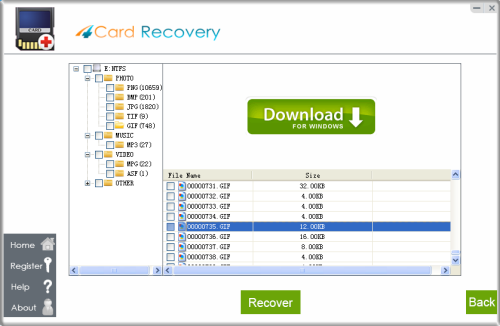 Preview lost photos and save found files. It would generate a folder to contain your lost data.
Please do not save the photo to the card where you lost them. Save them to your PC drive!

Download 4Card Recovery
Prevent Farther Card Data Loss:
* Avoid writing anything new on this camera memory card before getting everything back.
* Avoid writing restored camera card videos and pictures on the same memory card after data recovery process.
* Avoid writing newly captured images and videos on only one camera memory card in the future. 
Main Types of Digital Cameras
There are many different types of digital cameras with different features:
1). Compact or Bridge digital cameras
The Compact camera is a digital camera that comes in ultra compact and compact size so that you can easily take it in pocket. However, the bridge camera is a digital camera that comes in different sizes and shapes. Comparing to compact cameras, this type of cameras are much larger and comes with better quality zoom lenses and a wider range of focal lengths.
2). SLR or DSLR cameras
To tell a SLR camera from many DSLR cameras, generally, you are supposed to check which one of them has the ability to change lenses when taking photos of different subjects in different distances. Moreover, comparing with the above mentioned compact cameras, these two types of digital cameras often has higher price and can help take more wonderful pictures with higher quality. 
3). Mirrorless cameras
The Mirrorless camera is a digital camera that comes without a mirror inside to help take the subject photo. Without that mirror, this type of cameras could be much lighter and smaller so that one uses it more freely.

Download 4Card Recovery