Summary
This tutorial will allows you to choose one data recovery mode from four pre-designed ones to restore all your deleted camera photos back from the camera memory card when they all are stored well on this memory card well in advance.

Camera Deleted Photo Recovery by 4Card Recovery
Free download 4Card Recovery to take all your deleted camera memory card photos back before they all are overwritten gone for improper operations.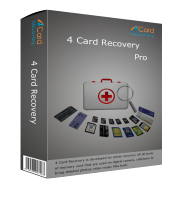 You Can Re-view Your Deleted Camera Memory Card Photos!
Digital camera photos, as the recordings and reminders of the past precious memories with your friends and families, should always be timely stored on the camera memory card and backed up well to another storage device. However, sometimes, for numerous unpredictable causes, the real things will not always run as we have planed in advance. For instance, have you ever accidetally delete your camera memory card photos before you successfully upload them to your backup device? Have you ever mistakenly delete some precious camera card photo folders without double checking? Have ever unexpectedly delete some newly captured wonderful camera card photos for choosing wrong camera options? Or have you ever unwillingly delete your cherished camera photos for fixing some camera memory card problems? OK! Freeze right now! Stop doing anything to this camera memory card and use camera memory card deleted photo recovery software to reclaim all your desired photos back.
How to Re-view Your Camera Card Photos with Data Recovery Software?
Unfortunately lose your camera memory card photos accidentally and personally want to find them all back again? Don't worry! With the help of camera memory card data recovery software like 4Card Recovery, you can easily take them back before they are really replaced by newly taken photos. Through this data recovery software, you can easily choose photos, videos, music and all other card information to restore. Through this data recovery software, you also can easily rescue needed data from memory cards that have different data loss problems, like formatted memory card data loss issues, RAW file system memory card data loss issues, virus-infected memory card data loss problems and logically damaged/corrupted memory card data loss issues, etc.
So, let's begin to take your camera card photos back:
Step 1:
Download this software to PC after connecting this camera memory card well on the same computer. Launch this software and follow its Wizard guidance to choose a file type recovery mode from its main interface.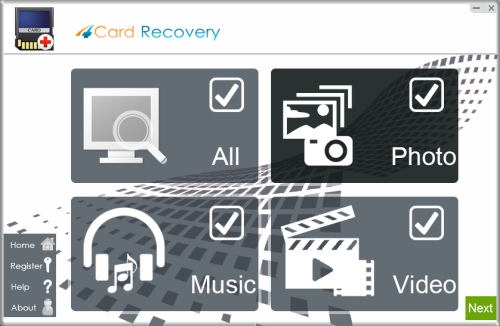 Select recovery options in the main interface
Step 2:
Scan this camera memory card after lighting its out from the other detected devices there. The scanning may take some time.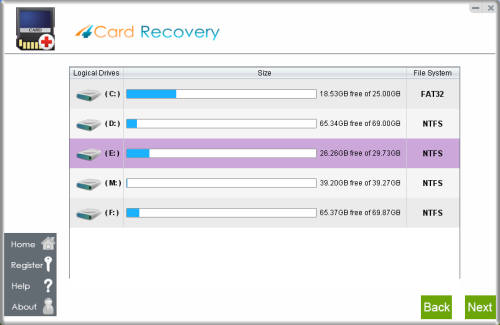 Select card to search photos off card
Step 3:
Highlight all preferred camera photos after previewing them all carefully. This software will also allow you to restore the selected card data only.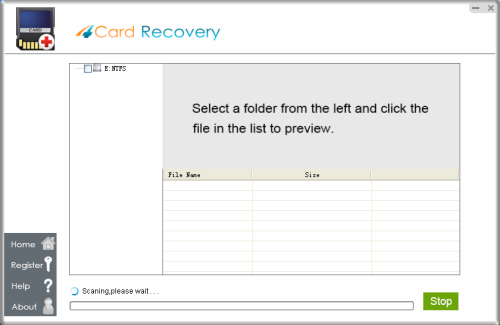 Wait while scanning lost photos, sometimes it takes about 20 minutes to scan a 32G card.
Tips: if it takes more than 2 hours to scan a 32GB card, you may stop the scanning and wait to see
what's already found. Since the card may contains bad blocks that takes longer time than usual.
Step 4:
Save all restored camera photos to computer partitions after click its "Recover" button.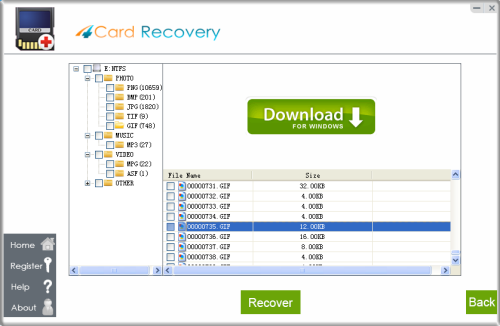 Preview lost photos and save found files. It would generate a folder to contain your lost data.
Please do not save the photo to the card where you lost them. Save them to your PC drive!

Download 4Card Recovery
More Things You Should Pay Attentions:
* If you add more photos or files on this camera memory card, you will lose more original precious photos.
* If you save all restored camera photos on the original memory card, you may encounter some data recovery failures at last.
* If you keep on holding everything important on only the camera memory card, you can inevitably meet the similar data loss problems in the future.
Digital Camera Memory Card Photo Protection:
Do you know why your digital camera memory card photos are lost or deleted occasionally? All right! Don't think too much! To help you struggle out from the card data loss problems, you'd better do some necessary measures to protect your camera photos. Firstly, always prepare camera card photo backups all time and also update the photos backups when you have done some changes to these backups. Secondly, always choose the camera memory card as the place to store your newly captured camera photos. Why? The camera photos stored on the camera inner memory often cannot be restored after data loss problems. Thirdly, stop using camera memory card as soon as possible when you find your camera card photos are deleted or lost without data backups.

Download 4Card Recovery