Summary
This tutorial will focus on how to restore lost, deleted, missing or inaccessible camera photos and videos back from inner memory card when you encounter some common errors related to this camera card.

Camera Memory Card Recovery by 4Card Recovery
Free download 4Card Recovery to get all your newly taken videos and photos back from the camera memory card with a card error, like not formatted error, RAW file system error, memory card error and more.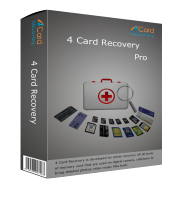 Digital Camera Has a Memory Card Error?
When enjoying a handy memory card to store your desired digital camera photos and videos, you may also have to face some memory card errors and related memory card data loss problems caused by these card errors. Have you experienced any data loss problem caused by camera memory card errors, such as inaccessible camera memory card data for RAW file system error , missing camera memory card data for not formatted error , lost memory card data for unexpected memory card logical damage or corruption and others? If you have, as you've seen, these memory card errors do affect your access to the inner remained memory card data. But, that doesn't indicate that you can no longer access or view your camera photos and videos again. Therefore, never lose your hope and download camera memory card data recovery software to take your preferred camera photos, videos, music and more back.
How to Recover Data from Digital Camera Memory Card?
Honestly, except restoring data from digital camera with memory card error, the camera memory card data recovery software like 4Card Recovery is also able to restore data from camera memory card with diversified data loss problems, like rescuing lost files from mistakenly formatted or reformatted memory card, reclaiming missing data after accidental deletion or retrieving information from memory card that needs to be formatted from RAW file system to NTFS or FAT32, etc. Overall, no matter what your actual camera memory card data loss problem is, simply stop using this memory card and download this software to rescue all your camera stuffs back within several clicks:
Step 1:
Click Download button to get this software and launch it well on your computer. Insert this camera memory card to computer and also click this software icon to run it there. Just choose a fixable data recovery mode as you are asked to pick one.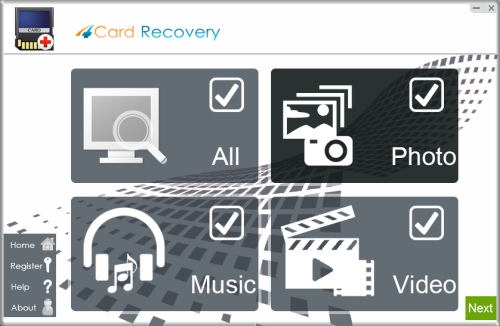 Select recovery options in the main interface
Step 2:
Go to next screen and click this camera memory card to starting its scanning process. If you cannot wait all the time while it is scanning, just feel free to do what you want.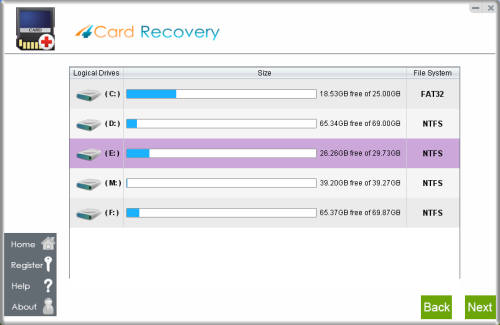 Select card to search photos off card
Step 3:
Click every scanned camera memory card photo or video to view and label the needed part out.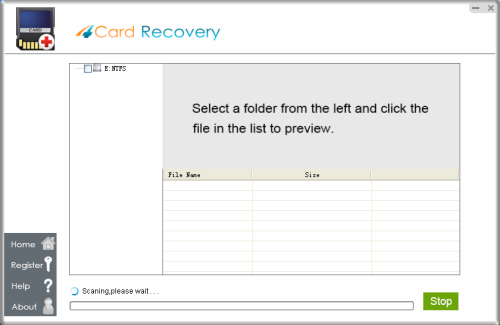 Wait while scanning lost photos, sometimes it takes about 20 minutes to scan a 32G card.
Tips: if it takes more than 2 hours to scan a 32GB card, you may stop the scanning and wait to see
what's already found. Since the card may contains bad blocks that takes longer time than usual.
Step 4:
Click Recover to get everything back and also assign another storage device to hold these retrieved camera stuffs.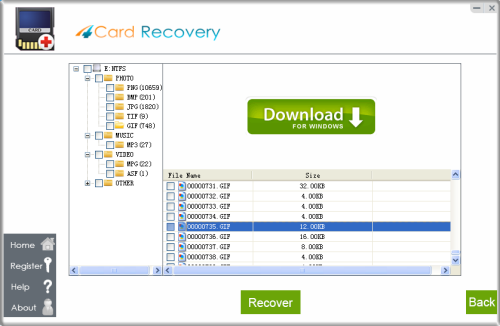 Preview lost photos and save found files. It would generate a folder to contain your lost data.
Please do not save the photo to the card where you lost them. Save them to your PC drive!

Download 4Card Recovery
Please Note:
* Before you restored all your camera photos, videos and more back, you must save no new data on this camera memory card, including the downloaded data recovery software.
* Before you start the data recovery process, you should preview all scanned card files to select the recoverable ones out so that you will not spend time in some corrupted files.
*After clicking the Recover button, you must choose another computer drive, flash drive or memory card to store these retrieved camera card data in case of unexpected data recovery failures.
* After experiencing this camera card data loss problems, to avoid any unpredicted issues, you must learn to save everything important or previous on several devices or locations all the time.
* After data recovery process, you are supposed to format this memory card for fixing any possible card problem.
Other Camera Memory Card Errors:
There are indeed many camera memory card errors. But, not all of them will affect your card data. Therefore, here, read more information of them:
1). Camera memory card with write protection.
Nowadays, many camera memory cards, like SD cards, SDHC cards and TF cards, etc, do have been designed with a "lock" switch that allows you to protect the inner data. When the write protection is turned on, without the permission of the card owner, no one often can do any change to the card data. So, if you encounter this error, just firstly turn off the write protection.
2). Camera memory card cannot be read by your computer.
When the memory card cannot be read by any computer or laptop, there are two directions to find solutions. It could be the problem of your camera memory card. Just try it on another computer and see whether it could be read well there. If the truth tells that it is not the problem of your camera memory card, just try another card Reader or camera USB cable to see whether it is a faulty connection problem.

Download 4Card Recovery