Summary
See how to recover all missing or inaccessible camera photos, videos and other information back from the RAW memory card of your digital memory card due to accidental camera card dropping/falling, virus infection, card logical damage or even computer power surge.

Camera RAW Memory Card Recovery by 4Card Recovery
Free download 4Card Recovery to restore all wanted camera data back from the memory card that has RAW file system problems and also format this memory card on your computer or camera to fix its RAW file system problem afterwards.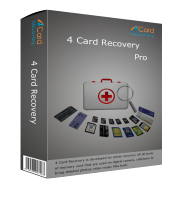 Digital Camera Memory Card Has Not Formatted Error for RAW File System?
When taking photos with digital cameras, you are often suggested to save all newly taken videos or images directly on the inner attached memory card. Do you know why? The theory is really simple. Once you've saved them on the camera memory card well, after some accidental photo deletion, camera card format or unexpected card malfunctions, like camera card RAW file system, camera memory card errors and more, you still can run some digital camera memory card data recovery software to restore lost camera data back from this memory card. Therefore, right now, if you really receive some not formatted errors for RAW file system and also cannot access your wanted camera videos, images and the likes, you should immediately stop doing anything else to this camera memory card and download RAW memory card data recovery software to take everything back.
How to Take Camera Data back from RAW Memory Card Step by Step?
Digital camera memory card becomes RAW for your improper extraction or removing? Digital camera memory card becomes RAW for non-scanned card virus? Digital camera memory card becomes RAW for card logical damage or corruption? Or Digital camera memory card becomes RAW for other unknown or known reasons? To rescue your camera photos, images and more, do not format this camera memory card no matter what happens. Just attach it to computer via this camera or your card Reader and see whether all your desired camera contents could be restored with camera memory card data recovery software. This data recovery software always works fine in different memory card data recovery problems, not only the RAW card data recovery problems. So, let's start to take all your lost camera data back from this RAW card step by step:
Step 1:
Download this software to your desktop computer or laptop and run it well there to select "Photo" or "Video" modes to scan this inserted camera memory card. If you like, you also can choose the other two data recovery modes to go on. \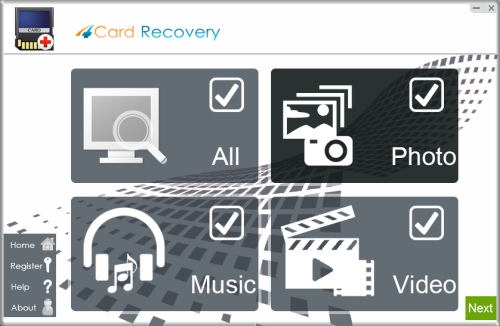 Select recovery options in the main interface
Step 2:
Select your RAW memory card out from other detected storage media to scan. The newly shown drive letter often stands for your newly plunged storage media.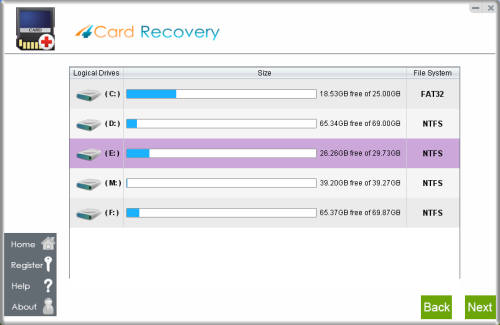 Select card to search photos off card
Step 3:
Preview all listed files, videos, images and more. No matter which type of camera card files you want to restore, always select the wanted ones out when previewing them all.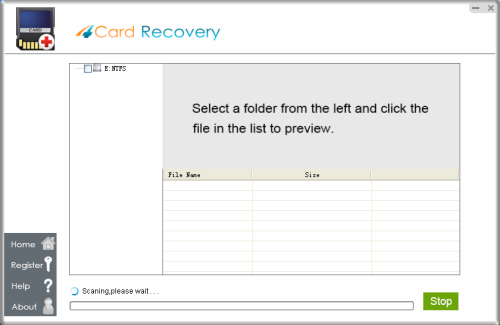 Wait while scanning lost photos, sometimes it takes about 20 minutes to scan a 32G card.
Tips: if it takes more than 2 hours to scan a 32GB card, you may stop the scanning and wait to see
what's already found. Since the card may contains bad blocks that takes longer time than usual.
Step 4:
ecover all previewed and selected camera card stuffs back. Save them all to your computer drives afterwards.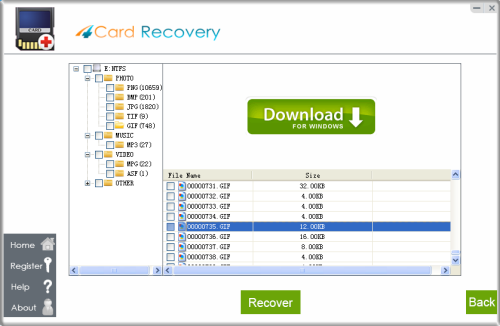 Preview lost photos and save found files. It would generate a folder to contain your lost data.
Please do not save the photo to the card where you lost them. Save them to your PC drive!

Download 4Card Recovery
Extra Tips:
* Do your utmost to keep all new information away from this RAW camera memory card in case of farther data loss, like opening the card write protection.
* Do save all restored camera card videos, pictures, files and the likes on your desktop computer/laptop drives or devices.
* Do remember to check your camera card data and backups well before any deletion, formatting or other operations that can cause card data loss.
* Do your efforts to save all cherished camera card photos and videos on different storage devices all the time in the future. 
RAW Camera Image & RAW Camera Memory Card
Though they have really similar names, the RAW camera image and RAW camera memory card are different. After reading my description, you will find there is no any confusion over the two terms. Firstly, the RAW camera image means some pictures that has RAW format. The RAW format, like other picture format JPEG, JPG, TIF, GIF, etc, is also a photo type that can be made by a digital camera. However, not all computers, photo viewers or photo editing programs can support this RAW format. Hence, when this image format is not compatible with your computer or other tools, simply convert this image to some common formats. Well, as to the RAW camera memory card is talking about a memory card that has a RAW file system. Generally, the memory card with RAW file system often cannot be normally read on a computer, cameras, camcorders and more electronic devices. Hence, in order to make it readable on these devices, you'd better copy all inner data out well and format this card to restore its common use.

Download 4Card Recovery