Summary
Apply 4Card Recovery to restore needed camera photos back from the memory card of your Sony, Samsung, Fujifim, Canon, Nikon and more branded digital cameras, when these images are deleted off from these digital camera memory cards mistakenly.

Camera Memory Card Recovery by 4Card Recovery
Free download 4Card Recovery to copy all deleted camera photos, videos, files and more information back from the memory card of many popular digital cameras, like Nikon, Canon, Samsung, Kodak, Fujifilm, GoPro and others.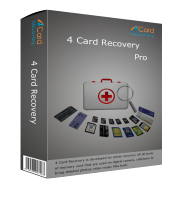 What Makes Your Previous Photos Deleted from Camera Memory Card?
Treasured pictures already have been deleted off from the camera memory card? Feel really worried and need to rescue them back quickly for the latter meetings, presentations, activities or schools classes, etc? OK! No matter why you need them so desperately, let's calm down and record everything happened slowly. Firstly view them on camera and delete them mistakenly for clicking wrong option? Firstly edit them on computer and delete them accidentally for pressing wrong buttons, like "Delete" and "Shift +Delete", etc? Firstly plan to upload them from camera card to computer and delete them for mistaken format/reformat? Firstly back up them on computer drives and delete them unwillingly for RAW file system or not formatted error? Or simply delete some for camera memory card malfunctions? Already figure out what makes your images deleted clearly? Great! Stop doing what you are doing right now! Immediately download  memory card photo recovery software to take all possible pictures back.
What You Can Do to Rescue Lost Camera Card Photos?
Unlike a laptop or computer, digital camera has not been designed with a Recycle Bin. So, never have any hope to restore your camera pictures from the Recycle Bin after mistaken deletion. What you should do now is to check whether there is still hope for you to rescue all deleted camera memory card photos. Have you save multiple copies of these deleted photos on different devices? Have you saved any new photo or file on the same camera memory card since deletion? Or have you format this camera memory card before this deleting process? If all your answers are "NO", fantastically, you do have a great hope to rescue them all back. Just download efficient memory card data recovery software like 4Card Recovery to take all your desired pictures back step by step:
Step 1:
Take out your camera memory card and attach it to your computer. Run this software there and also follow its built-in guidance to pick a fixable data recovery mode from four.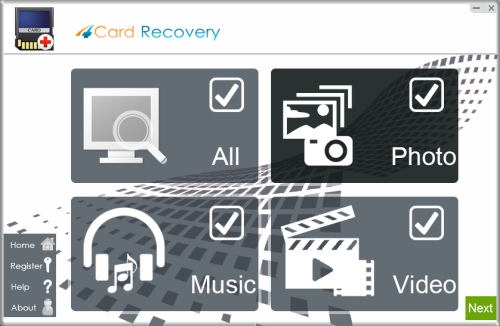 Select recovery options in the main interface
Step 2:
Pick out your camera memory card from the multiple presented storage media. And then, scan this card to search your deleted camera pictures.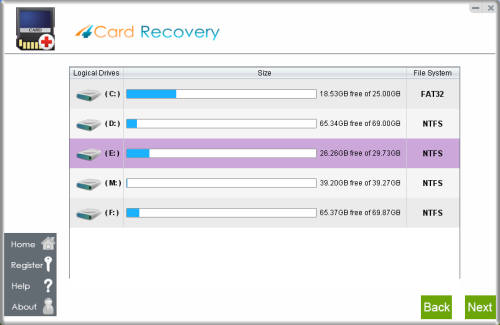 Select card to search photos off card
Step 3:
Mark out all desired camera card photos from all searched ones and press "Recover" button to get them all back.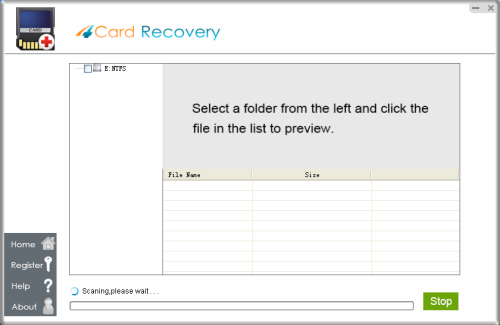 Wait while scanning lost photos, sometimes it takes about 20 minutes to scan a 32G card.
Tips: if it takes more than 2 hours to scan a 32GB card, you may stop the scanning and wait to see
what's already found. Since the card may contains bad blocks that takes longer time than usual.
Step 4:
Set another computer partition or drive to save all your restored camera card pictures in case of data recovery failures.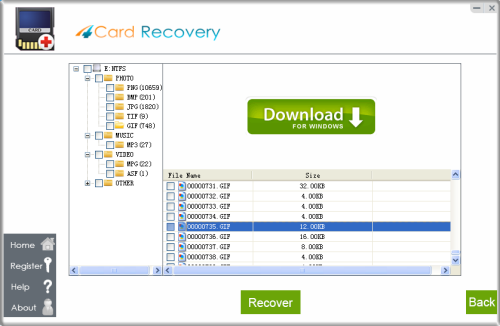 Preview lost photos and save found files. It would generate a folder to contain your lost data.
Please do not save the photo to the card where you lost them. Save them to your PC drive!

Download 4Card Recovery
Note:
* Don't set this camera memory card as the storage device to hold the newly taken photos or videos after accidental deletion.
* Don't set this camera memory card as the destination device to save the restored camera pictures, if you do not want to cause more data loss problems.
* Don't set this camera memory card as the only device to save all your future camera photos, videos and other files, if you don't want to have similar data loss problems again.
Feedback of 4Card Recovery Users
Feedback1: Well, losing cherished data off from memory card or hard drive is really awful. As to me, last weekends, I just fallen down and dropped my Sony camera. And then, camera memory card stuffs were gone strangely. Fortunately, after tons of comparisons, I tried this 4Card Recovery and rescued most of original camera card contents. It was really exciting!
Feedback2: There is no need to worry about the lost data. This handy data recovery software just successfully restored all my needed files, pictures and videos.  
Feedback3: I have been used this 4Card Recovery a couple of times. It always does a good jobs and restores most of my lost drive, memory card and USB flash drive information. It is really worth a shot!

Download 4Card Recovery