Summary
Download Micro SD card data recovery software here to restore inaccessible information from your unreadable Micro SD card before beginning to fix its existing card problems, like card logical damages, RAW file system error, not formatted error, memory card error and the likes.

Unreadable Micro SD Card Recovery by 4Card Recovery
Free download 4Card Recovery to restore your Micro SD card data and also fix the card unreadable problems afterwards. This software works wells on all prevailed flash memory cards as well.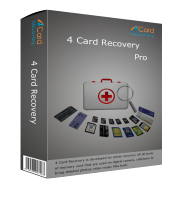 Micro SD Card Becomes Unreadable & Files Inside Become Inaccessible?
The Micro SD card of digital cameras, camcorders, mobile phones and digital players can become unreadable on a computer for many reasons, commonly or strangely. What's yours? Micro SD card becomes unreadable for unsupported file system like RAW, FAT32 or NTFS and needs to be formatted back to the compatible one? Micro SD card becomes unreadable for not formatted error and needs to be formatted without taking all important information out? Micro SD card becomes unreadable for improper formatting, deletion or other operations? Or Micro SD card becomes unreadable for logical card corruption or damages caused by dropping, shocking or long time use, etc? All treasured card files also become inaccessible right now? OK! Ease! In case of any unwanted data loss problems, you are supposed to firstly restore your card data back with Micro SD card data recovery software, and then, try all possible solutions to fix its unreadable issues. 
How to Recover Files from Unreadable Micro SD Card Firstly?
Feel really curious about why we can restore data from an unreadable Micro SD card? Ok! Though your Micro SD card is temporarily unreadable right now, it doesn't mean your Micro SD card is completely failed and cannot be used on any other electronic device. Hence, simply change another card Reader or electronic device to take chances. Moreover, more importantly, without complete or physical corruption, your inaccessible files can still be stored on this Micro SD card and still be recoverable. Therefore, without worrying too much, merely download memory card data recovery software like 4Card Recovery to take all your inaccessible card information back and fix the possible card problems latter.  
Here are common steps for you to recover your card files:
Step 1:
Shut down your electronic device to pick out this Micro SD card. Download this card software to your computer before you attaching this card to this computer. Select a practical data recovery mode after running it well there.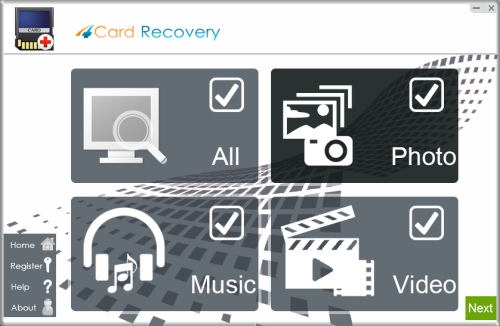 Select recovery options in the main interface
Step 2:
Specify your Micro SD card for this software and begin to scan this card quickly.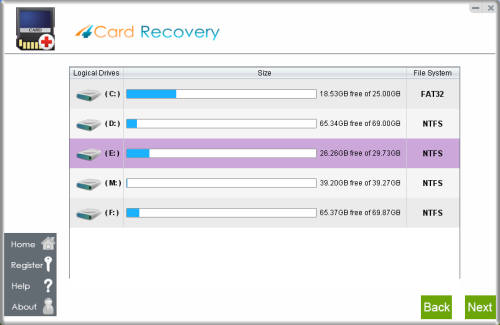 Select card to search photos off card
Step 3:
Preview all found card files and mark your desired ones out after the scanning process is finished.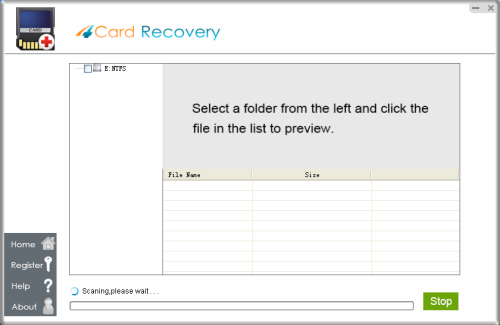 Wait while scanning lost photos, sometimes it takes about 20 minutes to scan a 32G card.
Tips: if it takes more than 2 hours to scan a 32GB card, you may stop the scanning and wait to see
what's already found. Since the card may contains bad blocks that takes longer time than usual.
Step 4:
Choose or plunge another computer drive or device to hold the restored card stuffs in case of data recovery failures.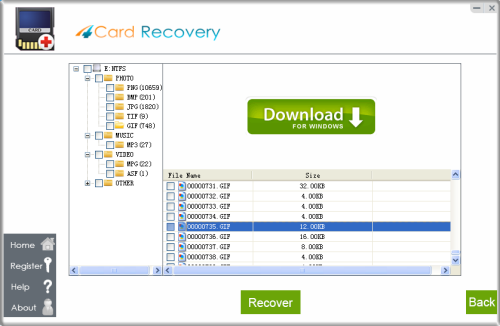 Preview lost photos and save found files. It would generate a folder to contain your lost data.
Please do not save the photo to the card where you lost them. Save them to your PC drive!

Download 4Card Recovery
Helpful Notes:
* Do not modify or overwrite your original Micro SD card files with new stuffs. Stop using this electronic device and your Micro SD card.
* Do not move all restored card files to the same memory card after data recovery. Find another storage device to do that.
* Do not fix the card unreadable issue before data recovery process in case of farther data loss.
* Do not forget to save copies of everything important on different memory cards or hard drives in the future.
How to Fix Micro SD Card Unreadable Issues?
In order to fix the unreadable issues of this Micro SD card, after the satisfied data recovery process, you can firstly try to format this card to see whether it can be fixed. If your card problems are caused by deletion, formatting or not formatted error, RAW file system error or memory card error, etc, the formatting process often can easily remove your card problems. But, if this card has really serous problems, to fix it completely, you need to ask some professional suggestions from some card fixing shops or agencies.

Download 4Card Recovery