Summary
Learn data recovery solutions here to help you take wanted different types of files, videos, images and other information back from not initialized or unallocated external hard drive.

UnInitialized External HDD Recovery by 4Card Recovery
Free download 4Card Recovery to rescue your lost, missing or inaccessible information back from USB hard disk that is only shown in Disk Management and also displayed as "not initialized" there.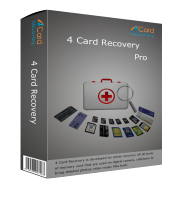 Cannot Access Files from Not Initialized External Hard Disk?
External hard drive doesn't appear in My Computer as before this time? After checking all possible computer places, finally find this connected USB drive is only shown as "Not Initialized" under Disk Management? It is also strangely labeled as "unallocated" there? Just cannot access anything inside for this "not initialized" problem? Also unable to directly format this drive to erase contained drive information? OK! No panic! No matter how strangely this drive is shown there, do not initialize this drive firstly to increase the chances of losing drive data. Instead, leave this drive alone for minutes and try not initialized external drive data recovery software to copy the left drive contents out at the first place.
Perform Data Recovery to Extract Files from This Unallocated USB Drive
Like the drive not formatted error or RAW file system error problem, the drive not initialized problem also needs to be fixed with drive format. So, don't worry too much about your drive state. After the smooth data recovery process, you can freely initialized or format this drive to restore its functional use. But, now, your urgent task is to choose USB hard disk data recovery software like 4Card Recovery and perform prefect data recovery processes on this unallocated drive to extract all your preferable information back.   
Follow steps here to rescue your data from this not initialized portable drive:
Step 1:
Download software to PC partition and install it there. Open software and choose "All" data recovery mode to retrieve your drive information. Other three data recovery modes, like "Photo", "Video" and" music", are also available there.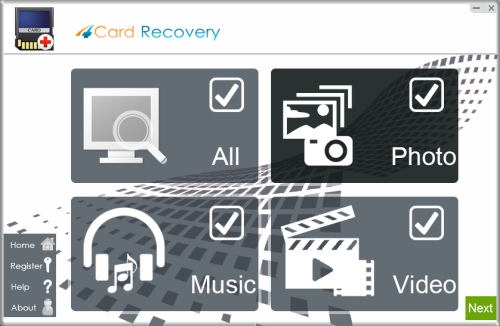 Select recovery options in the main interface
Step 2:
Start the software scanning process to search out all possible drive information.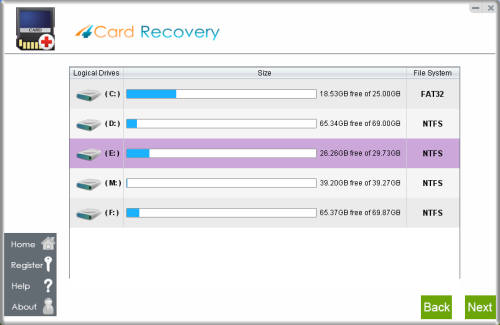 Select card to search photos off card
Step 3:
Click scanned drive data and check them carefully.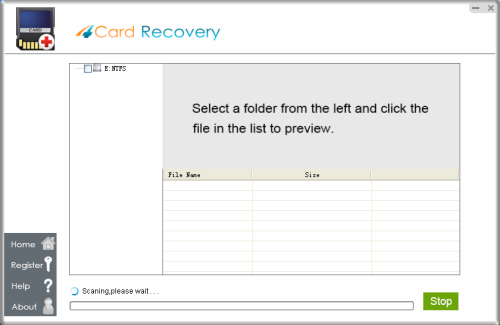 Wait while scanning lost photos, sometimes it takes about 20 minutes to scan a 32G card.
Tips: if it takes more than 2 hours to scan a 32GB card, you may stop the scanning and wait to see
what's already found. Since the card may contains bad blocks that takes longer time than usual.
Step 4:
Choose desired location to store all restored USB drive contents.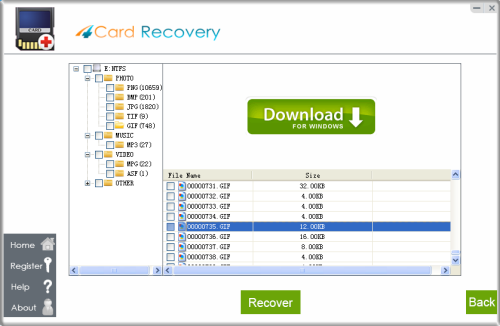 Preview lost photos and save found files. It would generate a folder to contain your lost data.
Please do not save the photo to the card where you lost them. Save them to your PC drive!

Download 4Card Recovery
Useful Tips:
* Keep this unallocated portable drive unused before you perform data recovery processes there.
* Select another computer storage device to save the restored drive information, not the same drive where you lose it.
* Duplicate important drive stuffs and past them all on different locations or drives in the future. Make data backups well.
Why Portable Hard Disk Is Shown as "Not Initialized"?
Want to know why your portable hard drive is shown as "not initialized" there? Can still recall what has happened to this drive before you are stuck in this drive problem? External hard drive has been used on an unsafe computer or machine? The computer is crashed when this drive is still used there? Or external hard drive has got many bad sectors? All right! Honestly, this not initialized external hard drive problem often happens due to many causes, like corrupted computer file system, serious drive bad sectors, dangerous drive virus infection, logically corrupted drive file system and more. Hence, in the future, always act carefully and prepare drive data backups to avoid any undesired complete data loss in the future. Also do not forget to format this drive finally to fix this error problem.

Download 4Card Recovery