SD Card Photos Can Not Be Accessed after a Samsung Android Phone Factory Reset
"Hello, everyone there! My Samsung Galaxy S mobile phone has been used for only several months and recently frequently hangs after restarting. And, I do have checked the used battery, SIM card and external Samsung 64GB Micro SD card and find nothing suspicious. Even after I have tried to uninstall and removing a series of unnecessary games and applications, I still cannot resolve this phone problem completely. Hence, finally, I just have no choice, but, perform a factory reset there and also delete all files off from android phone unwillingly, including some very meaningful photos and videos stored on the inner inserted 64GB SD card. Do you have any idea to recover Samsung android phone memory card data? Thanks for any advice here!"
Hello, friends! Next time, no matter what occurs to you, always save phone SD card data backups elsewhere and also extract this 64GB Samsung memory card out from your android phone to avoid any related phone SD card data loss trouble before you have to factory reset your android phone. And, now, since you do have finished the factory resetting process, stop using the Samsung memory card with much important data and go apply phone memory card photo video file recovery software to take chances. 
Recover Data from Android Phone SD Card after Factory Reset
Generally, android phone factory reset can not only erase everything stored on the phone internal memory, and also wipe all pictures, videos, messages, fails and more files stored on the used external phone memory card, like your Samsung Micro SD card. But, also do not panic after knowing such truth. In your case, before all your desired photos and files are replaced by new android phone information, you are still possible to recover data from phone SD card with the help phone memory card data recovery tools. Hence, do not rush to keep using this 64GB SD card and perform photo recovery from Samsung Micro SD card as below:
Step1. Seek and download a proper phone card file recovery tool. Also launch it well on your PC.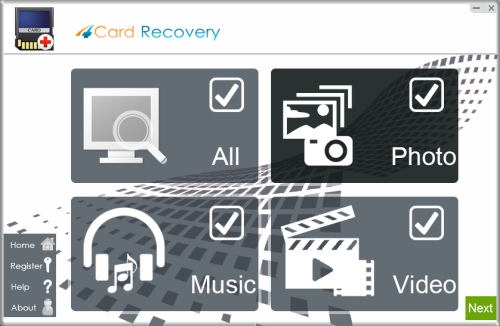 Select recovery options in the main interface
Step2. Run this android phone data recovery program and select a practical recovery mode.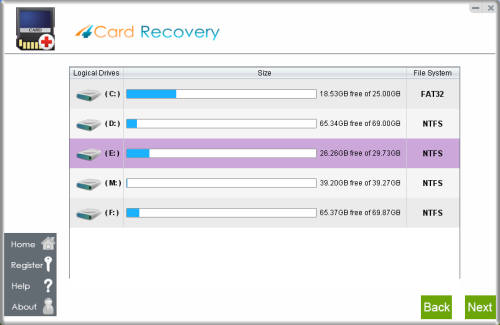 Select card to search photos off card
Step3. Scan your Samsung phone Micro SD card and preview the found pictures and files.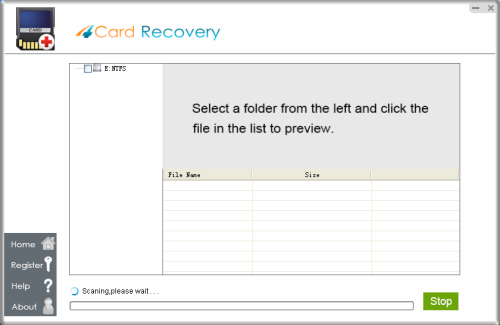 Wait while scanning lost photos, sometimes it takes about 20 minutes to scan a 32G card.
Tips: if it takes more than 2 hours to scan a 32GB card, you may stop the scanning and wait to see
what's already found. Since the card may contains bad blocks that takes longer time than usual.
Step4. Save the retrieved Samsung Galaxy mobile phone SD card data to desired storage device.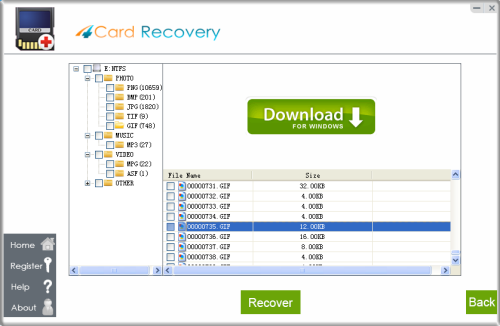 Preview lost photos and save found files. It would generate a folder to contain your lost data.
Please do not save the photo to the card where you lost them. Save them to your PC drive!

Download 4Card Recovery
Please Pay Attention:
*Extract and put your Samsung android phone Micro SD card in a safe place. Also keep it away from any else data.
*Perform a deep scan on this Samsung 64GB SD card and also preview the scanned files carefully before any purchase.
*Save everything retrieved to another storage device used on the same computer in case of data recovery failures.
*Since you do not know whether your android phone memory card or data inside is corrupted during the factory resetting process, it is possible that you rescue no all original data back. So, remember to make data backups well from now on.
Common Reasons for People to Do Factory Reset on Android Phone
People do perform a factory reset on their android mobile phone due to many causes, like:
1). Mobile phone gets realty serious and weird problems.
In daily use, people are also to factory reset their android smart phones since they do have encountered some really serious or weird phone problems, but, find no solution to fix. For example, in your case, you do also perform a factory reset on your Samsung phone since it repeatedly hangs, right? In most cases, many people also do the same thing, just like you.
2). Mobile phone gets too many trash files and folders.
When a mobile phone is filled with trash files and folders, like some useless histories, aches, files, messages and more, people are also possible to do factory reset, only because they do not want to spend too much in finding and deleting them all one by one. 
3). Mobile Phone is virus attacked.
And, the factory reset also helps in cleaning virus infected mobile phone, especially when people do install no effective antivirus software to clean every possible threat.
Of course, there are also many other ones that have not been listed here, for different people may have different situations and reasons. Hope you can analyze yours carefully and think twice before you decide to do a factory reset there without data backups next time.


Download 4Card Recovery